The Ghost quilt block is a cute quilt pattern for this time of year, Halloween. This friendly little ghost is a perfect addition to your project. You can make this as a pillow cover, or put the blocks together to create a fun Halloween mini quilt.
Use your blacks and grays on this spooky but charming quilt to mimic a ghost color. If you are making a quilt, interchange the tail's direction to make it look like flying.
The Ghost quilt block tutorial is designed by Kristina of Center Street Quilts. This is a step-by-step photo tutorial that will surely be easy to piece.
Project Finished Size: 12 inches x 12 inches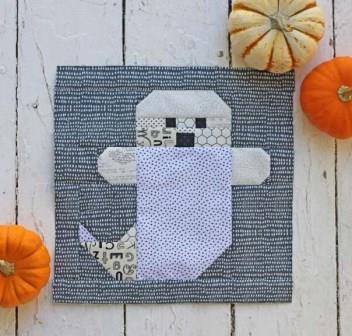 If you are looking for more Quilting inspiration then check out our full list of 400+ Free Quilt Patterns for beginners, intermediate and advanced Quilters. There are all kinds of quilt patterns from easy beginner quilt patterns up to advanced appliqué patterns and patchwork patterns.