If you are in for a challenging quilt project then the GO! Qube 12″ Pieced Heart Quilt is right for you. This is a free quilt pattern from AccuQuilt featuring the fabrics from Dear Stella's Flirt Collection. This quilt project features a bunch of quilt blocks; Flower Basket Block, Mosaic No. 17 Block, Broken Sash Block, Flying X Block, School Girl's Puzzle No. 1 Block, Triangles & Squares Block, Flashing Windmills Block, Diamond Star Block , Two by Two Block , Red & White Cross Block, Jewel Box Block, School Girl's Puzzle No. 2 Block, Mill Wheel Block, Trellis Block, Old Maid's Puzzle Block, Four-Patch Block, Propeller Block, Windmill Variation Block , Mosaic No. 6 Block and Uneven Nine-Patch Block. Don't be overwhelmed with these blocks as you'll get complete directions in the pattern.
Finished Quilt Measures: 60.5 inches x 69.5 inches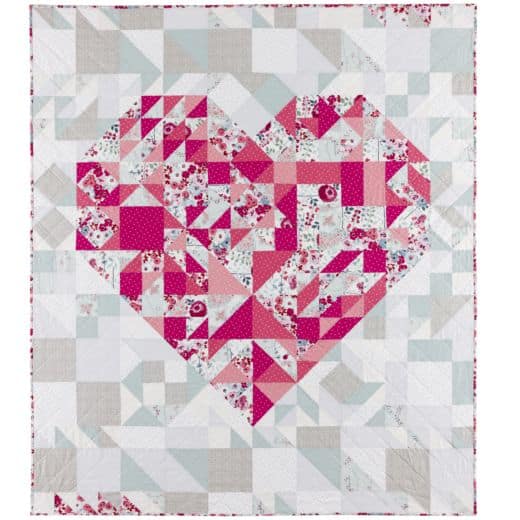 Having difficulty in cutting fabrics for this project? AccuQuilt has recommended dies to help you cut shapes fast and easy to complete your project in no time.