The GO! Spring Flutter Wall Hanging Quilt will give you a good excuse to go shopping for more fabric. This cute wall butterfly and canoe quilt will encourage you to go outdoors to enjoy Spring and say hello to Summer that is just around the corner.
The GO! Spring Flutter Quilt is a free quilt pattern designed by Melanie Call from A Bit of Scrap Stuff for AccuQuilt featuring the fabrics provided by Riley Blake Designs.
This butterfly wall hanging quilt decor is so chic that it will give a cheerful, bright, and nostalgic feel to your home
Finished Quilt Measures: 38 ½ inches x 38 ½ inches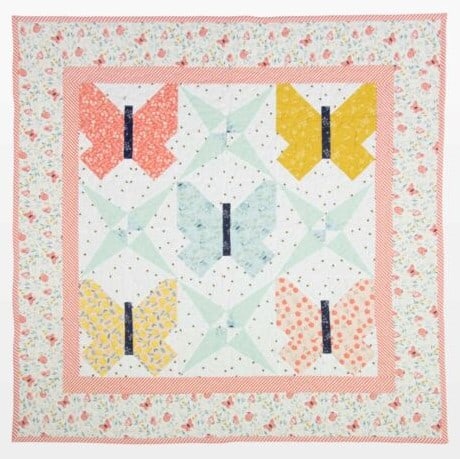 Having difficulty cutting fabrics for this project? AccuQuilt has recommended dies to help you cut shapes fast and easy to complete your project in no time.
Similar Quilt Pattern: GO! Community Garden Wall Hanging Quilt