The GO! Underwater Sea Adventure Throw is a free quilt pattern from AccuQuilt that will take you on a trip to the ocean. This quilt project uses the applique technique on marine animals like starfishes, crabs, fishes, and seahorses. The throw quilt also features kelp and bubbles to make it more realistic.
The ocean animals throw quilt will give you a tropical vibe.
Now summer is here there will be a lot of swimming activities. Spread the quilt while sunbathing by the beach or pool. This can also be a blanket that adults can curl while waiting for the kids who never get tired and cold from swimming.
Finished Quilt Measures: 32 inches x 40 inches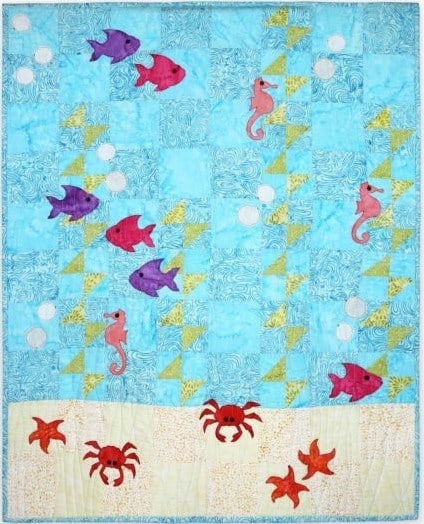 Having difficulty cutting fabrics for this project? AccuQuilt has recommended dies to help you cut shapes fast and easy to complete your project in no time.
Similar Quilt Pattern: GO! Sea Dreams Quilt
If you are looking for more Quilting inspiration then check out our full list of 500+ Free Quilt Patterns for beginners, intermediate and advanced Quilters. There are all kinds of quilt patterns from easy beginner quilt patterns up to advanced appliqué patterns and patchwork patterns.