Say goodbye to sizzling summer and say hello to a cooler temperature, autumn. Fall is a busy holiday season from back-to-school preparations, Halloween, and Thanksgiving.
Halloween is the best holiday in the autumn season. There are a lot of fun activities like dressing up, pop some crafted pumpkins, and go trick or treating.
A fun way to decorate your home in preparation for trick or treat is to put this Spooky Treats Quilt outdoors or indoors. This quilt pattern is designed by Christine Stainbrook featuring the fabric collection Spooky Snacks by RJR fabrics. A scary but cute quilt of delicious Halloween confections ready to welcome those adorable little kids in costume.
Project Finished Size: 33 inches x 35-¼ inches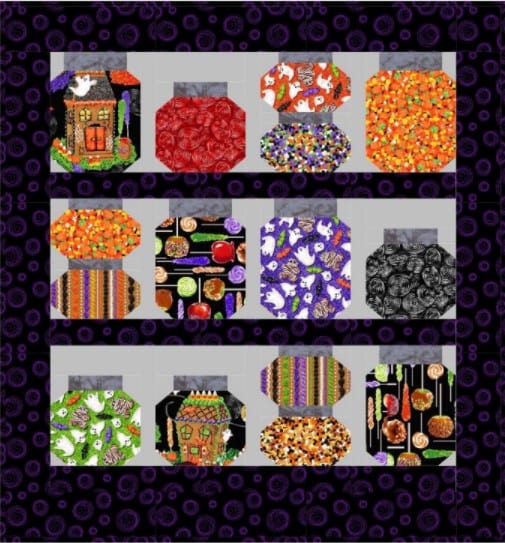 If you are looking for more Quilting inspiration then check out our full list of 400+ Free Quilt Patterns for beginners, intermediate and advanced Quilters. There are all kinds of quilt patterns from easy beginner quilt patterns up to advanced appliqué patterns and patchwork patterns.