'Tis the season to be jolly with this gorgeous Tonga Merry Tree Skirt. This quilt pattern is Designed by Stacey Day for Timeless Treasures Fabrics featuring the Merry Tonga Batiks by Timeless Treasures. The vibrant green and red colors of the hand-dyed batiks make it a Christmas-ready quilt project. This is a great addition to your Holiday decor that shouts festivity.
When joining the tree skirt pieces together you must be extra careful because the shapes can be easily distorted.
To use the tree skirt, the first thing to do is to set up the base of your tree. Afterward, set the tree skirt over the base, matching the center openings for the tree. Finally, insert the tree.
Finished Quilt Measures: 41- ¼ inches diameter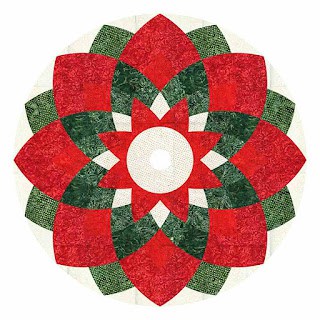 If you are looking for more Quilting inspiration then check out our full list of 400+ Free Quilt Patterns for beginners, intermediate and advanced Quilters. There are all kinds of quilt patterns from easy beginner quilt patterns up to advanced appliqué patterns and patchwork patterns.