The thought of walking inside the Quilt Shop will give me Fabric Paralysis. The different vibrant colors and designs while scanning from right to left would be pretty overwhelming. It would end up hard for me to decide which fabric to buy.
Luckily, I found some helpful tips on how to choose the best fabric for a quilt. I will be sharing these tips with you so that you will not end up buying all the materials in the store.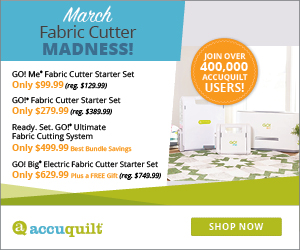 Tip #1 Plan Ahead
It's like going to a grocery shop; we need to write down what we don't have at home before we buy our food. In this technique, we will save time and money because we already have a list, and we should stick to it.
The same goes for going to the quilt shop. We should plan what pattern we will make. There are a lot of designs out there. If you are a beginner, search for FREE Patterns to get ideas on what to quilt.
Tip #2 Consider buying a Kit or Pre-cut collection
Choosing to buy a Kit will develop your confidence in putting various colors of fabrics together. The fabrics were already handpicked for you, which you can be sure that it will work perfectly together.
It is a little expensive though, but this is the easiest way you will learn how to eventually choose your own fabrics for your collection.
Here are the different scales (sizes) you will see in a collection.
Large scale print

Medium scale print

Small scale print

Geometric or Striped variation

Random Dots
Tip # 3 Think About Color
Choosing fabric colors is difficult. There are many varieties, from warm or cool, clear or dusty, bright hues or muted hues. We must know how these colors will interact with each other so we can have a predictable outcome.
Find a piece of fabric to focus on. Look at the color it uses and follow the color scheme of that pattern for your jump-off.
Take a look at the jungle print on the first photo and how it works well on the quilt created. They use different shades but stayed with the same color family.
Using different shades but keeping the colors with the same vibrancy will give you more contrast and depth.
If you are still confused, better use a color wheel. It will give you instant information on what colors will go with each other.
Tip # 4 Think about the Scale (Size)
The scale is described as the size of the design or prints on your quilt. It provides contrast and balance on your collection.
It would be best if you consider to mix and match the scale from small, medium, large so that the eyes can find a place to rest.
Tip # 5 Consider using Solid
Use Solid to neutralize or show-off the busier prints. The solid print can help feature and break the prints individually.
Tip # 6 Ask for Help
When you still don't know what color to use, visit a local shop. Find at least 2 or 3 colors you think you will use and ask someone from the store to help you choose fabrics that go with the one's you pick.
View Sources:
How to Choose the Best Fabric for a Quilt
Always put in mind that no quilt is perfect. It is best to enjoy the process and try new things that will suit your liking. Learn from mistakes and practice, practice, practice.