The GO! Birdhouse Nine Patch Party is a free quilt pattern design by Mary Anne Fontana from Fontana Originals for AccuQuilt.
This lively throw quilt features bird houses where birds live happily in their community.
If you are into birds and love their fun and colorful guild then this birdhouse throw quilt will add a spark of excitement in your home.
A great throw blanket to snuggle while chilling in your porch watching beautiful flying creatures roaming around your garden.
Finished Quilt Measures: 44 inches x 44 inches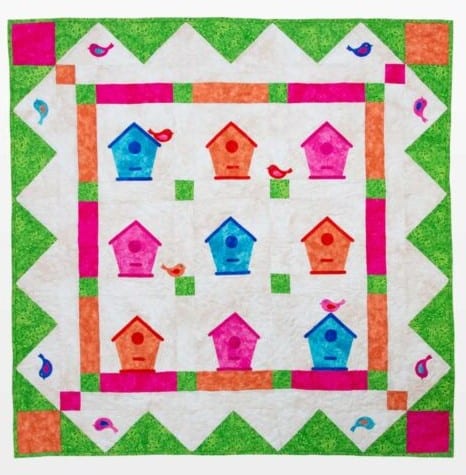 Having difficulty cutting fabrics for this project? AccuQuilt has recommended dies to help you cut shapes fast and easy to complete your project in no time.
Similar Quilt Pattern: GO! Bird House High Rise Quilt