Are you looking for a farm-themed quilt pattern to add to your wall hanging decorations? Here is the GO! Greener Pastures Wall Hanging Quilt for you to create. A fat quarter friendly quilt pattern to add at the top of your quilting to-do list.
This marvelous quilt project has five different appliqué designs; Cows, Pigs, Chickens, Chicken Coop, and Sun. You can arrange the appliques anyway you like on your quilt.
The adorable barnyard animals would make a great addition to any girl or boy nursery room decor. With this entertaining quilt, your little one would become a farm animal lover as they grow.
Finished Quilt Measures: 26 ½ inches x 28 inches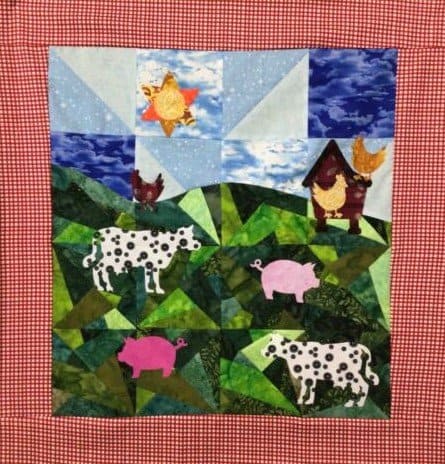 Having difficulty in cutting fabrics for this project? AccuQuilt has recommended dies to help you cut shapes fast and easy to complete your project in no time.