This simple yet classy Christmas presents wall hanging quilt will help complete your holiday decorations.
Nice Packing Wall Hanging Quilt Pattern is a free project designed by Michelle Engel Bencsko for Cloud 9 Fabrics featuring their fabric collection We are all stars and Cirrus Solids.
Place the quilt on your door front or any wall space in your home. Hanging this Nice Packing quilt will greet your guests and family members with so much love as they will be reminded of the spirit of giving or sharing. A festive and colorful wall hanging quilt for the holidays that makes the decorations extra special.
Finished Quilt Measures: 22 – ½ inches x 27- ¾ inches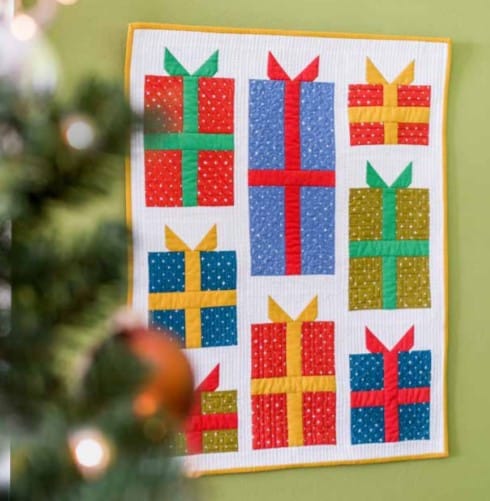 If you are looking for more Quilting inspiration then check out our full list of 1000+ Free Quilt Patterns for beginners, intermediate and advanced Quilters. There are all kinds of quilt patterns from easy beginner quilt patterns up to advanced appliqué patterns and patchwork patterns.