A vintage-style mini quilt that will make your home decor extra special. The Patriotic Mini Quilt is designed by Miriam Rawson for Make it with Marcus Fabrics featuring assorted fabrics by Molly B's Studio. This quilt project is a perfect wall hanging quilt for Memorial Day, the 4th of July, Veterans Day, or any special occasion decor.
Miriam has an excellent idea of adding embellishment to her Patriotic Mini Quilt, instead of placing stars on the square blue field, she uses buttons of various sizes. A beginner-friendly approach that will help new quilters to finish a quilt quickly.
Finished Quilt Measures: 10 ½ inches x 23 ½ inches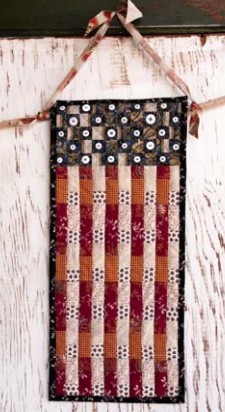 Similar Quilt Pattern: Firework Flag Quilt
If you are looking for more Quilting inspiration then check out our full list of 500+ Free Quilt Patterns for beginners, intermediate and advanced Quilters. There are all kinds of quilt patterns from easy beginner quilt patterns up to advanced appliqué patterns and patchwork patterns.