Bring Christmas warmth and cheer to your homes with these Christmas Stockings Quilts! The Christmas tradition of hanging Christmas stockings has been passed down from generation to generation. December is near, it's time to quilt the iconic symbol of the joy and wonder the season brings to children throughout the world! We picked the cutest and most creative Christmas Quilt Stockings for your home or as a gift.
Free Quilted Christmas Stocking Patterns – Top Picks
1. Free Quilt Block: Stocking Row
It's the most wonderful time of the year! Fill your heart and home with the warmth of Christmas with this stunning quilted Christmas stockings from Fat Quarter Shop featurng Christmas Morning fabrics designed by Lella Boutique which feature various Christmas elements that are perfect for all quilters. The pattern has an unfinished size of 9.5 inches x 33.5 inches
2. Free Quilt Pattern: Glad Tidings
3. Free Quilt Pattern: Stocking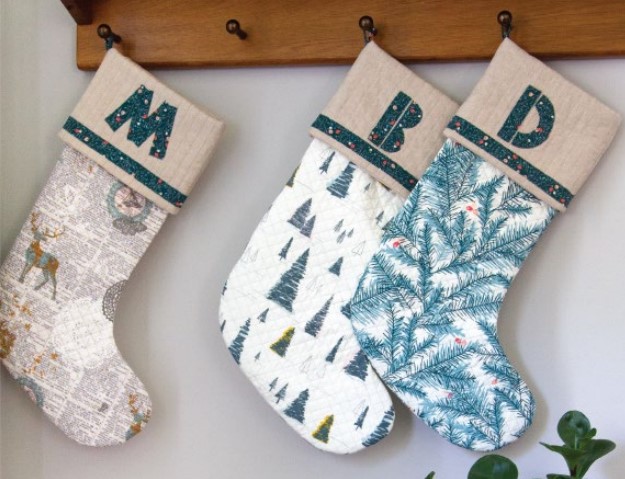 Customize your homes during this holiday season with this simple Christmas stocking pattern that will surely elevate your Christmas decorations. Designed by AGF Studio featuring their Merry and Bright fabric collection, this pattern is perfect for the holidays. You can personalize it by adding any letter you want! This product has a final measurement of 12 inches by 19 inches.
4. Free Quilt Pattern: Lined Christmas Stocking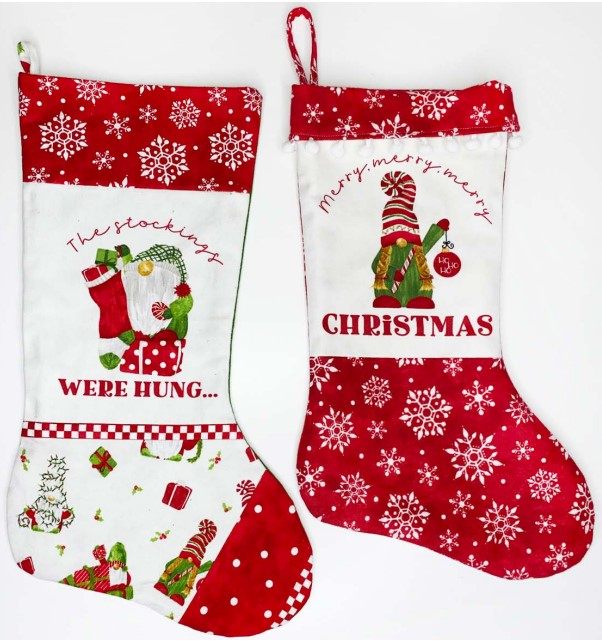 5. Free Quilt Pattern: Heirloom Christmas Stocking
Make your own gorgeous family heirloom stockings that you can treasure for the next few years that will come. With the help of these simple Christmas stocking patterns, you can customize this charming project to make your very own stockings. This pattern created by Cindy Seitz- Crug has a final size of 11 inches x 18 inches.

Learn more about the Heirloom Christmas Stocking Quilt pattern here.
6. Free Quilt Pattern: Scrap Angels Oversized Quilt Stocking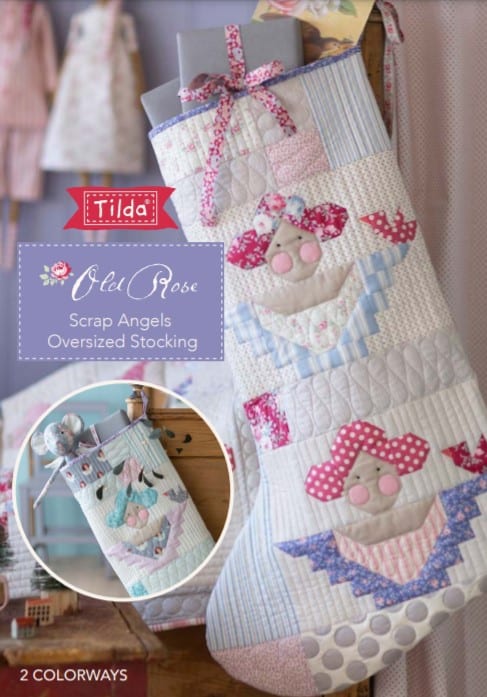 Are you looking for oversized stockings that will surely fit all your gifts to your loved ones? This large Christmas stocking pattern created by Tildas World is the perfect solution for you! With its size of 19 inches x 32 inches, this enormous sock filled with gifts would undoubtedly please children and children at heart. If you are an expert quilter, try this at home!

Learn more about the Scrap Angels Oversized Quilt Stocking pattern here.
7. Free Quilt Pattern: Scrappy Stocking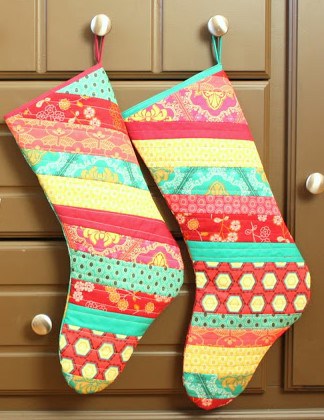 Gather your scrappy fabrics and take your time recreating this quilt! This unique stocking is made using pretty fabric leftovers and fat quarters and is so quick and easy to make. The project's finished dimensions are 17 inches by 6 inches, although you can make this in any size you want.

Learn more about the Scrappy Stocking Quilt pattern here.
8. Free Quilt Pattern: Patchwork and Crochet Christmas Stocking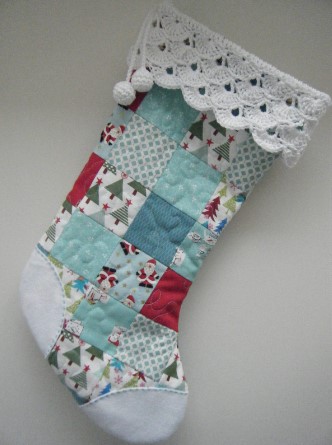 Looking for a charming (and quick) Christmas project to complete? Samantha Roberts has designed this gorgeous Christmas stocking with a combination of patchwork and crochet in mind. It's so easy to make!

This adorable stocking will look absolutely stunning perched on your fireplace!

Use your favorite fabrics and colors to create an heirloom-worthy Christmas stocking for all your loved ones!
If you love to crochet, we found this roundup of Crochet Christmas Stocking patterns that will inspire you to crochet something special for the holiday season.
Printable Quilted Christmas Stocking Patterns To Download From Online Shops (Paid)
4. HoHoHo Quilted Christmas Stocking
Have a holly jolly Christmas with the HoHoHo Christmas stocking patterns. The fun and whimsy that Santa provides to the holiday season served as the inspiration for this product. HO HO HO! This design by Lisa Capen Quilts with its finished size of 7" by 18.5" is the perfect stocking for all your Christmas gifts.
5. Christmas Stocking Quilt Pattern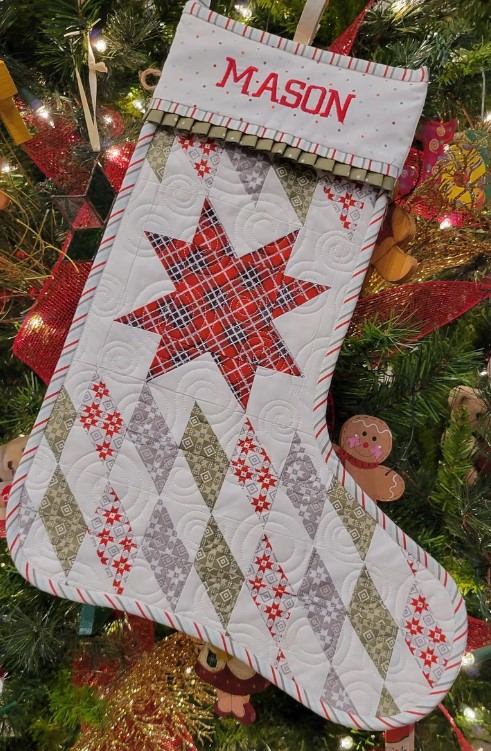 Personalize each of your family members' Chrismas stockings and fill it with gifts that will surely make lovely holiday experiences for your whole family! This quilted Christmas stocking pattern by Lavonne Jackson caters to different stocking designs that will bring life to your home!
Find cute Christmas stocking patterns for kids, adults and even pets. Create beautiful memories that will last through the years!