Parents can present the alphabet to their kids by making ABC quilt patterns or alphabet embroidery. This quilt alphabet is a wonderful educational resource because it teaches the alphabet while also showcasing lovely animals, flowers, and other designs. Wrap your kids with these quilts while teaching them the basic sets of letters! We gathered more quilts for baby easy as abc below:
Free ABC Quilt Patterns – Top Picks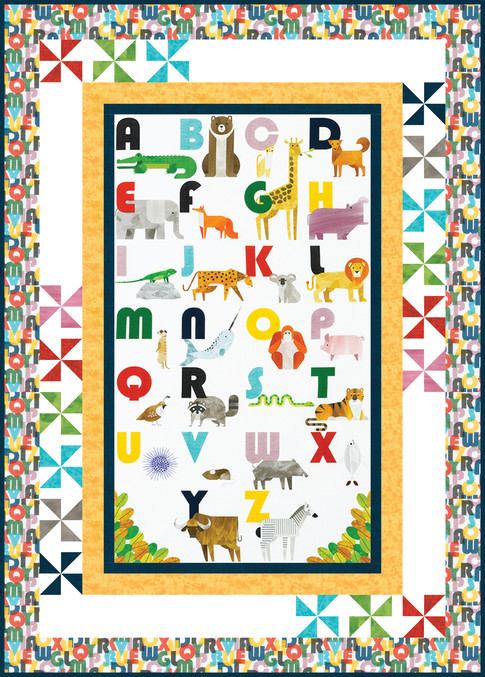 Designer: Ariga Mahmoudlou for Robert Kaufman
Can't go outside to personally watch the animals? This very cute and adorable animal alphabet quilt is the perfect choice for you! Ariga Mahmoudlou's intriguing pattern stands out because of the unique mixture of its design that's entertaining and informative all at once. This ABC quilt pattern includes pinwheels and all 26 capital letters, as well as a variety of animals. The finished quilt measures 45" x 63" and is suitable for all beginners.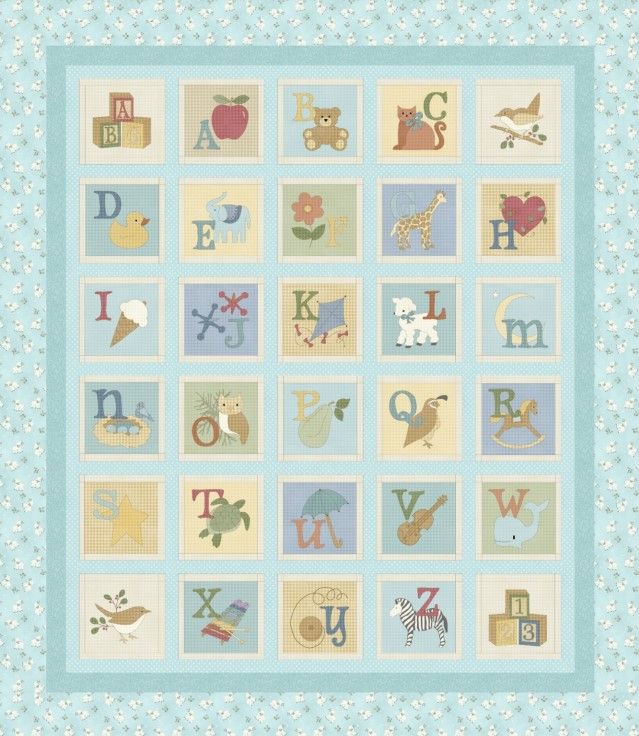 Designer: Cheryl Haynes for Benartex
If you're looking for a charming gift for any special little someone, you might as well choose a pattern that is an educational one. No little one could resist this creation by Cheryl Haynes, which features various imagery for each alphabet and a very relaxing baby blue color. This free alphabet quilt pattern measures 48 1/2" X 56" and is very easy to recreate for quilters of all skill levels.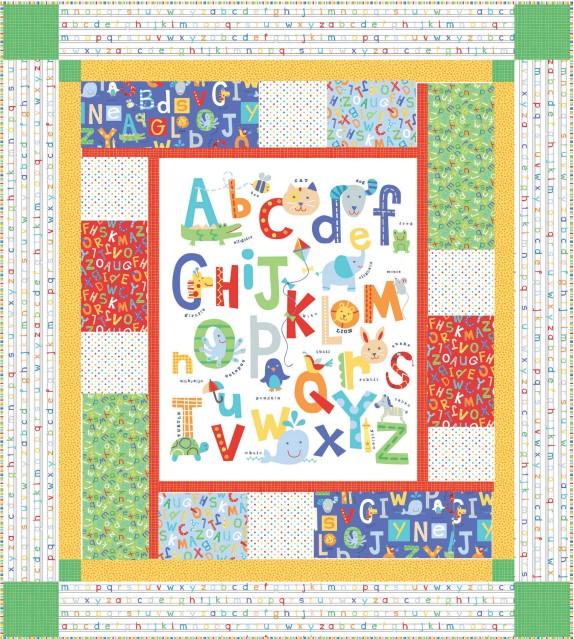 Designer: Northcott Studio
A very delightful ABC baby quilts design from Northcott Studio, this beginner-friendly ABC quilt panel pattern would be suitable for a baby boy or girl with its perfectly coordinated colors and whimsical alphabet front, which is completed by the subtle ABC's in both its inner and outer borders. The ABC's Baby Quilt features the Alphabet Soup fabric collection by Deborah Edwards Northcott Studio. The final project measures 51" x 57".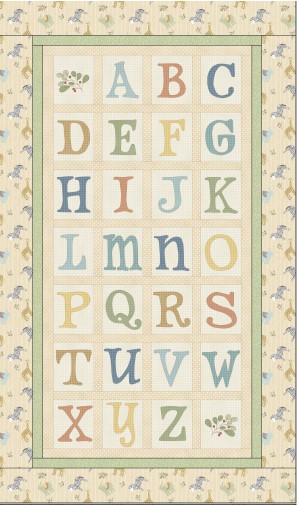 Designer: Cheryl Haynes for Benartex
Make education very fun and easy with the addition of this bright light to any nursery or children's bedroom! This baby alphabet quilt pattern created by Cheryl Haynes with the finished size of 29" X 49" highlights the full alphabet, which is sewn in pastel colors to make it calming to the eyes and is partnered with animal prints for its outer border.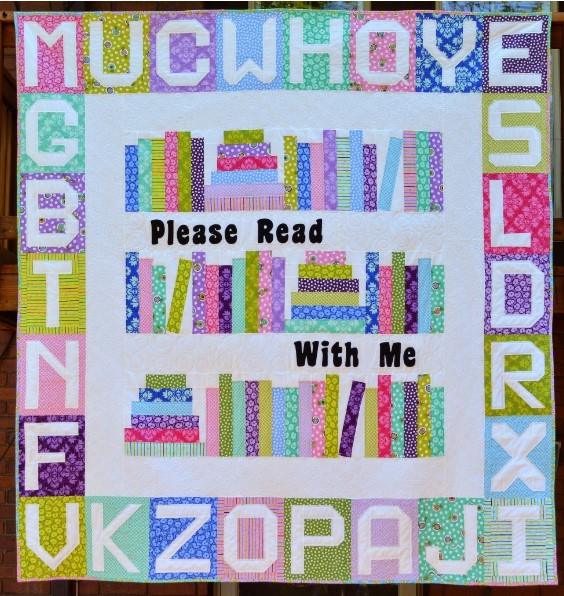 Designer: Melissa Corry of Happy Quilting Melissa
This darling of a quilt is the best gift for the readers in your family! With its big size of 80″ x 84″, this creation by Melissa Corry of Happy Quilting Melissa will be a perfect decoration for your rooms or libraries. This ABC quilt features the whole 26 alphabets in its outer border and the collection of various books as its centerpiece. Personalize this ABC quilt by rearranging the placement of letters. A fun and engaging way to bring your child closer to an early appreciation of learning.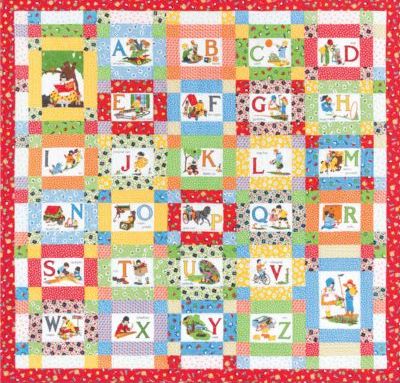 Designer: Darlene Zimmerman for Robert Kaufman
The Easy as ABC quilt pattern, designed by Darlene Zimmerman using her "My ABC Book" fabric collection for Robert Kaufman, is a delightful project for quilters with a bit of experience. With a finished size of 59-3/4" x 58", this quilt is perfect for a child's room or as an educational tool. Its design features charming alphabet-themed fabrics, making it both visually appealing and educational. The pattern is tailored for enthusiastic novice quilters, offering a satisfying challenge without being overly complex. This quilt is sure to become a cherished keepsake, combining learning with the warmth and comfort of a handmade quilt.
BONUS ABC Quilt Patterns For Sale from Online Shops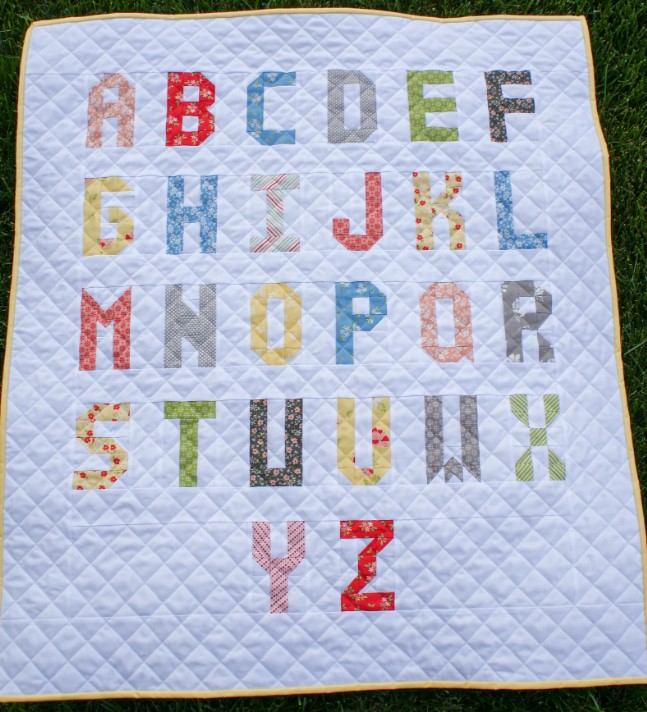 Designer: Mariesa Morgan of Ten Cow Quilts
Capture the joy of early learning with a set of colorful fabrics designed to support the growth and development of your child. Vibrant colors and cheery prints, these fabrics will make you want to sing! Whether you want to personalize the pattern or use it as a colorful addition to your child's learning space, these bright letters are a fun project. If you have leftover fabrics, you can use them to create something new and beautiful. You can save money by reusing fabrics from your scrap stash. This alphabet quilt measures 36″ x 41″.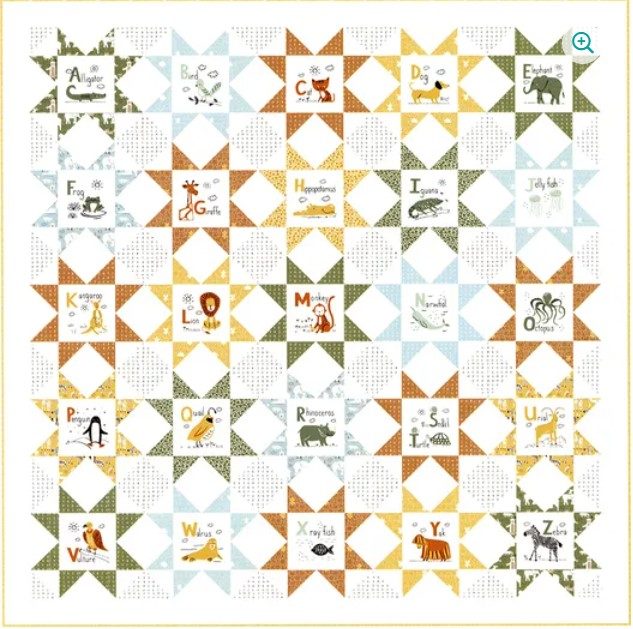 Designer: Stacy Iest Hsu of Tastie Treats
Who doesn't want to experience the beauty of the stars? Don't worry because with this alphabet stars pattern you will be able to enjoy the stars in the comfort of your homes. This twinkling item made by Stacy Ies Hsu for Moda Fabrics consists of tiny cut squares and half-square triangles to replicate the star pattern and the alphabet that will surely make learning enjoyable. The finished size measures 66" x 66".
It is no secret that children love to hold chicks and even nuzzle them from mouth to beak. If your son or daughter's favorite poultry or farm pet is a chick, you should definitely recreate this pattern! This abc pattern from Bonnie Sullivan featured letters and sweet little chickens playing in the barnyard or eating grass. It is an exciting quilt project that works equally well with woolies and flannel. Template and detailed instructions for making applique blocks are included in the pattern. The finished quilt measures 39″ X 46 1/2″.
Designer: Kristin Blandford
The cutest ABC quilt your children will enjoy. Featuring the Noah's Ark by Shawn Wallace for Riley Blake Designs, this timeless children's classic is displayed with characters. The cutest ABC panel with bright colors, animals, alphabet and rainbows will turn your baby's room into a happy place. This pattern is super easy and quick to complete!
Looking for items that will surely upgrade your baby's room? This easy as abc quilt pattern is my solution for you. Quilters of all levels will absolutely adore recreating this quilt design by Ursula Reikes and put together a lovely quilt top for their favorite baby in four hours or less!
Children are naturally drawn to quilts because of their bright colors, puzzle-like patterns, and reassuring feel. Make education fun with these ABC quilts!