Looking for a perfect top, Picnic blanket, or Throw, that is fit for every holiday and every fashion emergency? Then this compilation is what you've been praying for! There are several fast ways to swiftly put wonderful colors together in harmony to create quilts. If you're in a rush, then bandana quilts are definitely the quilt for you!

Even if you're now an experienced quilt maker, there is still a pattern that can match your level in this list of free and paid bandana quilt patterns roundup. Happy quilting!
Free Bandana Quilt Patterns – Top Picks
1. Free Quilt Pattern: Boho Bandanas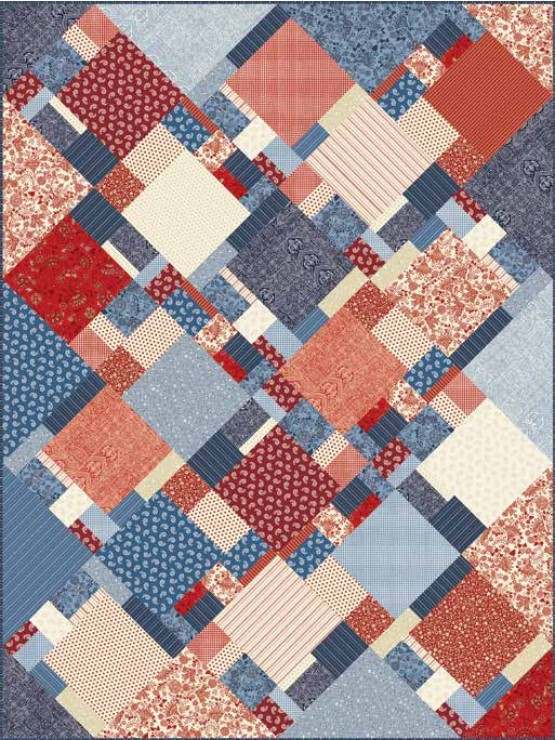 If you are looking for carefree and eclectic patterns, this Boho Bandanas by Heidi Pridemore is definitely for you! The key to the pattern is mixing and layering to create such a wonderful art. This 59.5 inches x 79.25 inches quilt shows creativity. Don't be afraid to mix and match to blend the colors and shape to create this stunning boho bandana. Helps you feel warm and snuggled up during the cold.
2. Free Quilt Pattern: Americana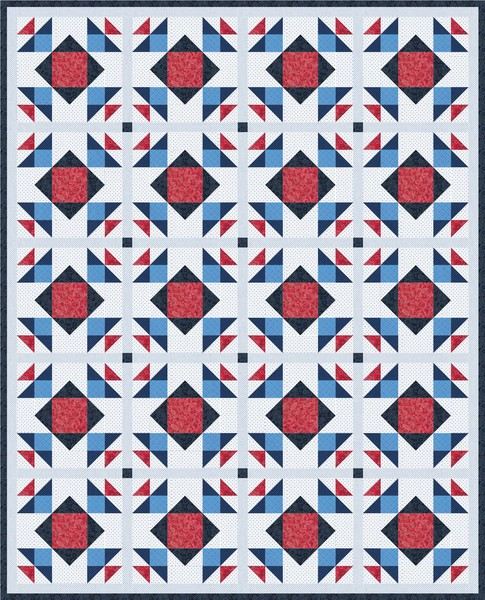 Looking to have a stylish Fourth of July? This bandana in the Americana Pattern will be the perfect quilt for you. The size of the quilt pattern is 73.5 inches x 90 inches in red, white, and blue will help you match with Fourth of July costumes. What are you waiting for? Recreate this pattern that can surely match your outfit and match the aesthetics for a holiday.
3. Free Quilt Pattern: Bandana Cabana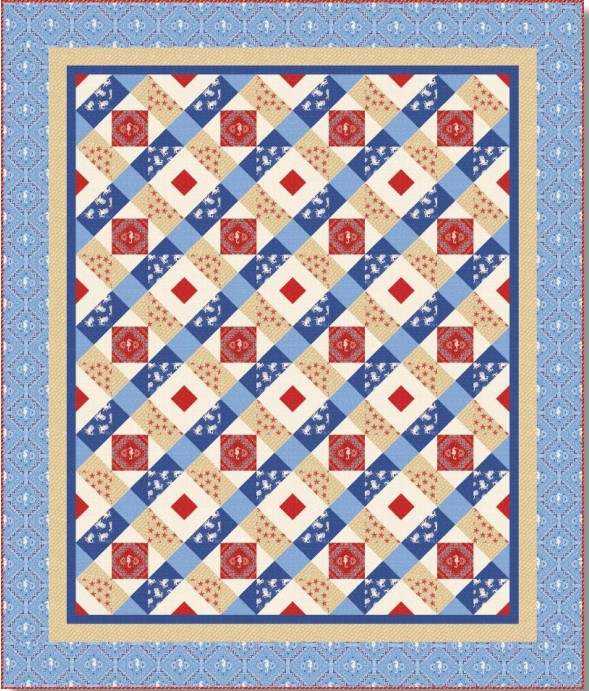 Featuring the Shoreline Collection by Whistler Studios and was designed by Heidi Pridemore of The Whimsical Workshop. This 64 inches x 76 inches bandana cabana makes you remember fond memories of the shoreline and the vast sea. The colors are carefully chosen to create an image just like what you will see if you go to the shore. This would indeed be a great addition to your amazing quilt collection!
4. Free Quilt Pattern: Bandana
Trying to get into quilting? This would be a perfect pattern you can start with. This bandana quilt pattern by Create with Claudia is easy to recreate, and you wouldn't have a hard time looking for materials for there are a lot of beautiful colors of bandanas available. Approximately 54 inches x 72 inches in size, the pattern is inspired by the southwest sunset when the sky would look like cotton candy sold at fairs.
5. Free Quilt Pattern: Bandana Quilt Ranch
It's hard not to feel the country vibrating and vibing in this banda quilt pattern. The carefully constructed pattern of 12 blocks creates a mesmerizing kaleidoscope. Though this pattern looks difficult, it really is easy once you've gotten used to the on-point quilt technique. This pattern is designed by Heidi Pridemore featuring the Ranch Hands fabric collection by Whistler Studios. With a size of 70 inches x 86 inches, you can now feel how it's back in the ranch.
6. Free Quilt Pattern: Handkerchief
This is not just an ordinary handkerchief, it is more than that. The beautiful 70″ x 70″ bandana quilt pattern designed by Heide Pridemore of the Whimsical Workshop uses cool toned colors that evoke a sense of calmness while you quilt. The way the pattern created good layering of colors and textures that everyone can easily recreate.
7. Free Quilt Pattern: Teen's Bandana
A fun and creative way to bond with your kid! Creating this teen's bandana quilt is so easy even kids can do it. The pattern plays with four identical blocks of four triangles each. The method of rotating each block of colors in the center pattern creates an illusion of a pinwheel. These attention-grabbing colors will make you feel refreshed and energized, just like a teen!
Printable Bandana Quilt Patterns To Download From Online Shops (Paid)
1. Bandanas and Bowties Quilt Pattern
Looking to appeal to the ladies and gents? This quilt is what you need to have. The pattern is full of color and requires expertise of intermediate and up in quilting. A comfy bandana is the way to go with this 72 inches x 82 inches of fabric. This blue and green colored bandana and bow ties quilt is calming and soothing to the eyes. Adding a little zen to your quilt collection is a must-have.
2. Sugar Twist Quilt Pattern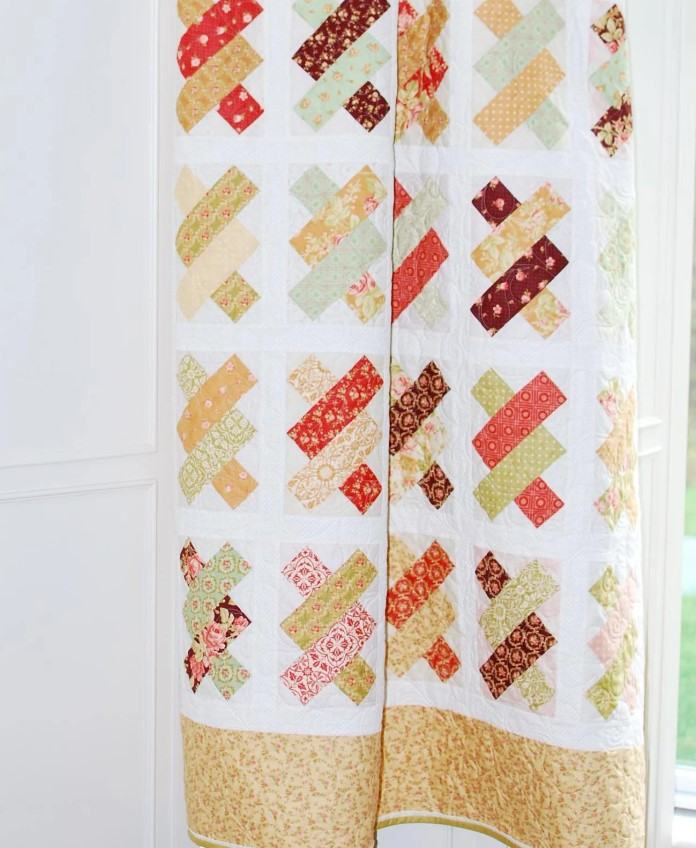 A very sweet Sugar Twist Quilt Pattern designed by Margot Languedoc will make you long for cakes and pastries. This pattern is made with simple machine piecing and is suitable for all skill levels. By creating blocks of twist patterns first and sewing them all together to make one bandana of 58.5 inches x 75 inches size. A fun pattern to work with colors just begging to play with.
3. Log Cottage Runner Quilt
An easy pattern to spark your creativity within. Designed by Anna Fournelle of Fresh Dew Drops, this log cottage runner quilt is made by connecting blocks of quilt and 12 inches x 72 inches in size; however, you can add or remove blocks depending on what you want. Making these easy quilt blocks and assembling them to create frames. You can blend fabrics of similar color value or experiment with different themes.
One of life's greatest pleasures is making your own quilts, and we're here to get you hooked in crafting your own warm bandana quilt projects.