We have gathered different tutorial versions of the Arrows Quilt Pattern for you to create.
1. Arrows Aweigh Quilt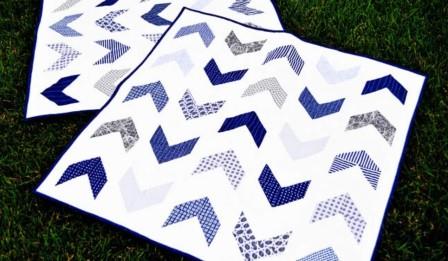 Looking for a masculine quilt, then this might be your next project. Arrows Aweigh Quilt pattern is designed by Lindsey Weight for Fort Worth Fabric Studio. The chevron arrows fabric colors used on this quilt sample are navy & gray. A great project for those who just started to quilt.
Project Finished Size: 36 inches X 36 inches
Skill Level: Confident Beginner
Learn more about Arrows Aweigh Quilt pattern here.
2. The Arrow Tail Quilt 
A colorful and fun arrow quilt pattern for your next project. This quilt pattern is called The Arrow Tail Quilt designed by Laurel from Sing all you want. She shares her step by step process on how to do this beautiful quilt. A scrap friendly masterpiece that you will fall in love with. Play with green,grey, and blue color schemes to gift this to a baby boy or choose the favorite stash fabrics that you love.
Project Finished Size:
Baby: 40 inches x 60 inches
Twin: 68 inches x 84 inches
3. Arrow Baby Quilt 
Here is another Arrow quilt pattern for you to enjoy. Arrow Baby Quilt pattern is an all seasons quilt and perfect gift for any occasion. This beautiful quilt is designed by Lee Heinrich from Freshly Pieced for WeAllSew. Estimated time of completion is within a week. Start quilting this pattern to enjoy this cute masterpiece.
Project Finished Size: 36 inches x 51 inches
Skill Level: Intermediate
4. Split Arrows Quilt 
Split Arrows is an adorable arrow quilt pattern designed by Laura of Slice of Pi Quilts . This quilt project works well with the medium scale print fabrics or directional prints. The Split Arrows quilt pattern is a perfect combination of a chevron and herringbone design creating an arrowhead pattern. This tricky but fun quilt is recommended to advanced beginners.
Project Finished Sizes:
Baby: 42 inches x 48 inches
Throw: 56 inches x 60 inches
Twin: 70 inches x 90 inches
Skill Level: Advanced Beginner
5. Every Which Way Quilt 
Looking for the cute arrow quilt pattern for your nephews? Look no further, Every Which Way Quilt pattern is an excellent gift to those little boys on the go. Designed by Amber Johnson of Gigi's Thimble, this quilt pattern is simple to piece. On her quilt project, she features the Seaside fabric collection by October Afternoon for Riley Blake Designs, a snuggly vintage and beach-side design that your little fella would love.
Project Finished Size: 39.5 inches x 51.5 inches