The herringbone pattern has become increasingly popular as a quilting design in the last several years. Straight lines and diagonals are used to make herringbone. The pattern resembles the bones of a herring, a marine fish found in the Northern oceans.
We handpicked the most alluring herringbone patterns for your next quilting project.
Free Herringbone Quilt Pattern – Top Picks
1. Summertime Herringbone Quilt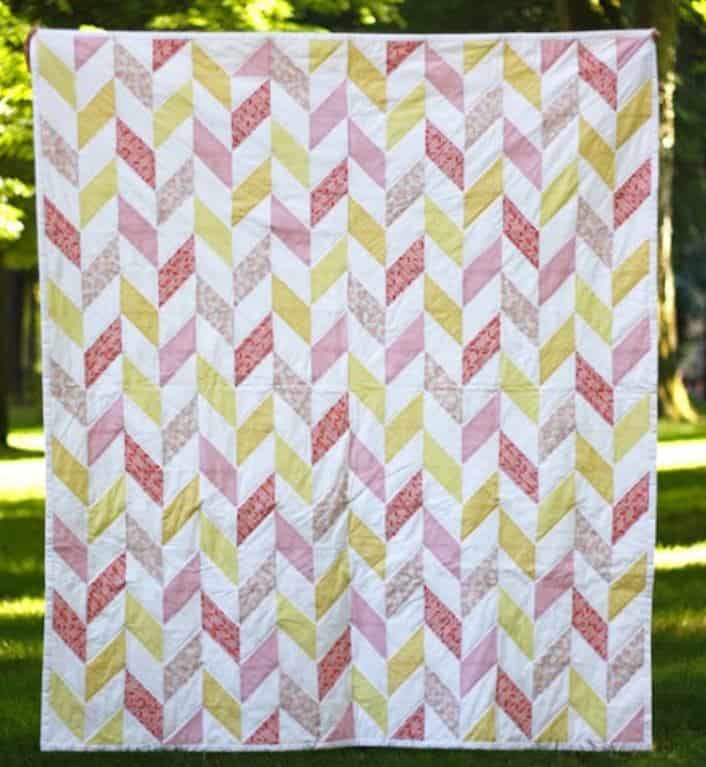 Is Summer your favorite season? This vibrant pattern will surely add sunshine to your day! It's ideal for all quilters of all levels. It comprises a unique assembly of rectangles. Choose bright colors to add a pop of color to your home.
This pattern is ideal for quilters of all skill levels. It is designed by Michael Ann Made.
The finished quilt measures 55 inches x 63 inches.
Learn more about Summertime Herringbone Quilt pattern here.
2. Fletcher Quilt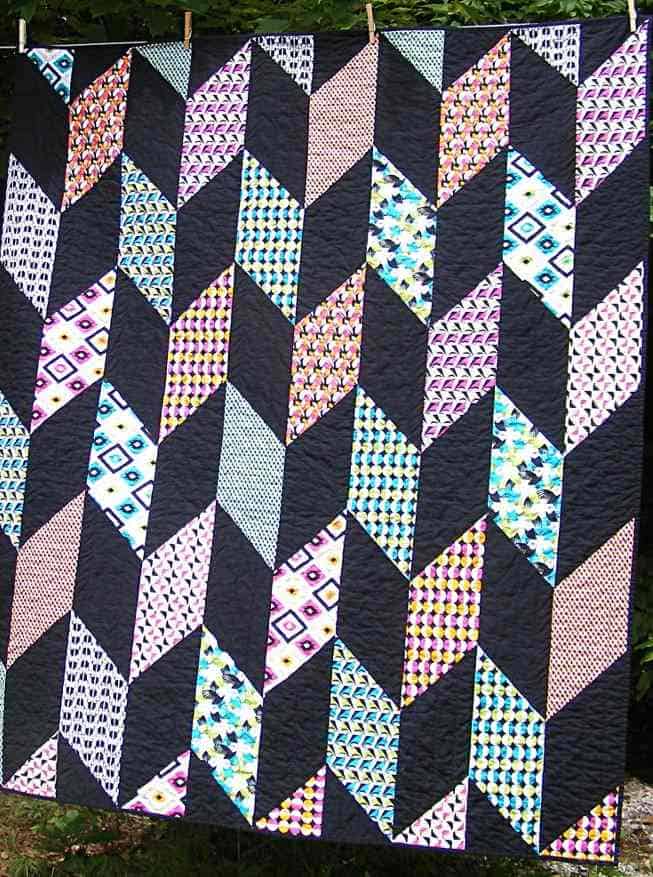 The Fletcher quilt pattern embodies an illusory design that will catch everyone's attention. The harmony of both dark and brilliant colors makes it stand out. What's even more fascinating is that beginners can recreate this design in no time! A wide array of sizing options is available for this pattern.
Here are the finished quilt sizes:
Crib (48 inches x 61inches)
Nap (60 inches x 72 inches)
Twin (66 inches x 83 inches)
Queen (84 inches x 94 inches)
King (108 inches x 94 inches)
Learn more about Fletcher Quilt pattern here.
3. Herringbone Quilt
A grey and white fabric is classic and versatile. This chic and modern herringbone pattern is a great addition to your house decor. Vanessa of Our Thrifty Ideas designed this classy quilt. This is a step by step tutorial that you can follow with ease.
4. Ombre Herringbone Quilt
This pattern utilizes color transition from dark to light and will elevate your bedroom. It highlights gradual shading and blending from one color to another. The alternating colors of white and aqua magnificently resemble the calming color of beach water. Novice and experienced quilters alike will enjoy this free herringbone quilt pattern.
The finished quilt measures 42 inches x 52 inches.
Printable Herringbone Quilt Patterns To Download From Online Shops (Paid)
1. Scrappy Herringbone Quilt
For scrapbook lovers, the Scrappy Herringbone quilt pattern is perfectly made for you. It is a dazzling and pastel design. The colors will blend beautifully in this pattern. This pattern from Amanda Wilber is layer-cake friendly. For beginner quilters, you can easily recreate this piece. The design is from Amanda Wilbert.
It has four sizing options:
4 ¼ inch wide herringbone
Lap/Small throw – 48 inches x 60 inches
Large Throw/Twin – 72 inches x 84 inches
6-inch wide herringbone
Lap/Small throw – 51 inches x 59.5 inches
Large Throw/Twin – 68 inches x 85 inches
2. Herringbone Stripe Quilt
Coming from one of the designs of Paper Moonlight Craft, this clean and modern Herringbone Stripe quilt pattern will remind you of the colors of sunset. The zigzag layout gives the colors a more eccentric distinction. The finished quilt approximately measures 70 inches x 85 inches. The complex-looking design is perfect for beginners.
Ready to Ship Herringbone Quilt Pattern (Paid)
1. Strip Tube Herringbone Quilt
If your bedroom or living room theme is black and white, this pattern is the best option! Its minimalistic design adds elegance. Whether you're a novice, intermediate, or expert quilter, this pattern is perfect for you! This is one of the designs of Cozy Quilt Designs.
It comprises of seven sizing options:
Table Runner – 19 inches x 44 inches
Baby – 44 inches x 54 inches
Lap – 54 inches x 64 inches
Throw – 74 inches x 74 inches
Twin – 74 inches x 94 inches
Queen – 94 inches x 104 inches