Embark on a quilting journey rich with tradition and mindfulness with our selection of Mandala Quilt Patterns. A Mandala Quilt is a textile art piece that captures the essence of mandalas—complex, circular designs that represent harmony and unity. These quilts are not just visually striking with their interplay of shapes and colors; they are a form of creative meditation, each segment sewn with intention and focus. Quilters choose to create Mandala Quilts for their symbolic significance and the calming influence of their repetitive patterns. Whether you're a novice or an experienced stitcher, our roundup of Mandala Quilt Patterns offers an array of options, inviting you to find the perfect design that resonates with your spirit. As you scroll through, let these patterns inspire you to make more than just a quilt—craft a personal emblem of tranquility and beauty that will become a cherished part of your home.
Free Mandala Quilt Patterns – Top Picks
Transform your bedroom into a lively and sophisticated retreat with the stunning Mandala Quilt, a free downloadable pattern from AGF Studio. This exquisite design is part of their Boho Fusions fabric collection, blending vibrant colors and patterns for an eye-catching effect. While the quilt pattern might initially appear challenging due to its similar fabric cut pieces, the accompanying step-by-step guide in the tutorial ensures that you can complete this gorgeous Mandala Quilt effortlessly. With a generous finished size of 61 inches by 61 inches, this quilt is not just a cozy addition to your bedding but also a striking decorative statement.
Introducing the Evergrowing Mandala quilt pattern from AGF Studio, a stunning addition to any quilter's collection. This exquisite design showcases the beautiful Trouvaille fabric collection, bringing a unique flair to the pattern. The quilt is composed primarily of Half Square Triangle units (HSTs), creating a visually captivating mandala effect. With its striking design and vibrant colors, the Evergrowing Mandala Quilt is sure to be an eye-catching piece of decor in your bedroom. The project's finished size is an impressive 88 inches by 88 inches, making it a grand centerpiece for any bedding ensemble.
Discover yet another captivating quilt pattern that's bound to be a favorite. The Cosmos Quilt, designed by AGF Studio, featuring the Legendary fabric collection by Pat Bravo. This design takes the mandala concept to a new level with a unique twist, employing the Dresden technique. The vibrant colors and bold prints of the Legendary collection breathe life into this Dresden mandala quilt, creating a stunning visual impact. With a project finished size of 46 inches by 36 inches, the Cosmos Quilt is not just a quilting project, but a bold statement piece for any room.
Designer: Rob of Man Sewing
Embrace the gradient charm with Rob Appell's Ombre Mandala Quilt, a free video tutorial from Man Sewing. This project transforms ombre fabrics into an eye-catching two-fabric quilt with ease. Follow along as Rob demonstrates the use of the Large Orange Peel Template for 10″ Squares and the Small Orange Peel Template for 5″ Charm Packs, bringing the intricate Mandala to life through fusible appliqué. It's a perfect blend of simplicity and impact, ideal for anyone eager to create a quilt with a strong visual statement and a touch of modernity.
Spring into quilting with the free Spring Mandala pattern by AGF Studio, featuring the vibrant Wild Bloom Fabric collection by Bari J. This pattern, accompanied by a handy template, invites you to splash your quilt canvas with a floral burst of colors, encapsulating the rejuvenating spirit of spring. Embrace the opportunity to mix, match, and play with a spectrum of hues as you piece together this stunning mandala. Ideal for both the seasoned quilter and the enthusiastic beginner, this design promises to bloom into a joyful centerpiece in your home.
BONUS Mandala Quilt Patterns For Sale from Online Shops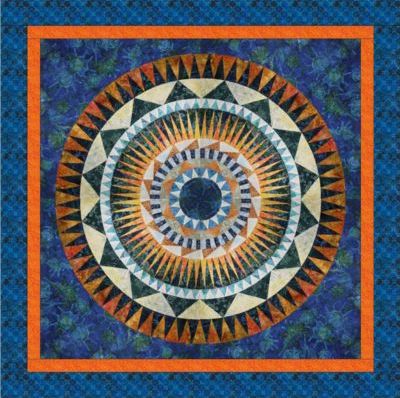 Designer: K.G. Arnold of Tobacco Shed Quilts
Unfold the grandeur of quilting with the Huge Mandala Quilt Pattern by K.G. Arnold of Tobacco Shed Quilts. This pattern is a testament to the beauty of paper-piecing, offering quilters a chance to construct a large-scale, 60″ x 60″ mandala with precision and ease. If you have experience with paper foundation piecing and sewing curves, this pattern will be a joy to create. It's designed to guide you smoothly through each step, resulting in a breathtaking quilt that marries meticulous technique with artistic design—a true quilter's masterpiece.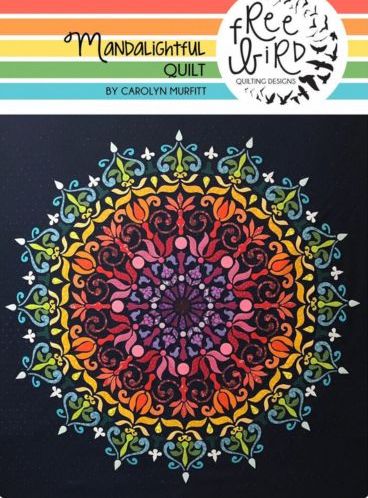 Designer: Carolyn Murfitt of Free Bird Quilting Designs
Step into a kaleidoscope of fabric with the Mandalightful Quilt Pattern by Carolyn Murfitt of Free Bird Quilting Designs. This pattern assembles a bright, colorful mandala that's ideal as a lap quilt or a stunning wall hanging. Embrace the joy of appliqué, bringing together numerous small pieces from your stash to bloom into a radiant quilt. Play with a mix of vivid colors to enhance the allure of your mandala. At a finished size of 67″ x 67″, it's a statement piece that's both captivating and comforting. The accompanying 28-piece acrylic template set, compatible with the Mandalicious pattern, streamlines your crafting process, making tracing and cutting a breeze. Create a quilt that's not just a project, but a piece of art.
The world of Mandala Quilt Patterns is a testament to the beauty and intricacy of quilting. Each design invites you to pour your creativity into a tapestry of fabric and thread, turning each quilt into a personal reflection of artistry and skill. These patterns are more than just instructions; they are an inspiration. They beckon quilters to stitch together not just pieces of fabric, but a mosaic of color, texture, and warmth that will be treasured for years to come. Embrace the pattern that captures your heart, and let your quilting journey begin.