When starting your quilting hobby, the first block of learning is a half-square triangle. Opposite to the contrary is not just a quilt block. You can create a whole range of remarkable half-square triangle quilt projects with it! The versatility and ease of half-square triangles in quilting inspired us to compile a list of our top-choice of HST quilt patterns.
Free Half Square Triangle (HSTs) Quilt Patterns – Top Picks
1. Stitches from the Heart Quilt Pattern
Looking for a birthday gift for your best friend or partner? This downloadable pattern from Fat Quarter Shop is perfect for you! Pour your love and care into this lovely quilt! It is beginner-friendly and only employs mini half-triangles to form a heart shape.
Select from the two sizing options:
Mini Quilt – 12 inches x 12 inches
Wallhanging – 35 inches x 35 inches
2. Heritage Red & Green Half Square Triangles Quilt Pattern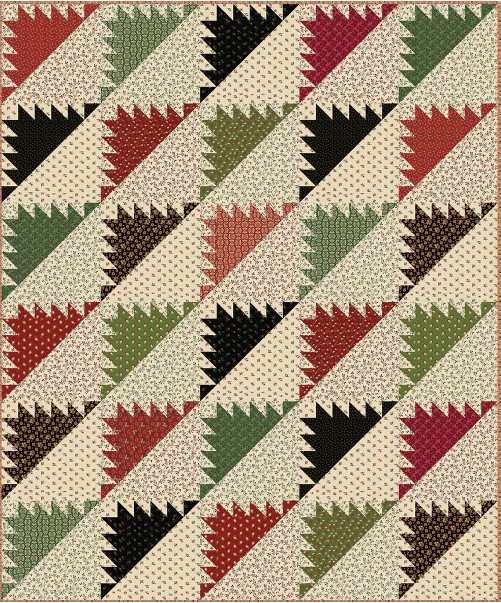 Designed by Marcus Fabrics featuring the fabrics from Judie Rothermel, this inventive style pattern exudes charm and grace that will definitely enchant your houseguests. This design employs a straightforward and quick style to form two right-angle triangles. Quilters of all ages will enjoy recreating this pattern.
The finished size measures 61 inches x 78 inches.
3. Vibrations Quilt Pattern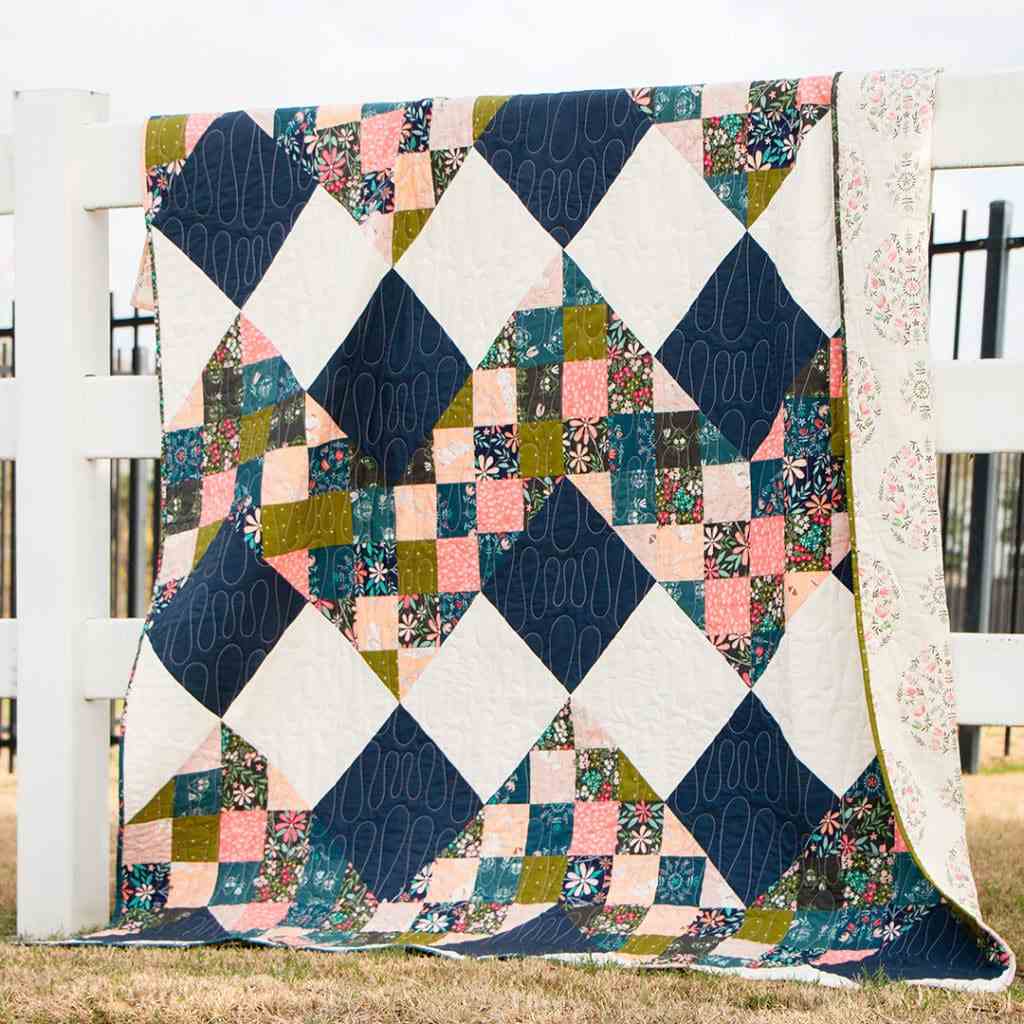 This Free PDF zigzag pattern can add a graphic jolt to your bedroom or living room. Break the monotony in your home design and re-create this pattern! The movement and buoyant colors bring cheerfulness to your home. Fat Quarter Shop designed and stitched this lovely quilt featuring the Meriwether fabric collection by AGF Studios for Art Gallery Fabrics. Beginner and advanced quilters alike will have fun recreating this one.
The finished size measures 70.5 inches x 84.5 inches.
4. Pointed Possibilities Quilt Pattern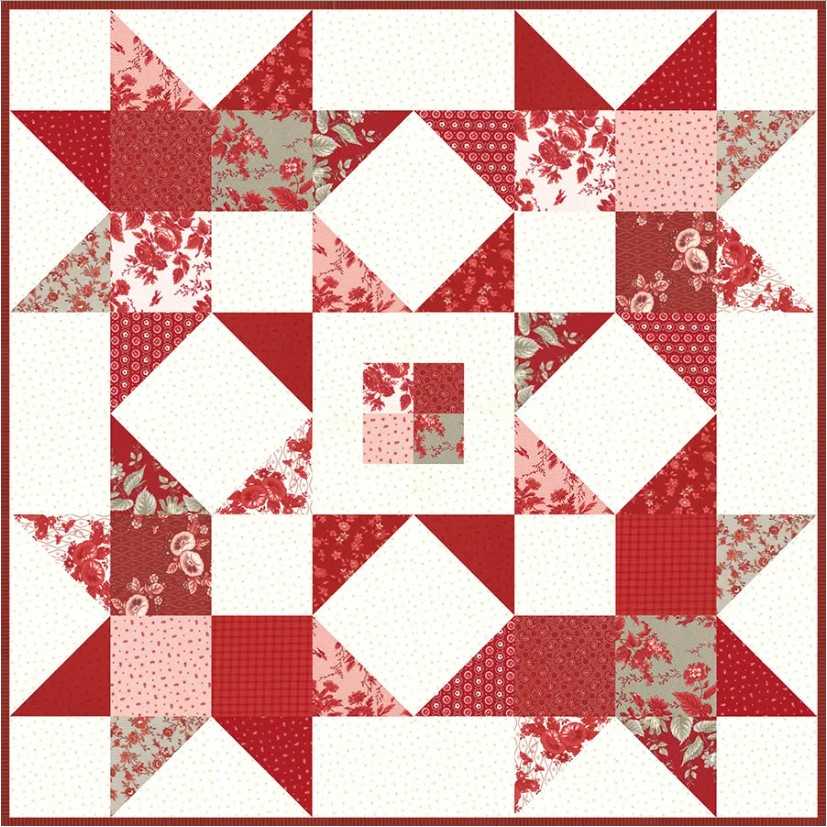 This stunning start design is ideal for elevating your bedroom or living room. Triangles on a Roll of paper (TOAR) and a favorite precut can be combined to recreate this quilt in six different sizes. Gina Tell of Thread-Graffiti.com designed this pattern for Fat Quarter shop featuring the Roselyn fabric collection by Minick & Simpson for Moda Fabrics. A step-by-step video tutorial is included.
It has six sizing options you can choose from:
8.5 inches x 8.5 inches
16.5 inches x 16.5 inches
24.5 inches x 24.5 inches
32.5 inches x 32.5 inches
40.5 inches x 40.5 inches
48.5 inches x 48.5 inches
5. Lagoon Half Square Triangles Quilt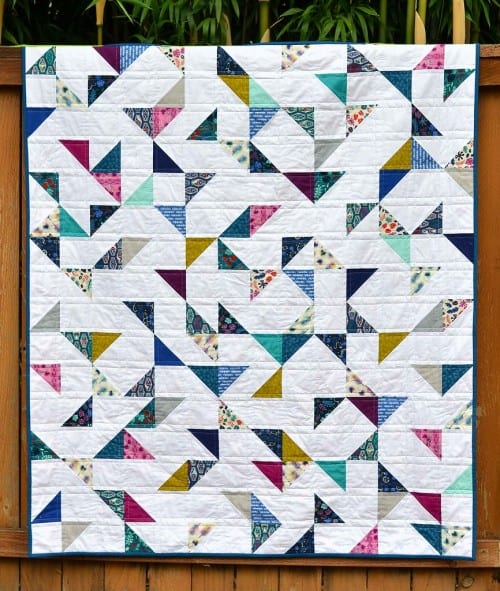 A great HST Project to use your prints and solid scraps. The white solid fabrics as a background make the printed fabrics pop out nicely.
The Lagoon Half Square Triangles Quilt is a free quilt pattern designed by Erica of kitchen table quilting featuring the Lagoon fabric collection of Rashida Coleman Hale from Culcita. The rotating HSTs with scattered solid blocks create a free-form design quilt that is perfectly planned but looks random.
Available in two sizing options: Baby 40 inches x 48 inches, Lap Quilt 56 inches x 64 inches
Learn more about Lagoon Half Square Triangles Quilt pattern here
6. Charmalade Quilt
If you are looking for a quilt pattern for your summer picnics, look no more because the Charmalade Quilt might be the quilt project you are looking for.
Charmalade is a lovely quilt pattern using half-square triangles. Intermediate quilters would finish the beautiful quilt easily and quickly.
Gather your charm packs and start your summer blanket now.
Project Finished Size: 56 inches x 68 inches
Learn more about Charmalade Quilt pattern here
Printable HSTs Quilt Patterns To Download From Online Shops (Paid)
1. Arrow Point Path Quilt Pattern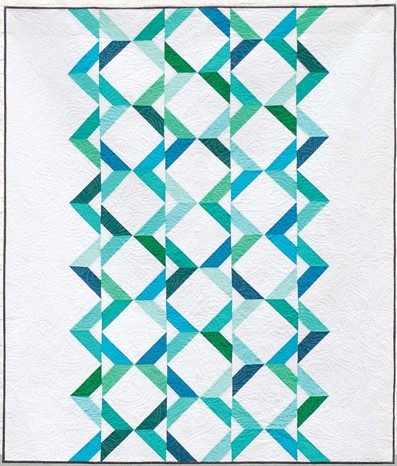 Ride the wave of this cool pattern, which adds a vibrant twist to your home interiors! This quilt by Cheryl Brickey for Meadow Midst Designs is fat-quarter friendly pattern. It is ideal for confident beginners and intermediate quilters. This downloadable pattern employs half-square triangles to create a captivating design.
Whether you like it as a pillow or bed cover, they have all the sizes you need:
Baby – 38 ½ inches x 49 ½ inches
Lap – 60 ½ inches x 70 ½ inches
Twin – 72 ½ inches x 91 ½ inches
Queen – 92 ½ inches x 98 ½ inches
2. Maid Modern Quilt Pattern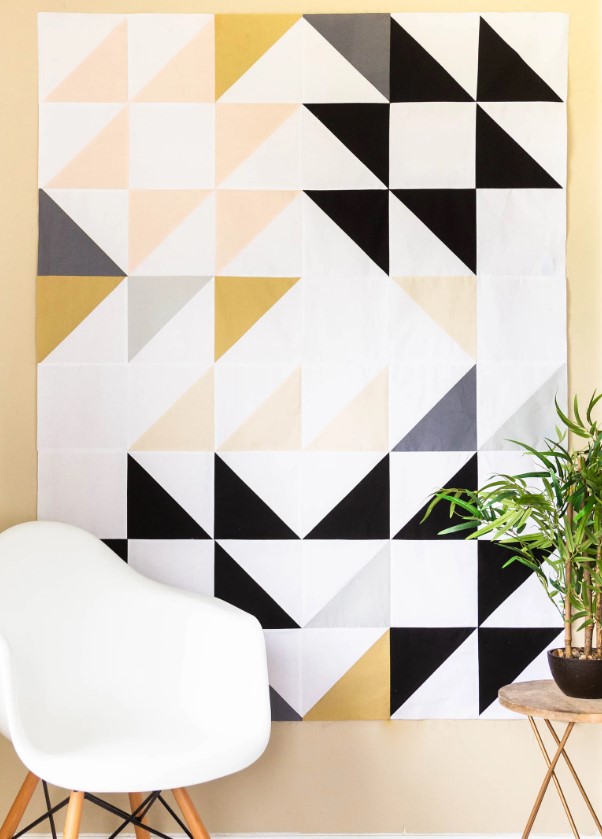 If you're new to the quilting journey, this quilt pattern will be the perfect project to start! A traditional pattern can be given a contemporary twist with this simple quilt pattern. This quilt pattern exudes elegance and sophistication. Shelly Morgan of Coral and Co designed it. It may look complicated, but its huge blocks make it easier to recreate.
Feel free to choose from any three sizing options:
Crib Size – 39 inches x 52 inches
Throw Size – 48 inches x 64 inches
Twin – 69 inches x 92 inches
Full/Queen – 78 inches x 104 inches
King – 102 inches x 136 inches
3. Whirl Quilt Pattern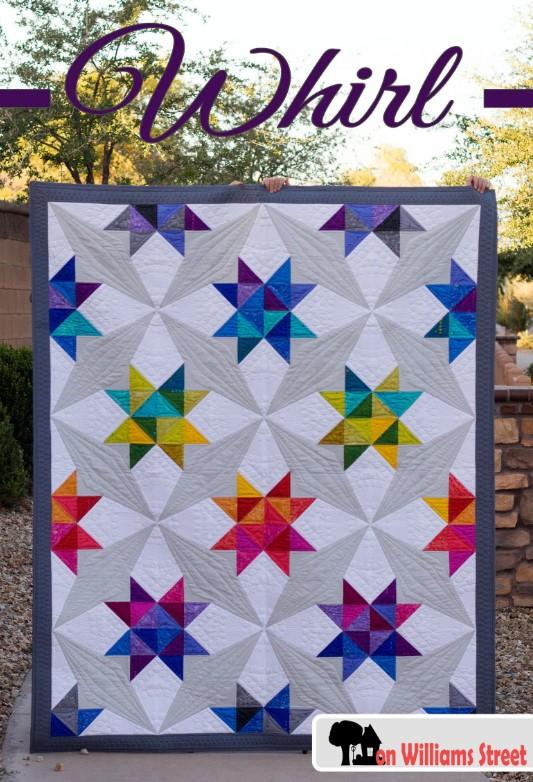 From one of the alluring designs of On Williams Street, this instant download PDF pattern is an ideal weekend project. To make a bright and cheery statement in any room of your house, Whirl is a modern quilt pattern that uses half square triangle blocks and a foundation paper pieced block. Experience and knowledge in quilting are required to complete this pattern. This pattern is best for intermediate and experienced quilters.
The finished size measures 57 inches x 57 inches.
4. Neutral Twists Quilt Pattern
Bring your creativity to the test with this Neutral Twists Quilt Pattern! This modern design employs half-square triangles into simple small blocks that form a classy and eccentric style. This beginner-friendly quilt pattern belongs to Pam Boswell.
The finished size measures 57 inches x 25 inches.
5. Simply Serene Quilt Pattern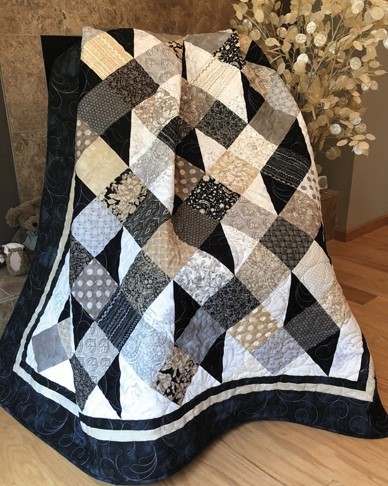 Transport yourself to your solitary place with this Simply Serene Quilt Pattern by Diana Beaubien! Let the earth's colors rekindle your harmonious relationship with nature and feel a calmness wash over you. Quilters of all levels will enjoy recreating this quilt pattern.
It has four sizing options you can choose from:
Throw – 63 inches x 75 ½ inches
Twin – 63 inches x 88 ½ inches
Queen – 88 ½ inches x 114 inches
King – 114 inches x 114 inches