Existing clothes repairing is a compulsory part of every home until you have enough money to purchase new clothes all the time. Even if you are stitching up a tear, hemming a pant, or re-attaching a button, it helps to have a way to make those repairs easily, accurately, and quickly.
For this purpose, you'll need a mechanical sewing machine in your home. So, having the best mechanical sewing machine is the finest way to keep your clothes looking enormous.
Also Read About: Best Sewing Machine Under 300
What is a mechanical sewing machine? 
"A mechanical sewing machine is a sewing machine that has knobs and dials. These knobs and dials allow you to choose stitches and other settings."
Mechanical sewing machines are less complicated as compared to electronics or computerized. These machines are freed from automatic features and come with a single stitch type.
The demand for sewing machines is growing daily, and manufacturers are bringing the latest models at a cut-throat price. Mechanical sewing machines become the first choice of beginners due to their exceptional features that are listed below.
Advantages of mechanical sewing machines
Less complicated easy to understand
You can use it even without electricity or batteries.
Long life (my grandma sewing machine is still in working condition)
Affordable price
Stitch strength and quality are very high.
Easily bear the workload.
Low repair and maintenance cost
Easily handle heavy fabrics.
Disadvantages of mechanical sewing machines
The bulky structure makes it difficult for portability.
Limited stitching options
Lack of latest features like a buttonhole, automatic needle threader, tension adjustment, etc.
Low switching speed as compared to computerized.
6 Best Mechanical Sewing Machines 2023
Check out this quick list of our favorites if you're in a rush or continue scrolling to see our full Top 06 list with in-depth reviews.
If you are a newbie in the sewing field and looking for a sewing machine at an affordable price, then the Brother GX 37 sewing machine could be the right choice for you. This sewing machine is one of the best mechanical sewing machines for beginners.
This machine is compact and portable enough to move anywhere. It comes with 37 built-in stitches, which are more than enough for a newbie.
Brother GX37 Quick Review
First of all, Brother GX37comes with 37 built-in utility and decorative stitches that make it perfect for garment construction applique and more. The stitches are conveniently printed on the machine, and selecting your stitch is as easy as turning the dial.
You can make virtually perfect buttonholes with the GX37 automatic one-step buttonhole stitch and buttonhole foot. Also, you can sew in a backward direction with its reverse sewing lever.
Moreover, the Brother GX37 mechanical sewing machine has an automatic needle threader. This feature makes sure that you don't have to worry about threading the needle. Thanks to its top drop-in bobbin system, winding the bobbin is super easy.
Furthermore, brother GX37 is a very suitable sewing machine for cuffs, sleeves, and other rectangular shapes due to its built-in free arm feature. If you are working on a dark fabric, its LED light will give you a brighter sewing area.
Another fantastic feature of this machine is its built-in thread cutter, which helps both beginners and professionals. Other than this, Brother GX37 comes with handy accessories like 6 presser feet and other necessary tools.
Features We Love
Super easy to set up and use.
Comes with a good number of stitches.
Convenient thread cutter.
Lightweight and portable unit.
Primary mechanical sewing machine at an affordable price.
Smooth and quiet operation.
Features Need to Improve
Unclear instructional manual.
No start/stop button.
No speed control.
The singer classic 44s sewing machine is one of the best heavy-duty mechanical sewing machines in our today's list. Due to its performance and affordable price, singer 44S is a well-known product. Although it is a home sewing machine, both beginners and pros can take advantage of this brilliant product.
Singer Classic 44S Quick Review
Singer heavy duty 44S sewing machine comes with 23 unique built-in basic, stretch, and utility stitches. It also has a fully automatic one-step buttonhole feature. You just have to select the pattern setting and push the button, and the machine will do the rest without worrying about the results because it will give you professional results.
Running out of thread in the middle of the seam can make you fanatical. To overcome this problem, singer 44S has a jam-resistant bobbin that helps you to sew comfortably. The top drop-in bobbin is easy to thread the machine.
You can also monitor the thread supply because the bobbin cover is transparent. Moreover, its automatic needle threader system makes it quick to thread the sewing machine.
Additionally, You can do fashion sewing and free motion quilting with this sewing machine because it has a built-in drop feed lever. Disengage the feed dogs to use this feature.
Moreover, adjustable presser foot pressure is also a brilliant feature in the Singer 44S mechanical sewing machine. It becomes a more important feature while working on heavyweight or very lightweight fabrics.
Singer heavy-duty mechanical sewing machine 44S has a strong motor for its class. It is supposed to be 60% stronger than motors in similar machines. Anyway, it will allow you to sew up to 1100 stitches per minute. This heavy sewing speed is mighty impressive for a low-end sewing machine.
Features We Love
Sturdy and long-lasting sewing machine.
Suitable for all kinds of fabrics.
60% more powerful motor.
Professional stitch quality.
High sewing speed (1100 SPM).
Reasonably priced sewing machine.
Features Need to Improve
Noisy sewing machine.
Plastic bobbins are used that are not durable.
Are you looking for a simple go-to machine to make easy repairs and basic mending? Do you have a list of basic sewing projects from garments to the home deck you'd like to deal with? Look no further than the Brother XM 1010 mechanical sewing machine. This mechanical sewing machine is the perfect choice for those learning to sew or just for everyday use.
Brother XM1010 Quick Review
Brother XM1010 feature-rich sewing machine is a charming mechanical sewing machine that comes with 10 built-in stitches. Including stitches are straight zig-zag and satin stitches, which are perfect for everyday sewing applique and repairs.
With the elastic stitch, sew knits with the stretch stitches and use the blind hem stitch for nearly invisible hems. Furthermore, selecting your stitch is as easy as turning a dial, and the reverse sewing lever gives you added control at your fingertips.
Additionally, the easy-to-use quick-set drop-in top bobbin helps provide even stitch quality. The bobbin cover and bobbin are clear, so you can see when you're low on thread. Its metal interior frame is sturdy yet lightweight with a built-in handle for easy portability. the ideal machine to take along when joining in sewing events
Included feet are buttonhole foot, button sewing foot, zig-zag foot, and zipper. Besides, it's incredibly easy to change the presser feet with its quick-change sewing feet feature.
Another outstanding value feature of the Brother XM1010 is the convertible flatbed two free arm sewing service that allows you to sew sleeves, cuffs, and pant legs. Moreover, the included storage provides room for your included accessories. The LED lighting gives you a super bright work area.
 Features We Love
Adjustable thread tension.
Jam resistant bobbin system.
Lots of included essential accessories.
Ideal mechanical sewing machine for beginners.
Exciting 25 years warranty.
Features Need to Improve
No automatic needle threader.
No wide table included.
Are you looking for a versatile industrial-grade sewing machine? Put your eyes on the Janome HD1000 sewing machine. This fantastic sewing machine is not only a heavy-duty sewing machine but also easy to use. That's why we also included this machine in our category of industrial sewing machines in 2023
Janome HD1000 becomes an ideal choice for beginners and pros alike because it is sturdy, fast, and versatile enough to deal with almost every kind of fabric. You can tackle many sewing projects with this feature-rich mechanical sewing machine.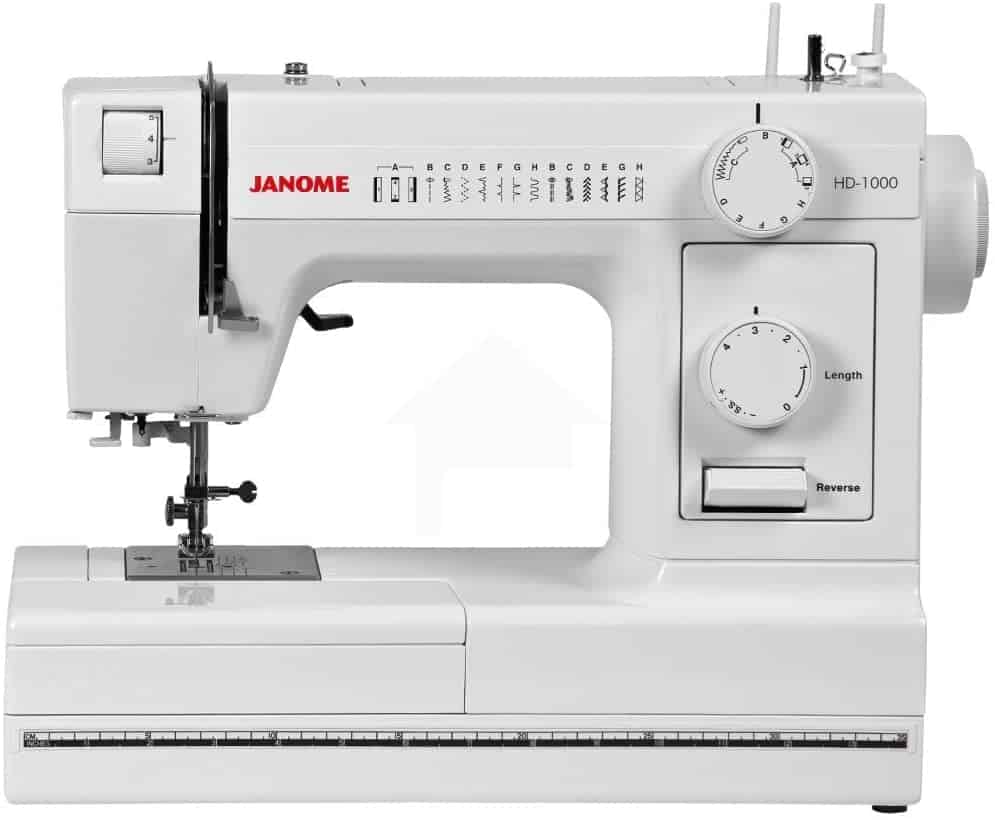 Janome HD1000 Quick Review
Many sewing machines claim that they are strong enough to tackle almost every sewing job, but they don't really carry once you get them home. But the Janome is a real sturdy and capable of tackling heavy-duty sewing tasks. The Interior and exterior are made of aluminum to make Janome HD 1000 a durable sewing machine. But you don't have to worry about its weight, because it weighs only 17 pounds.
When it comes to its versatility, Janome HD1000 has 14 unique built-in stitches for variety without devastating the number of choices. It comes with Basic, Quilting, Fashion, Home Décor, and one 4-step Buttonhole. The machines with a considerable stitch quantity can be tough to track, but the Janome HD 1000 has a simple dial to select the desired stitch.
Additionally, it has a drop feed with a three-piece feed dog for quilting, sewing buttons, and darning.  It gives you a straight control over the fabrics as it's fed through the machine for improved accuracy and movement choice.
Threading the needle is one of the most boring things about the sewing machine. Fortunately,  the Janome HD1000 has an automatic needle threader. Plus, controlling the thread tension is also really simple in this mechanical sewing machine. At the top of the unit, a simple dial can tighten and loosen the thread tension according to the fabrics.
Overall, this heavy-duty sewing machine has a brilliant performance as compared to other units in this category. It can handle almost every sewing task for you. Besides its heavy-duty, it's also portable due to its 17 pounds weight. Janome HD1000 is a real workhorse and equally suitable for both beginners and professional seamstresses.
Features We Love
Heavy-duty construction.
Made with Lightweight but durable aluminum.
Extra high presser foot.
Automatic needle threader.
Beginner-friendly.
Suitable for heavy-duty sewing tasks.
Features Need to Improve
Not properly works on denim clothes.
Clutch can slip many times.
Learning to sew is cool and easy with the Singer simple 3232 mechanical sewing machine, created with beginning sewers in mind. Although singer 3232 is a basic unit, it gives you all of the fundamental features you need for a strong start.
Furthermore, it is fully equipped to meet your requirements for years to come as you carry on to an advanced level. Anything a beginner sewer could desire or require can be found in the Singer 3232 Sewing Machine. But, it also offers advanced features for professionals to upgrade their skills.
Singer 3232 Quick Review
As we mentioned earlier, that Singer simple 3232 Designed for those who are new to the fantastic world of sewing, the Singer 3232 Sewing Machine packs a punch in terms of features – all at a reasonable price. The machine's needle features an automatic threader, which notably reduces the amount of time required to sew. Automatic one-step buttonholes will give you a professional result with the just touch of a button.
Moreover, this sewing machine also has a built-in catalog of six basic stitches, six stretch stitches, and 19 unique decorative stitches for sewers to experiment with.
This sewing machine's straightforward design features a metal frame designed for the machine's durability. The machine's frame's durability is matched only by its 25 years, limited warranty from the manufacturer. Singer also offers a two-year warranty on all of the model's electrical components and a 90-day warranty on all services and labor.
Furthermore, the singer 3232 sewing machine will not disappoint you in the sewing speed department because it has a maximum of 750 stitches speed per minute. So, larger projects can be sewn quickly. Just push the conveniently located automatic reverse button to sew in reverse and reinforce the stitching. Thanks to its high presser foot lifter, the Singer simple 3232 sews several layers of thick fabric.
One of the significant aspects of the Singer 3232 is that it comes with all of the handy accessories one needs to begin using it right out of the box. The unique accessories are a soft dust cover, darning plate, auxiliary pin, additional packs of the needle, and more.  In the final analysis, the model's reasonable price, together with its 25 years warranty, makes this sewing machine a solid bet for a novice sewer.
Features We Love
Heavy-duty metal frame.
A good amount of built-in stitches.
Straightforward, simple design.
Included 4 unique presser feet.
Comes with a variety of accessories.
Features Need to Improve
Not many features included.
Design is relatively uninspired.
The front-loading bobbin is a bit difficult.
Are you looking for the best mechanical sewing machine that is lightweight and portable? Then put your eyes on the Singer Mechanical MX60 sewing machine. This sewing machine is a brilliant unit on a low budget that is more suitable for beginners.
The features in the singer MX60 make it the number one choice for taking to a sewing class or for sewing in smaller places. Moreover, it is the product of a reliable brand in the sewing industry, Singer.
Singer Mechanical MX60 Quick Review
With a budget of under $200, the Singer MX60 Mechanical sewing machine is an ideal choice for those who want to learn and start sewing techniques. It looks sturdy but lightweight enough to move anywhere. Moreover, its heavy-duty metal frame not only allows you to skip free stitching results but also makes the machine durable. You can easily tackle basic sewing, alterations, and home projects because all the trendy stitches are built-in.
Furthermore, to make Singer MX60 convenient, especially for beginners, the stitch length and width are preset.  It means you can use it straight from the box. Four-step buttonholes also included, and it's super easy to sew buttonholes in simple four steps. Follow the threading guide for an easy upper thread. Moreover, a front-loading bobbin system makes it a more convenient sewing machine.
Another best feature of this sewing machine is that you have the option of reverse stitching. Generally, to secure the seam at the start and end to avoid untying, you need reverse stitching.
While dealing with different fabrics, you need to adjust the thread tension. Thankfully, MX60 comes with adjustable thread tension. You can use a simple dial to adjust the thread tension according to your fabric or the project's demand.
The Singer model MX60 sewing machine has a light above the needle that shines down on the sewing area. This LED light helps you a lot while working in a dark room or dark fabrics.
In our opinion, the only drawback of this Singer MX60 mechanical sewing machine is that this machine hasn't lotted of included accessories. Other than this, MX60 is a fantastic machine, and it is the best value for money. You can sew fashions, create crafts, quilt, and simple mending jobs with this brand of Singer.
Features We Love
Heavy-duty metal frame.
Preset stitch length and width.
Adjustable thread tension.
Easy threading and bobbin winding.
A great choice for beginners.
Features Need to Improve
No free arm feature.
Tension settings need to be accurate.
Buying Guide of Best Mechanical Sewing Machine in 2023
A good mechanical sewing machine is supposed to provide the ability to perform any project you have in mind. It must be user-friendly. It should also be able to handle different types of projects at a low cost. Buying a mechanical sewing machine is not a difficult task anymore. We are listing the key feature you need to keep in mind when purchasing a mechanical sewing machine.
Sewing speed
Before purchasing a mechanical sewing machine, you should keep in mind its sewing speed. The sewing speed of a sewing machine is an essential factor. If the device has a fast stitching speed, it will work fast, and you will complete your project quickly. But if you are a beginner, then this fast speed will ruin your projects.
We recommend that a sewing speed of less than 1000 SPM is ideal for beginners. But if you are a professional, you need to choose a mechanical sewing machine with a sewing speed of about 1500 SPM.
Number of stitches
Another important point to consider before purchasing a mechanical sewing machine is the number of built-in stitches. You should choose a sewing machine that has at least ten built-in stitches with basic buttonhole styles.
Besides, an excellent mechanical sewing machine can control the stitches' lengths and widths. So, when you are in the market for a mechanical sewing machine, keep in mind to purchase a machine with variable stitch lengths and widths.
Build quality
Next, you have to consider the construction material of the mechanical sewing machine. For example, if you want to deal with heavy fabrics, denim, leather, and jeans, you need a heavy-duty metal frame sewing machine. Along with the heavy-duty metal frame and strong body, its motor should also be powerful enough to complete heavyweight projects.
Accessories
Make sure that the sewing machine comes with all the necessary accessories. If all the accessories are not included in the box, you will have to buy them separately. This extra purchase will affect the overall budget. These accessories are presser feet, needles, bobbins, screwdriver, and so on.
Handy features
Most of the mechanical sewing machines come with necessary features. But some have less than others. Keep in mind that it has basic hand features like an automatic needle threader, reverse stitching, automatic bobbin winding, working are LED bulb, top drop-in bobbin, free arm, etc.
Price range
Most mechanical sewing machines are priced from 100 dollars to 1000 dollars. But the high-end more advanced machines may be pricier. Try to purchase a sewing machine with rigid metal frames because these are supposed to long-lasting. These are a little bit expensive, but they are worth your money.
Plastic material models are cheaper but may not guarantee durability. In our opinion, you should avoid these plastic-made machines, especially if you a pro.
Common FAQs About Mechanical Sewing Machines in 2023
How Much Does A Mechanical Sewing Machine Cost?
Usually, mechanical sewing machines are cheap as compared to computerized sewing machines. Mechanical sewing machines range from $100 to $500.You can find a good sewing machine for as little as $150. If you are a beginner, it is strongly recommended to purchase a cheap unit first.
How to Maintain a Mechanical Sewing Machine?
Maintenance of a mechanical sewing machine is easy than a modern automated sewing machine. Of course, maintenance is the key to a long-lasting sewing machine. Below are some important maintenance steps to follow for the durability of your sewing machine:
Keep the sewing machine covered when it's not in use to keep it dust-free
Always use the recommended best oil for oiling the unit.
Change needles frequently
Remove lint with compressed oil.
Annual service is necessary for smooth operation.
Always contact a professional in case the machine gets broken.
Are mechanical Sewing machines best for Beginners?
Yes, mechanical sewing machines are the best sewing machine for a newbie. Firstly, these sewing machines are cheap and don't make a hole in your pocket. Secondly, mechanical sewing machines are less complicated for a beginner. Moreover, one can straightforwardly fix a mechanical apparatus in case something goes incorrect.
On the other hand, computerized sewing machines are complicated, and you have to look for a professional if any fault occurs in the machine.
Does a Mechanical Sewing machine make more noise while sewing?
Yes, mechanical sewing machines make more noise than computerized or electronic sewing machines. But this is not in all cases. Some well-built mechanical sewing units are super quiet during operation. The noisy operation of the mechanical sewing machine is due to its heavy structure and manual operation.
Bottom Line
Now that you have gone through the mechanical sewing machine, you may know what to choose. You should make sure that the selected sewing machine fulfills your requirements.
One more thing you should remember is to learn all about mechanical sewing machines if you are going to spend your money on any of these brands. There are also other types of sewing machines available in the market; however, you will have to search for them quite much. But here we choose the best mechanical sewing machine at an affordable price.