The Missouri Star Quilt Company was founded in Hamilton. In 2013, their store is known as the largest selection of pre-cut fabrics worldwide. Their pre-cut fabric collection consists of a wide array of fabrics, including jelly rolls, charm packs, and layer cakes.
Aside from that, they teach quilting, adding sash, making pinwheels, and creating unique patterns through their videos. The talented quilt masters like Jenny Doan and Rob Appel always give fresh patterns to use. We handpicked the best patterns to try on your next quilting project from Missouri Star Quilt Co.
Free Missouri Star Quilt Patterns – Top Picks
1. Starstruck Quilt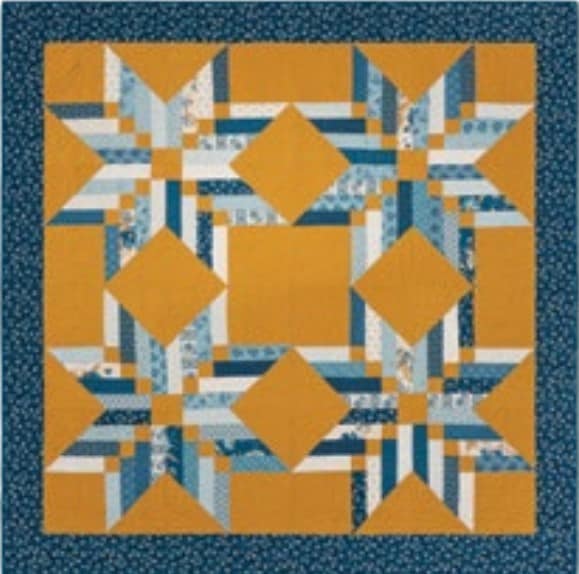 No need for the dawn to come, go stargazing all day with this captivating pattern. It highlights four twinkling eight-pointed stars. Starstruck Quilt Pattern is a fantastic option for beginners and experts alike. It only comes with one sizing option which is 75"x75.
2. Happy Spring Wall Hanging Quilt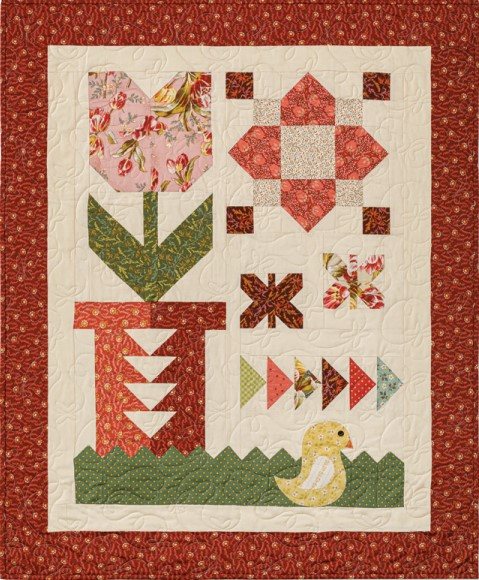 You won't have to wait for Spring to bloom! Whether you're excitedly preparing for Spring or want to display a piece of your favorite season, this is perfect. You can't go wrong with this sampler-style wall hanging that features favorite quilt blocks and an adorable Chuck the Duck. Include this in your fun spring project list. The finished wall hanging size is 37″ x 45″. Jenny Doan shares a video tutorial and product recommendations.
3. Wild Blue Yonder Quilt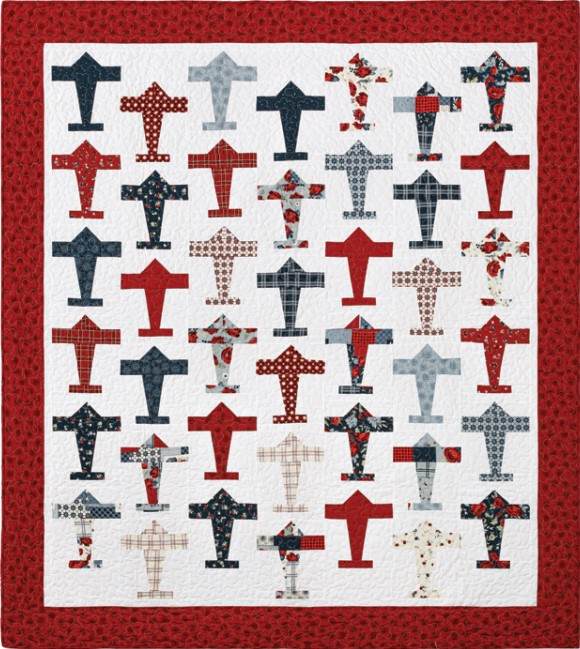 Searching for the best pattern for your little boy? Wild Blue Yonder Quilt Airplane Quilt is a must! This is the ideal option for any little kid. Airplanes in primary colors are a winning piece for a newborn crib or a child's bedroom. However, boys of all ages love playing with aircraft.
With pre-cut fabric squares measuring 10 inches by 10 inches, Jenny Doan demonstrates how to build a stylish aviation quilt. Simple sashing and the Missouri Star Large Dresden Plate Template for 10″ Squares make this clever layer cake quilt come together quickly.
4. All Roads Quilt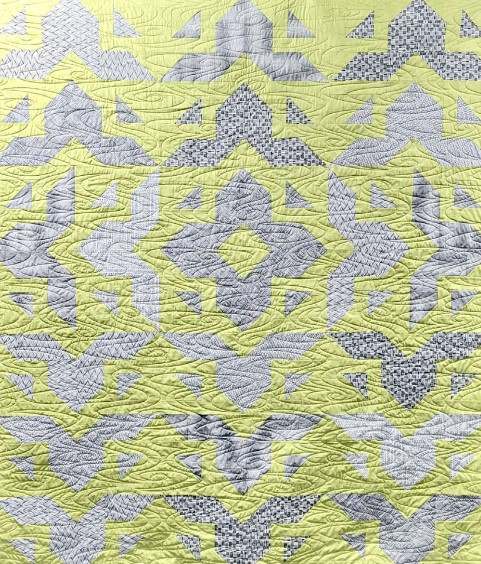 The All Roads Quilt was crafted with more than 12 different fabrics in 6 different colors. The blocks are assembled in shifting positions to echo out from the center. Machine quilting is necessary to complete this design. Veteran quilters with big home quilting machine tools will love this challenging pattern.
5. Forest Lights Quilt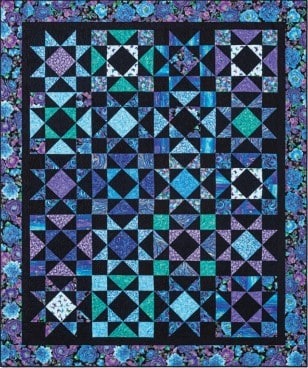 This woodland-themed quilt pattern is an excellent choice as a present for a hunter or animal loved one. The pattern is composed of half-square triangles of stars. Every other block is flipping directions. The Forest Lights Quilt is a quilting project novice, and expert quilters will enjoy.
Finished Quilt Measures: 79 inches x 95 inches
6. Twirly Tulip Table Runner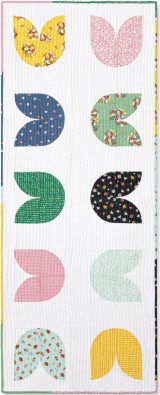 Looking for a spring project to celebrate the warm weather to come? This Twirly Tulip Table Runner is a great choice for your floral project. At first glance, it looks like a difficult pattern because of the tilted tulips curves. Don't be intimated by the curves because this pretty quilt design is fast and easy to accomplish. Decorate your tables and bring in some springtime blossoms! Step-by-step video tutorial, pattern, and fabric suggestions are shared by Misty Doan of Missouri Star Quilt Co.
Finished Quilt Measures: 59 inches x 23 inches.
7. Kona Solids Falls Quilt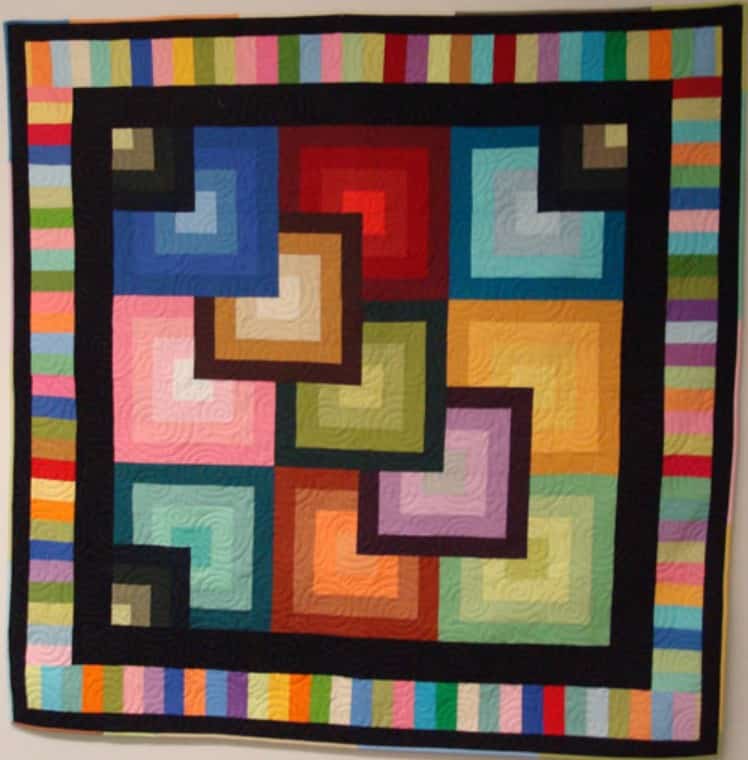 This colorful quilt pattern is recommended for beginners. The different sizes of squares are positioned to create an illusion effect. One jelly roll is enough to complete this design. It was designed by Dawn Refsell of Missouri Star Quilt Co. The free pattern comes with step-by-step instructions.
8. Morning Star Quilt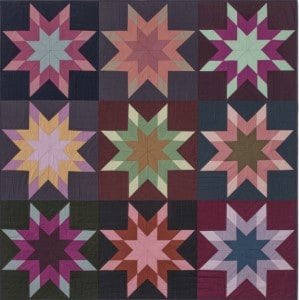 Rise and Shine for this Morning Star quilt design! It only takes 2.5 inch strips of precut jelly rolls to create this magnifient pattern. Tara Faughnan designed this simple yet captivating star quilt. It's easy to make which is ideal for a weekend project. The finished quilting size is 60 inches x 60 inches.
9. Split Bars Quilt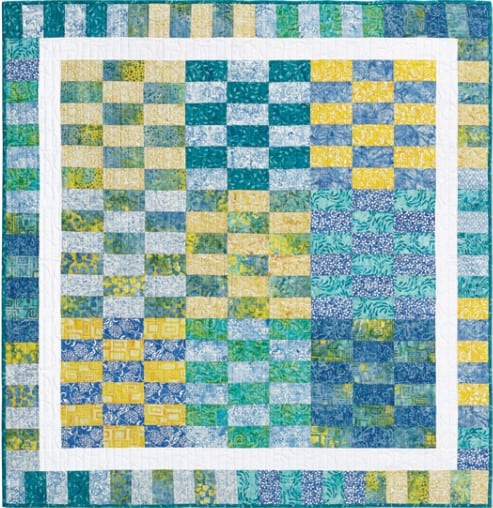 This design is an alternating stripes in parallel vertical bars. Your favorite prints and color schemes will shine through in the Split Bars quilt. It is perfect for beginners. One jelly roll is all you need to craft this repetitive bar pattern. The accomplished quilt measures 47 inches x 47 inches.
10. Easy Argyle Quilt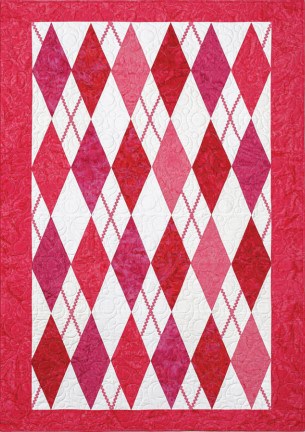 Missy Doan shares free video tutorial of the timeless pattern, Argyle. The lovely design is centered around argyle pink diamonds that compliments against the white background. Snuggle up with this goregous blanket during cold seasons!
Finished Quilt Measures: 50 inches x 71 inches
Printable Missouri Star Quilt Patterns To Download From Online Shops (Paid)
1. Summer Waltz Quilt
Summer Waltz Quilt is an amusing pattern to create that is cake layer friendly. Its colorful and intricate diamond blocks create a dancing illusion across the quilt. It is crafted by Charisma Horton. Color contrasting is required to achieve a stunning final result. This pattern is recommended for advanced quilters. The finished product size is 72"x 96".
2. Candy Dish Quilt
This colorful pattern might look complex, but it is actually easy and fun to make. The four-patch blocks are made up of triangle and hourglass combinations. This The Candy Dish Quilt pattern is ideal for quilters who are a sweet tooth and loves candies. Instructions for constructing half-square-triangle units are included in the pattern. Charisma Horton styled this mouth-watering pattern.
Finished Quilt Measures: 64 inches x 72 inches
Ready to Ship Missouri Star Quilt Pattern (Paid)
1. Friendship Pinwheel Quilt
The lovely Pinwheel Quilt Pattern showcases pretty pinwheels spinning among white sashing and border. This design is beginner-friendly. It is perfect for your weekend project because it only takes 11 minutes completion. Jenny Doan of Missouri Star Quilt demonstrates how to utilize a press line and chain pieces for a time-saver quilt. The finished quilt size is 64 inches x 82 inches.