The Nine Patch is a classic quilt block and an ideal pattern for starters. It consists of nine squares of fabric sewed together to form a larger square. Numerous creative quilt projects begin with nine patch blocks. Whether you want a new quilt pattern for your guest room, living room, or baby's nursery, we compiled the distinctive designs you're looking for!
1. Charmed Dutch Nine Patch Quilt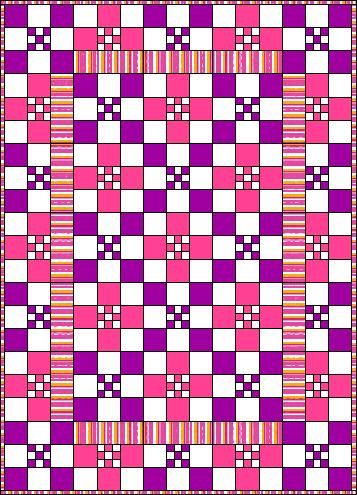 The Charmed Dutch Nine Patch Quilt is a free downloadable quilt pattern designed by Cindy Carter of Carter Quilter. This quilt project has a diagram and guide for three fabric options; the scrappy, scrappy with every block in a different fabric and the Non-Scrappy. Cindy also includes the number of different fabrics to be used in three different quilt sizes; Baby/Lap, Twin, and Full/Queen.
Learn more about Charmed Dutch Nine Patch Quilt pattern here.
2. Crazy Nine Patch Quilt Block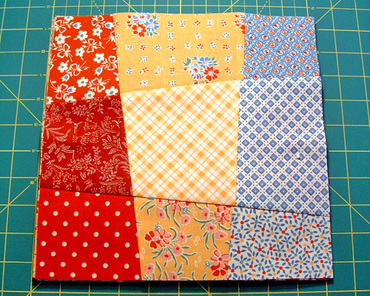 The Crazy Nine Patch quilt block is not your traditional nine patch block but this is a fun to make activity and great for those who are just starting to quilt. This is a step by step tutorial with photos by Jenny of Jenny Allsorts.
Coordinate your choice of fat quarter or fabric scraps and make this piecing pop.
Finished Quilt Block Measures: 10 inches x 10 inches
3. Colleena Quilt
Colleena Quilt is a free quilt tutorial by Michelle Marr of Michelle's Romantic Tangle. This baby quilt project is a combination of two alternating simple and classic blocks – nine-patch and a snowball. These two traditional quilt blocks are quilters favorites.
Choose brightly colored charm packs or scraps for the 9-patch Snowball Quilt pattern. A beginner-friendly quilt project that is great gift for baby gender reveal.
Skill Difficulty Level: Easy
4. Disappearing Nine Patch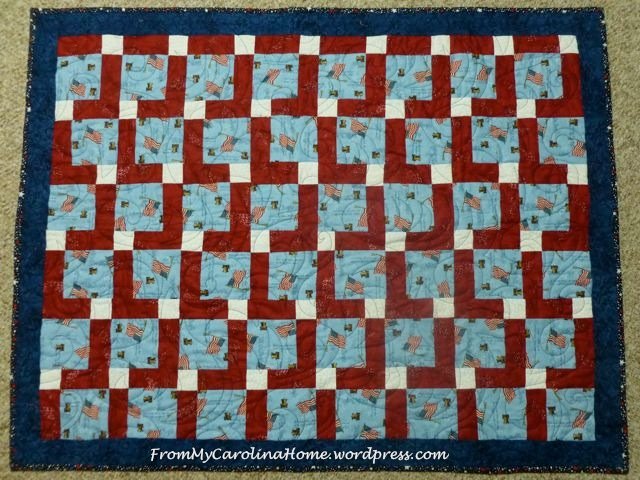 Isn't it surprising to see how many different variations you can come up when doing Disappearing Nine Patch (D9P)? This Disappearing Nine Patch quilt tutorial has an adorable and clever quilt design. A quilt block that is so versatile that possibilities are endless!
This D9P with a twist is designed by Carole of Fom my Carolina Home. A beautiful patriotic quilt to add to your collection.
5. Patchwork Chevron Quilt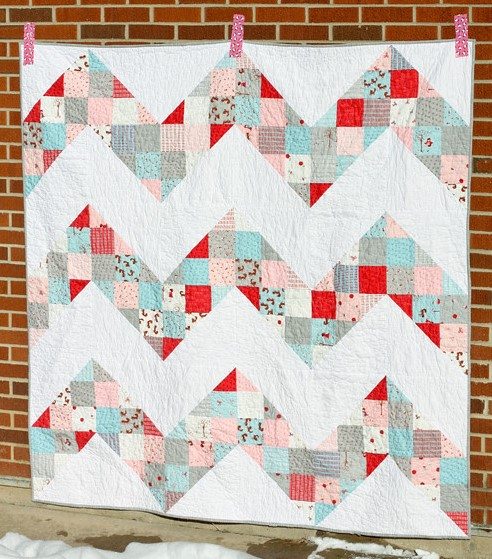 If you love chevron and nine patch quilt blocks , then here is a fun and festive pattern to incorporate these two classics. This is a fabolous quilt project that is so quick to make and so striking.
The Patchwork Chevron Quilt is a free quilt tutorial by Jeni Baker of In Color Order. This is a patchwork quilt pattern that uses half square triangle technique.
A stunning quilt to put on your "to make" list.
6. Disappearing Nine Patch Quilt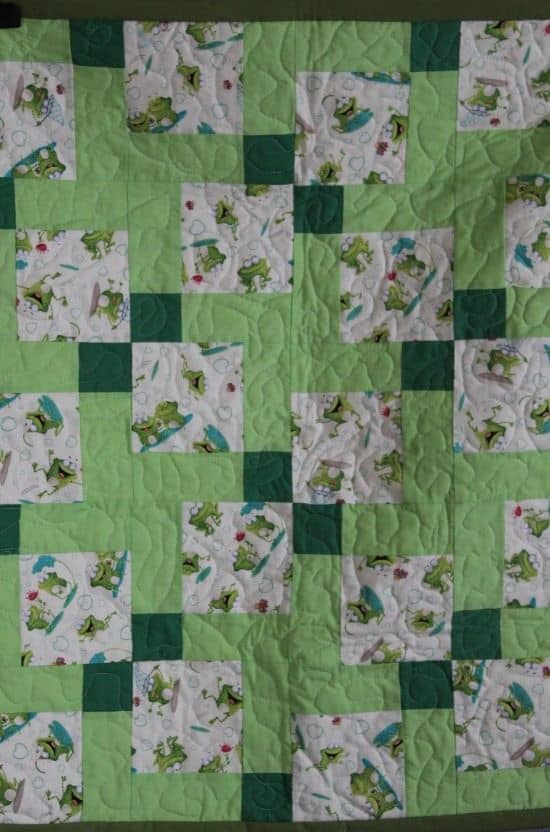 The Disappearing Nine Patch Quilt is designed by Inger of The Rural Quilter. Utilizing a larger print fabric will look fantastic with this pattern. This quilt is pieced using conventional methods. Detailed directions for cutting, assembling, and laying out the pattern are all included in this design. It is called a disappearing nine patch because quilters need to stitch squares into a 9-patch block and then rip them apart.
This unique and easy-to-make pattern comes in 5 sizing options, crib, throw, twin, queen, and the block measures 12 inches x 12 inches.
Finished Quilt Measures:
Crib: 39 inches x 65 inches
Throw: 65 inches x 65 inches
Twin: 78 inches x 91 inches
Queen: 91 inches x 91 inches
7. Black and White Hourglass Quilt Block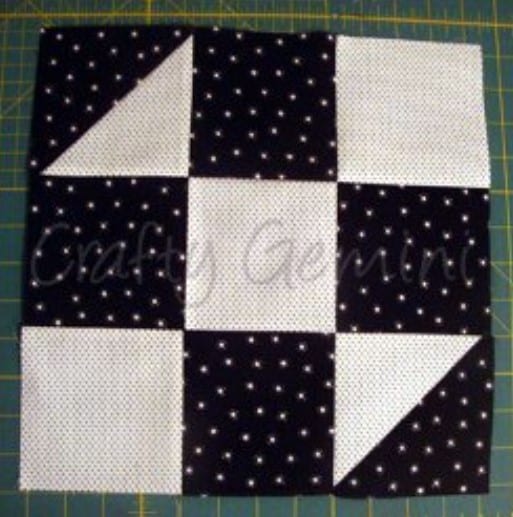 Make your hourglass quilt patterns stand out with this striking black and white hourglass block. Quilters who are fond of triangles will surely love this Black and White Hourglass Block pattern. Vanessa from Crafty Gemini shares this beginner-friendly design for free.
Unlike the usual hourglass quilt blocks, this one is a nine-patch quilt pattern that resembles an hourglass because of the color patterns used rather than the piecework. Follow the exact patterns and color for an intergalactic themed quilt block.
8. Kitty Nine-Patch Patchwork Quilt Block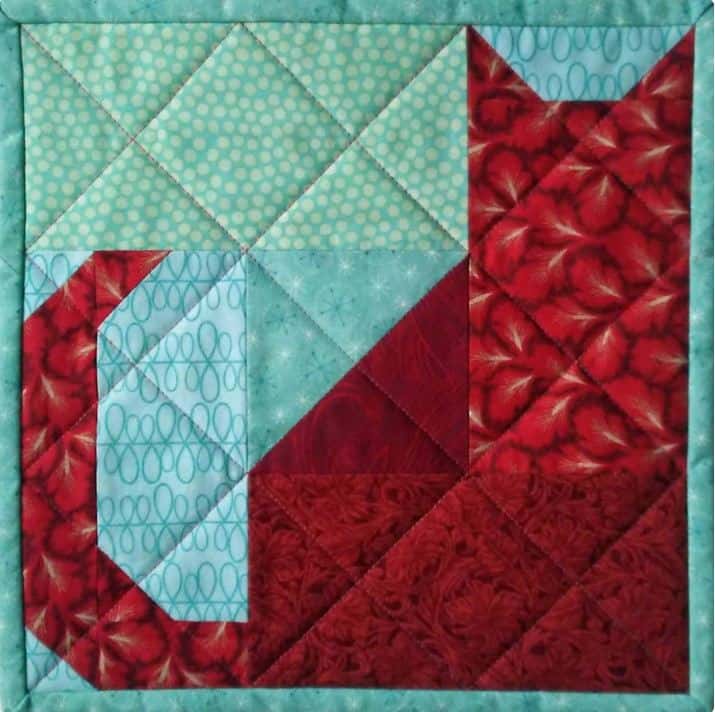 Just like how kittens warm cat-lovers hearts with their playfulness, this cute Kitty Nine-Patch Patchwork Quilt Block Pattern will absolutely capture the hearts of everyone. Nancy Harcourt of Praire Queens Patterns produces this pattern.
The rectangles are made up of several sections that have been linked together to form the cat's head, chest, or tail. This charming patchwork quilt design is ideal for mug rugs, baby quilts, or placemats. The 4-page PDF pattern contains colored diagrams, comprehensive directions, color and fabric recommendations.
9. Quad Nine Patch Quilt Block
Quad Nine Patch Quilt Block Pattern is designed by Karen Bialik. This 3D optical illusion of tumbling blocks is only for amateur quilters. It is a perfect addition to elevating your bedroom decor.
The illusion design comes with a complete tutorial for both queen size and lap size.
Finished Quilt Measures:
Lap: 50 inches x 63 ½ inches
Queen: 88 inches x 98 inches
10. Star Sashed Nine Patch Quilt
A dazzling choice for a nine-patch quilt is this Star Sashed pattern. This fast and easy-to-make quilt comprises snowballed strip sets, 9 patch blocks, 4 patch blocks, and sashing strips. All nine patch blocks are snowballed to form magnificent stars.
Jenny Doan of Missouri Star Quilt Company demonstrates the making process in a free video tutorial. Regardless of your level of experience, you'll enjoy making this brilliant nine-patch quilt pattern.
Finished Quilt Measures: 65 inches x 65 inches
The nine patch is a great starting point and a building block for developing quilting skills. Keeping your lines straight, to nesting seams, this starting phase is one to master! There is no limit to what can be achieved once the basic techniques are mastered. Get your fabrics and start your quilting journey now!