We have gathered different tutorial versions of the Ribbon Quilt Pattern for you to create.
1. Ribbon Box Quilt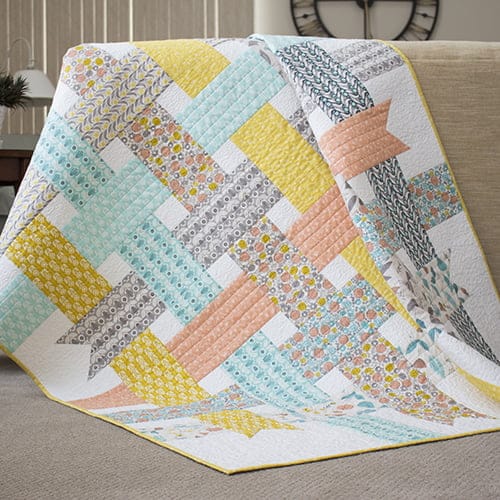 A playful and colorful quilt pattern with random ribbon tails here and there. Ribbon Box Quilt is designed by Michelle Engel Bencsko of Cloud 9 Fabrics featuring the sweet colors and prints from the Grey Abbey fabric collection by Elizabeth Olwen. This pretty interwoven ribbons quilt would be a show-off quilt you'll have.
Finished Quilt Measures: 55 inches x 63 inches
Skill Difficulty Level: Beginner
2. Ribbon Weave Quilt
Here is another ribbon quilt project for you to enjoy. Ribbon Weave quilt pattern designed by Wishwell featuring their Natural Blooms fabric collection by Vanessa Lillrose & Linda Fitch for Robert Kaufman Fabrics. This quilt project is a little bit tricky which is why it is advised to read through all of the instructions before beginning.
Finished quilt measures: 82 inches x 82 inches
Skill Difficulty Level: Intermediate
3. Still Chasing the Cure Quilt
Here is a pink ribbon quilt to support and celebrate cancer survivors. Still Chasing the Cure Quilt pattern is designed by Hillary Bobker featuring the fabric collection from Anything is Possible by Whistler Studios. This fabric collection celebrates and helps support Breast Cancer warriors.
Learn more about Still Chasing the Cure Quilt here.
4. Ribbons Quilt
Here is another option for the round-up. Ribbons Quilt is a free quilt pattern from Jordan fabrics. This quilt project has a video and PDF downloadable tutorial. It is a scrap friendly quilt pattern that uses lighter to darker fabrics in the same hue.
Finished Quilt Measures: 50 inches x 63 inches