Looking for patterns and tutorials to jumpstart your quilting journey? Each of these quilts is easy to build, employs basic shapes and quilting techniques. Explore these 25 easy quilting patterns for your first quilt projects!
Free Easy Quilting Patterns – Top Picks
1. Summertime Herringbone Quilt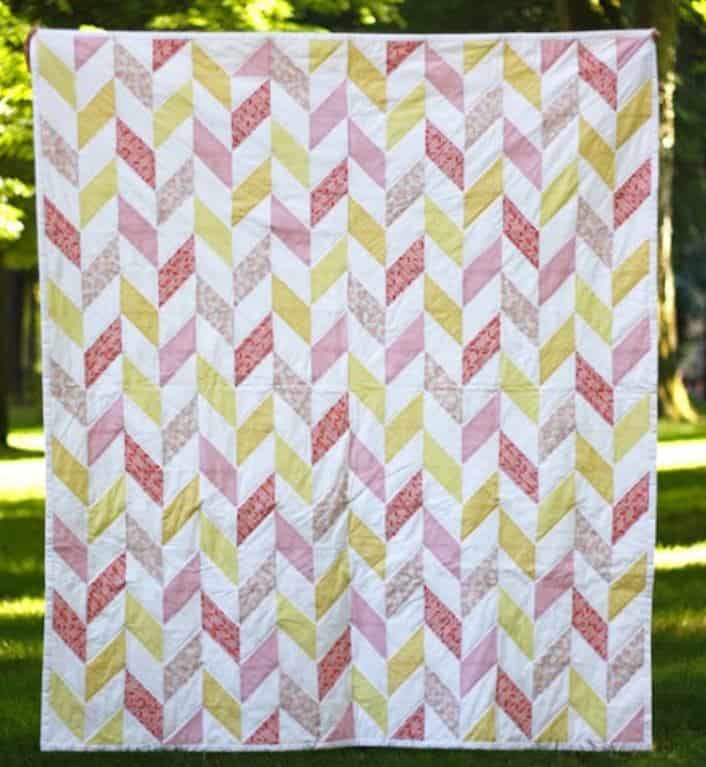 A 3D-looking quilt sewed by Michael Anne Made is perfect for your picnic outings, bed coverings, or blankets! The half-square triangles will give you a distinct impression of illusion with solid or mismatched diamonds, giving you a fragmented yet unblemished style. This pattern is intended for beginners, creating the same square and sewing them back together!
Finished Quilt Measures: 55 inches x 63 inches
Learn more about Summertime Herringbone Quilt pattern here.
2. Seaside Quilt
If you're a nature lover or a beach lover, Seaside Quilt will give you that nostalgic feeling you want to experience! Designed by Jamie Sanders, the use of jelly-roll strips created various colored blocks that will later form the impression of a diamond inside a square. Additionally, the water's color palettes completed the beach's ambiance.
3. Watercolor Quilt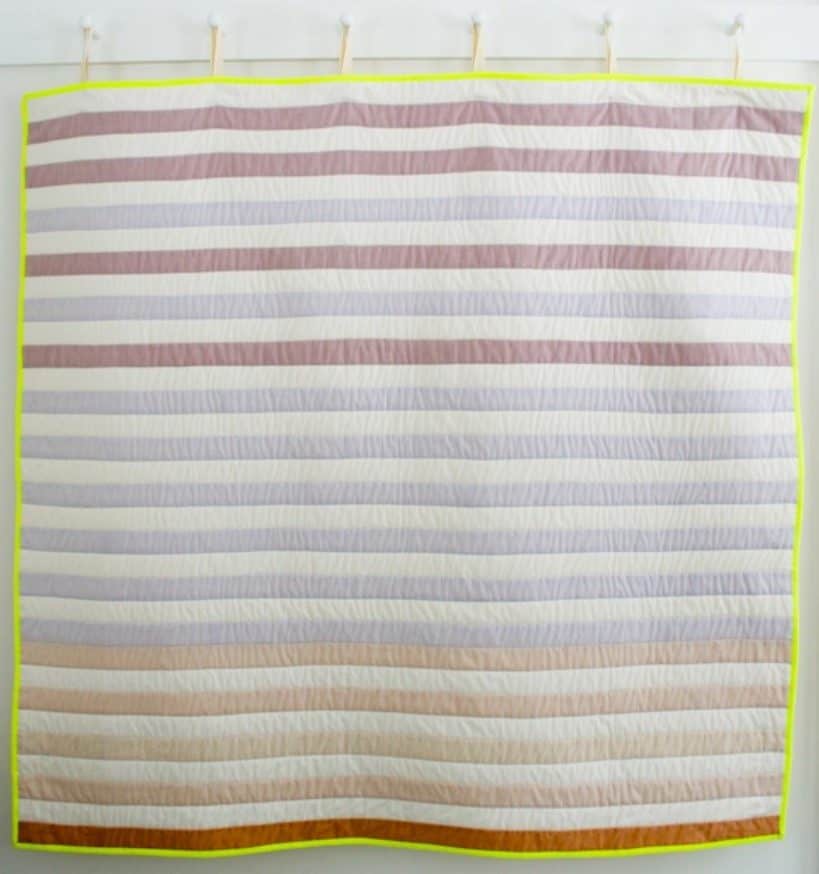 Inspired by the modern designs of Agnes Martin, this beginner-friendly Watercolor Quilt embodies the elegance of its stripe designs. The 2-inch strips of soft colors bring out the inherent sophistication of the fabrics sewed together. The finished size measures 50 inches square.
4. Shine Quilt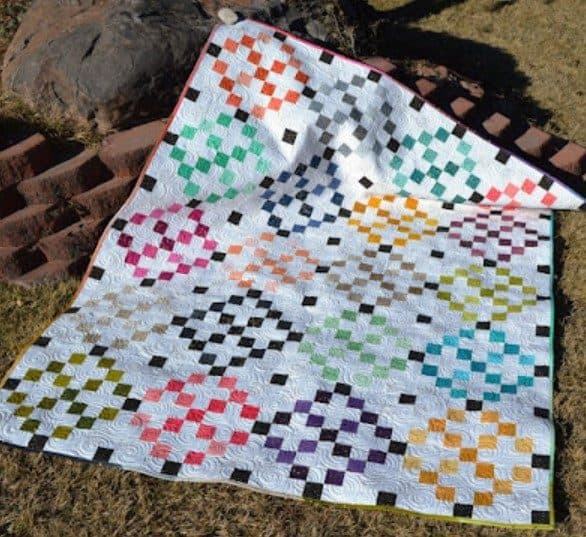 This colorful Shine Quilt is the missing decoration you need to add bright colors to your home. The use of a square-shaped jelly roll that alternates geometric patterns birthed two designs of diamonds and crosses. The quilt's designer is Melissa Corry of Happy Quilting Melissa, and it is perfect for beginners. The finished quilt measures 66 inches x 82 inches.
5. Diamond Snowball Quilt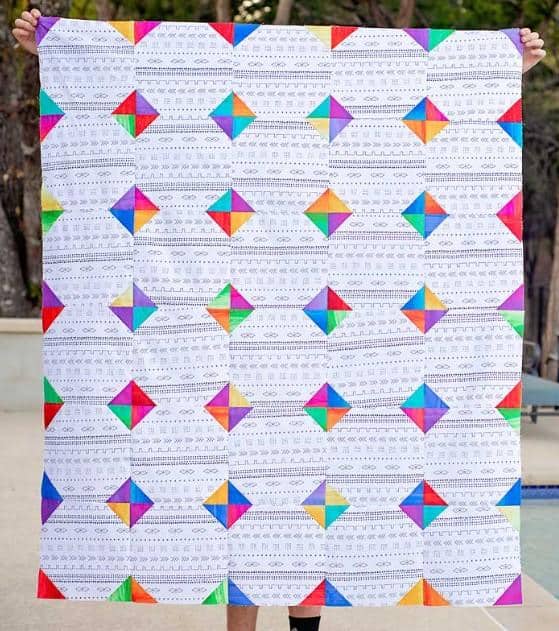 Don't be fooled by the intricate patterns of the Diamond Snowball quilt. At first glance, it's too complex and complicated to sew, but this quilt is very easy to recreate! The quilt blocks are designed to trick the eye, using half-square triangles sewed on the corners to create an octagon shape. This design is created by Jamie Sanders and has two sizing options.
Finished quilt measures:
Lap size – 47 inches by 57 inches
Twin size – 76 inches by 95 inches
6. Retro Plaid Quilt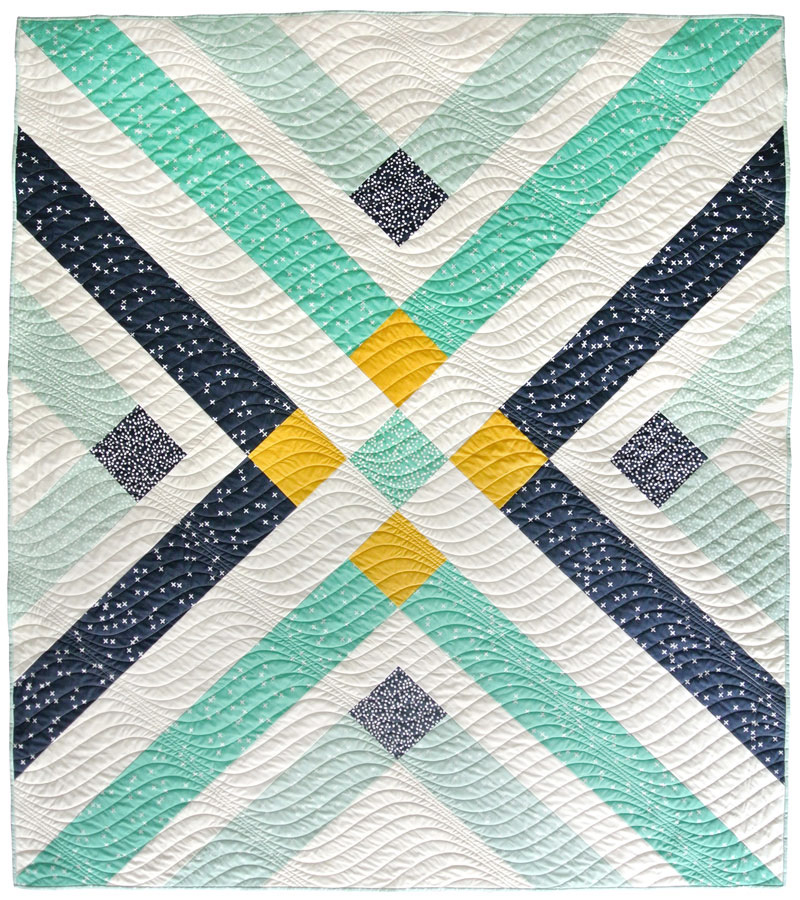 If you want an edgy yet classic quilt design but also deal with vintage, Retro Plaid Quilt Pattern is the appropriate choice for you. It utilized four triangles that will act as the base created with sewing strips of the fabric to each straight edge sewed diagonally. While this looks vintage, it also incorporated some elements to make it modern.
Learn more about Retro Plaid Quilt pattern here.
7. Fletcher Quilt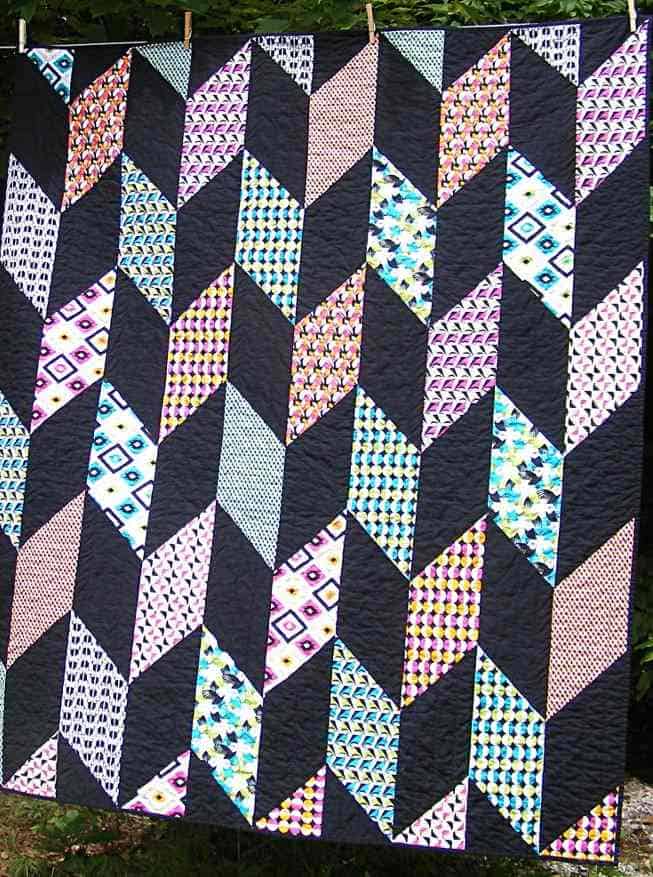 The geometric pattern on Chevron Quilt Pattern brings more sophistication to your bedroom. This dramatic but impressive complement of the blacks and colorful printed designs creates an atmosphere of haunting and alluring. The Fletcher Quilt Pattern can be easily recreated by beginners interested in sewing this quilt. The finished quilt has five different sizes.
Finished quilt measures:
Crib – 48 inches x 61 inches
Nap – 60 inches x 72 inches
Twin – 66 inches x 83 inches
Queen – 84 inches x 94 inches
King – 108 inches x 94 inches
Learn more about Fletcher Quilt pattern here.
8. Broken Dishes Baby Quilt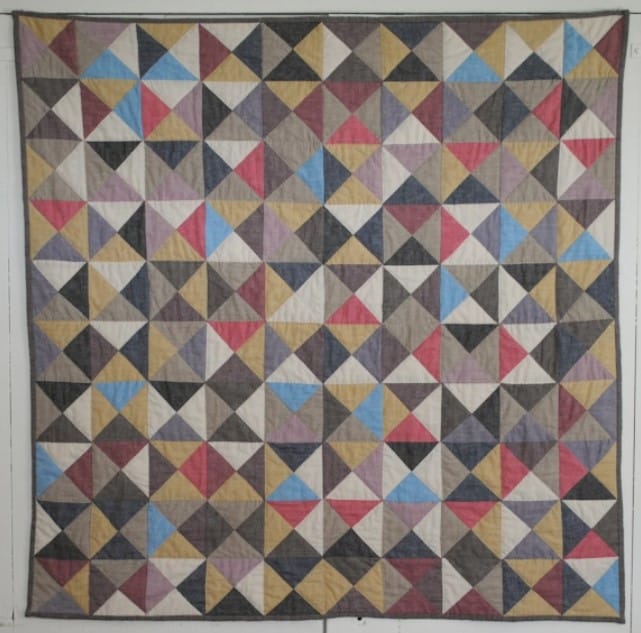 Are you troubled by finding the perfect gift for your baby? Or do you find it too difficult trying to find the perfect gift? Don't worry! Broken Dishes Baby Quilt is easy and simple to create. Inspired by the traditional "broken dishes" pattern, the 90-degree triangles are sewn together to create the blocks. The muted palettes of grey, black, brown, white, and yellow will seal that vintage look you're looking for. Coming from the designs of Purl Soho, the finished quilt measures 40 inches x 40 inches.
Learn more about Broken Dishes Baby Quilt pattern here.
9. Strawberry Fields Bricks Quilt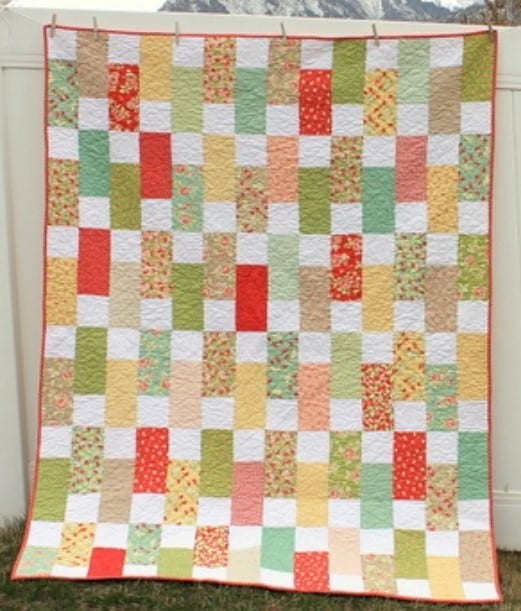 The Strawberry Fields Bricks Quilt is quick and simple to recreate. Its pattern per six rows of rectangles is similar to the look and shape of a band-aid. It's appropriate to be used as a bed cover or a blanket! Andy Smart creates it from Diary of a Quilter. The finished quilt measures 63 inches x 84 inches.
10. Preppy Quilt
If you like cheerleading or preppy vibes, Preppy Quilt Pattern is the best choice! Hear those yells, cheers, and hoots? This quilt carries that spirit. The design is sewn diagonally with the cut-up fabrics of squares that form the shape of diamonds, giving it a distinct texture. This is perfect for the first-timers because it's easy and simple! This design is brought to you by Andy Knowlton of A Bright Corner for Amber & Amanda for the Five Fat Quater Fun series. The final measure of the finished quilt is 50 inches x 60 inches.
11. Asymmetrical Wedding Quilt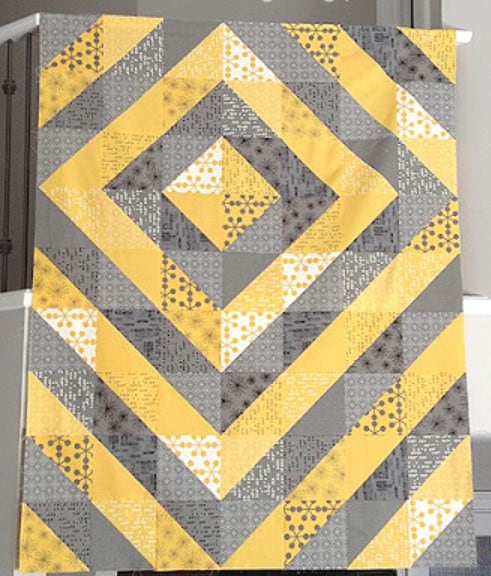 The Asymmetrical Wedding quilt is the perfect choice for lovers of all ages. With its half-square triangles, you can easily sew this yourself! The designs and patterns are pleasing to the eyes, bringing comfort between two lovers. This beginner-friendly design is crafted by Janelle MacKay. The finished quilt approximately measures 54 inches x 69 inches.
12. Layer Cake Coin Quilt
The Layer Cake Coin quilt will make you reminisce about the best times of your life. The layering of printed textile designs of different colored blue palettes and fabrics possesses beach vibes. And the placement of the white cloth in between fabrics will remind you of a photo strip template. This quilt will make you nostalgic, not to mention that it is perfect for beginners! This design is formed by Peta Peace of She Quilts a Lot. The finished quilt measures 45 inches x 51 inches.

Learn more about the Layer Cake Coin Quilt pattern here.
13. Large Hexagon Quilt
If your kids love celebrating Halloween, then this Large Hexagon Quilt should be your next quilting project! Sticking to the colors of Halloween, blacks, oranges, and whites bring out the ambiance of Halloween the hexagon shapes represents. What's splendid about this quilt is that anyone can sew this pattern! Additionally, it's easy to recreate this quilt. This is designed by Melissa Mortenson. The finished quilt measures 40 inches wide x 60 inches tall.
14. Tiny Tile Quilt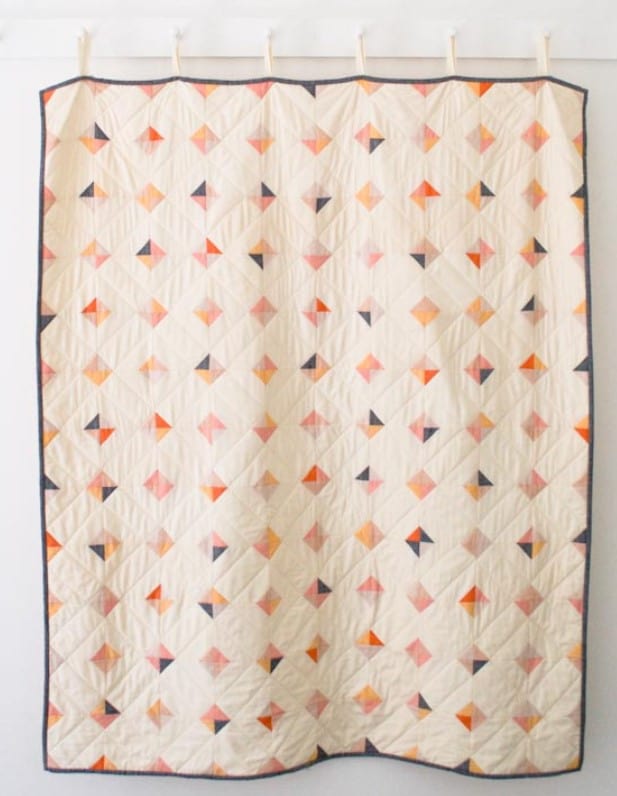 The Tiny Tile Quilt is a classic. It gives the vibes of the 80s or 90s because of its muted colors and the skillful play of the squares. The use of little squares, corner by corner and row by row, gives the impression of the intricate placement of the little diamonds. The pattern originated from the designs of Purl Soho.The finished quilt measures approximately 54 inches x 84 inches.
15. Simple Basket Weave Quilt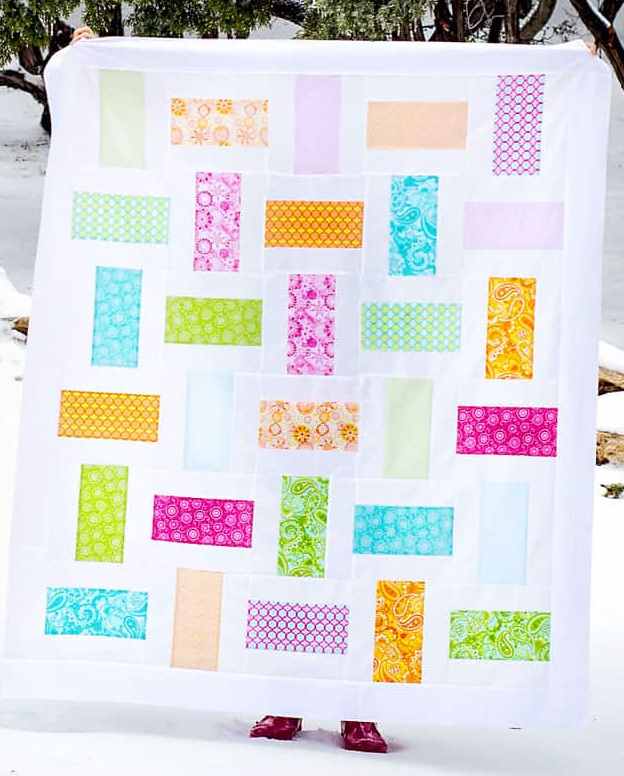 The eye-catching Basket Weave pattern will surely take your breath away at one glance! The incorporation of lively colors brings out a cheerful aura of the quilt. The utilization of the technique of layer cake-formed rectangles sewn vertically and horizontally will remind you of the 80s game Tetris! If you're a fan of Tetris or you grew up playing Tetris, why of course, you must have this quilt! It's easy, quick, and fun to recreate. It is designed by Jamie of Scattered Thoughts of a Crafty Mom. This finished quilt has two options: no border or with border. No Border measures 45 inches x 54 inches, and With Border measures 52 inches x 61 inches.
Learn more about Simple Basket Weave Quilt pattern here.
16. Peaches And Cream Quilt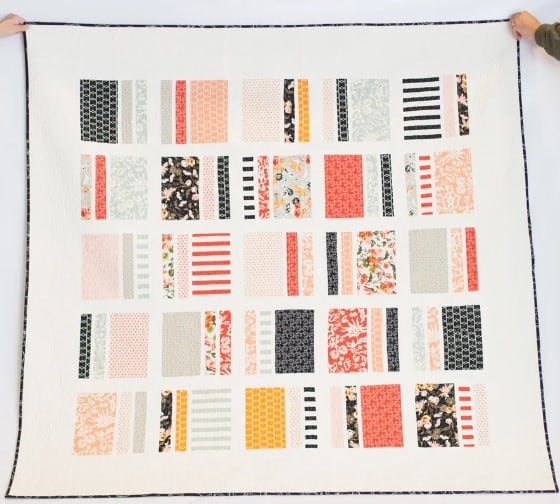 Designed by Simple Simon and Company, Peaches and Cream Quilt Pattern will capture your heart and soul with its stunning colors and patterns. There are six rows in which the three different sizes are alternating. The use of pastel colors makes it even more pleasing to the eyes because it is satisfying to look at. The finished quilt measures 62 inches x 62 inches.
Printable Easy Quilting Patterns To Download From Online Shops (Paid)
1. Mayberry Quilt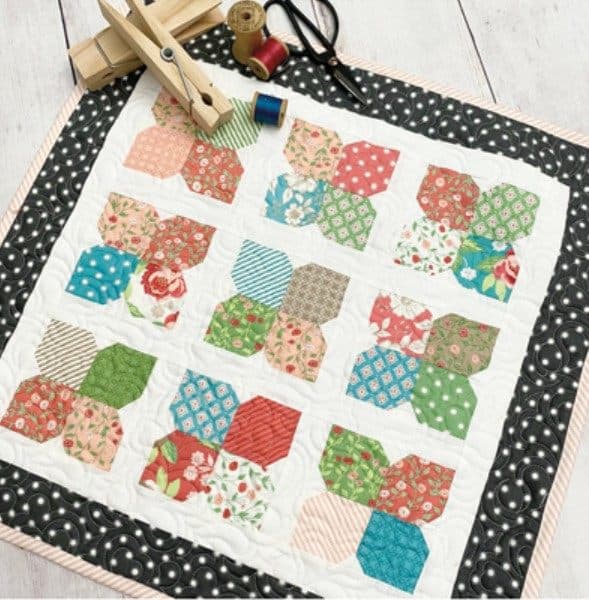 The Mayberry Quilt Pattern is the perfect addition to your love of aesthetics. Its pleasing and soft colors bring out a relaxing aura in everyone. The use of the layering technique created a seeming butterfly shape.. It has three size options, including a table topper (20 inches x 20 inches), a small throw (53 inches x 53 inches), and a large throw (75 inches x 75 inches).
2. Zephyr Quilt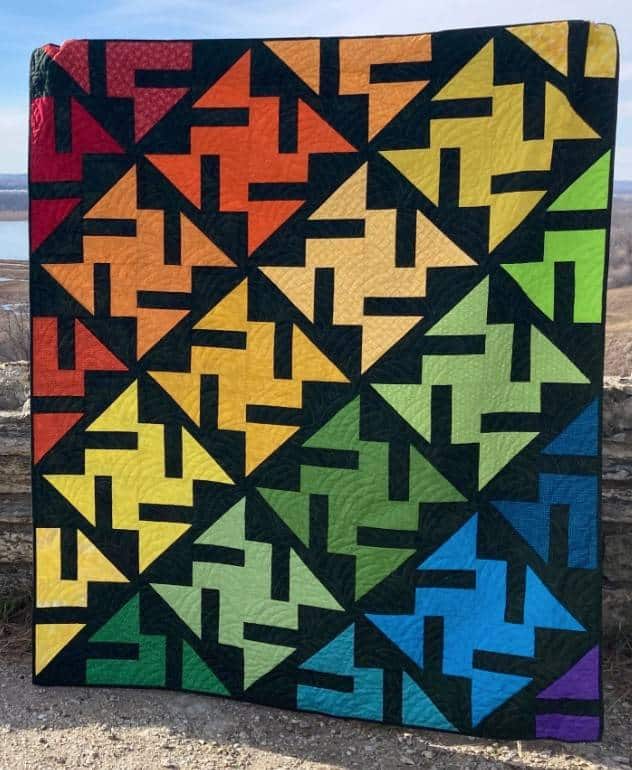 Zephyr looks like a complicated pattern because of its sharp edges. Don't be fooled by this intimidating design! It is easy to recreate. Designed by Karin Pudenz, the Zephyr quilt has a clever assembly of the pieced rails to create an amazing pinwheel pattern.
3. Floored Quilt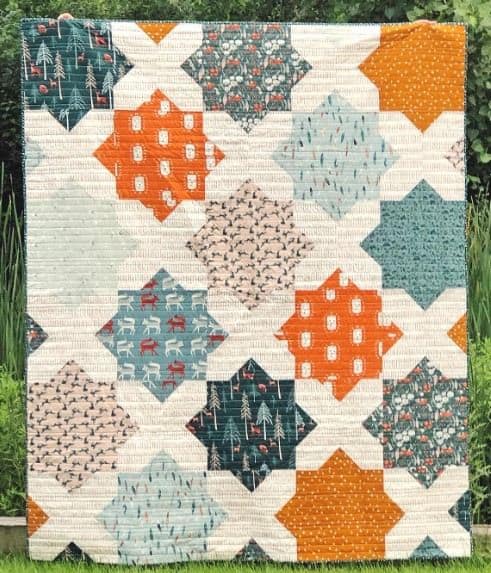 If you want to match your wooden floor pattern with your preferred quilt, Floored Quilt is the best choice you have. Its design employed the use of two squares, forming an overlapping octagon and X's pattern. With this beginner-friendly quilt, you can play with the different colors of your choice of fabrics. This design belongs to Kristin Rauch. The finished quilt is measured 60 inches x 72 inches.
4. Carpenter Star Quilt
For individuals who love to watch starry skies or wish upon stars, this beginner-friendly Carpenter Star quilt will give you that moment. Its resemblance to evening stars is composed of rectangles, squares, and triangles that form a large star at the center. The finished quilt measures 48 inches.
5. Clover Quilt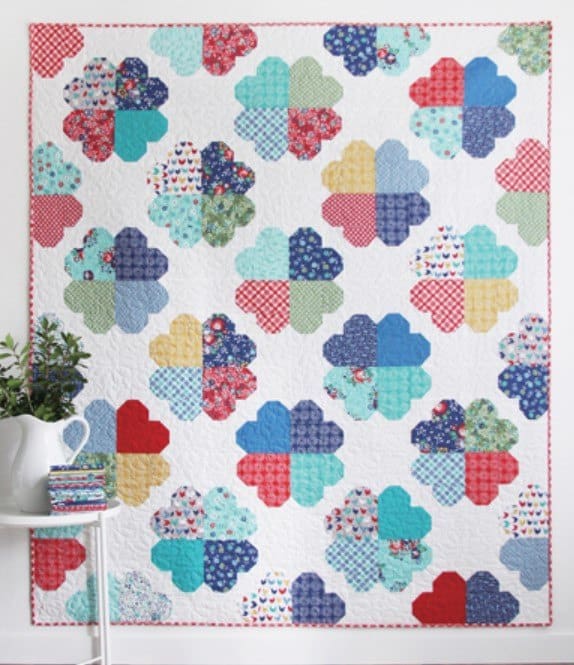 The clover designs of Clover Quilt is an eye-grabbing, one-of-a-kind throw perfect for wall designs or a security blanket for children. The clover designs consisted of various equal-sized colors and abstract and symmetrical patterns. Clover Quilt was created by Allison Harris of Cluck Cluck Sew, and is recommended for beginners to sew! It comes with four sizing options:
Finished quilt measures:
Crib – 42 inches x 52 ½ inches
Throw – 63 inches x 73 ½ inches
Twin – 73 ½ inches x 94 ½ inches
Queen 94 ½ inches x 94 ½ inches.
6. Take Two Quilt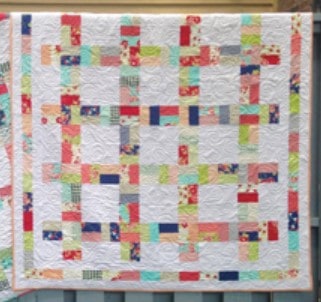 Perfect for the hands of beginner and experienced quilters alike, Take-Two Quilt Pattern is a fun and friendly quilt to sew. Using jelly-roll, the rectangles create a seeming square-pattered shape between spaces. It resembles a checkered handkerchief or a polo shirt. The mixture of neutral and muted colors gives off the perfect vibe of the 80s or 90s trendy color palette. Another design from Annie's craft store, the finished quilt has two size options:
Take One – 64 inches x 76 inches
Take Two – 60 inches x 72 inches
7. Wild Star Flower Quilt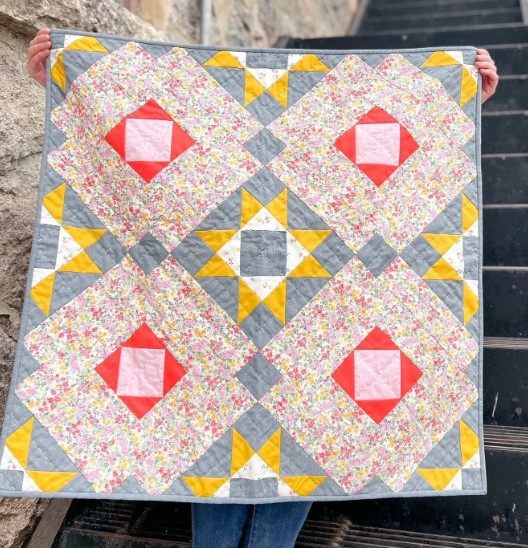 This astonishing Starflower design will surely remind you of flowers of different varieties blooming under the sun. It highlights the alternating flower designs with two different colors that promote the flowers' diversity. This summery-vibe pattern comes with three sizing options:
Finished quilt measures:
Baby – 35 inches x 35 inches
Small Throw – 53 inches x 70 inches
Large Throw – 70 inches x 70 inches
Ready to Ship Easy Quilt Pattern (Paid)
1. Quilty Hearts Quilt
Quilty Hearts embodies love and modernity. It resembles the designs from a scrapbook where you piece different stickers and colored papers to create a stylish outline. They were pieced together using different colored fabrics of squares to form a heart. It looks cozy and homey, perfect for snuggling. It has five size options, including a baby (38 inches x 50 inches), a throw (61 inches x 72 inches), a twin (72 inches x 95 inches), a Queen (95 inches x 106 inches) and King (99 inches x 110 inches).
These patterns will teach novices how to sew patterns, mix colors, and be creative. Be patient and enjoy the different techniques and designs of quilting. Remember, commitment and passion over frustration.