When you are a beginner, your first priority should be to learn how to operate your sewing machine. There are many things that you need to learn, and you need to learn that fast. If you have a manual threading sewing machine, then you will have a hard time.
If you are looking to buy a new sewing machine, your priority should be finding a sewing machine with an automatic threader. This blog will help you find the best self threading sewing machine in 2023.
Also Read About: Best Sewing Machine Under $50
Top 6 Best Self Threading Machines in 2023
Modern sewing machine designs have many sophisticated mechanisms, which are too complicated to operate by a beginner with no professional training. In fact, even a professional can face difficulty in threading a sewing machine at times.
Manual threading of a sewing machine is a nightmare, especially for beginners. So, we have selected some of the best automatic threading sewing machines in 2023.
1. Brother CS7000X – Computerized Automatic Threading Sewing Machine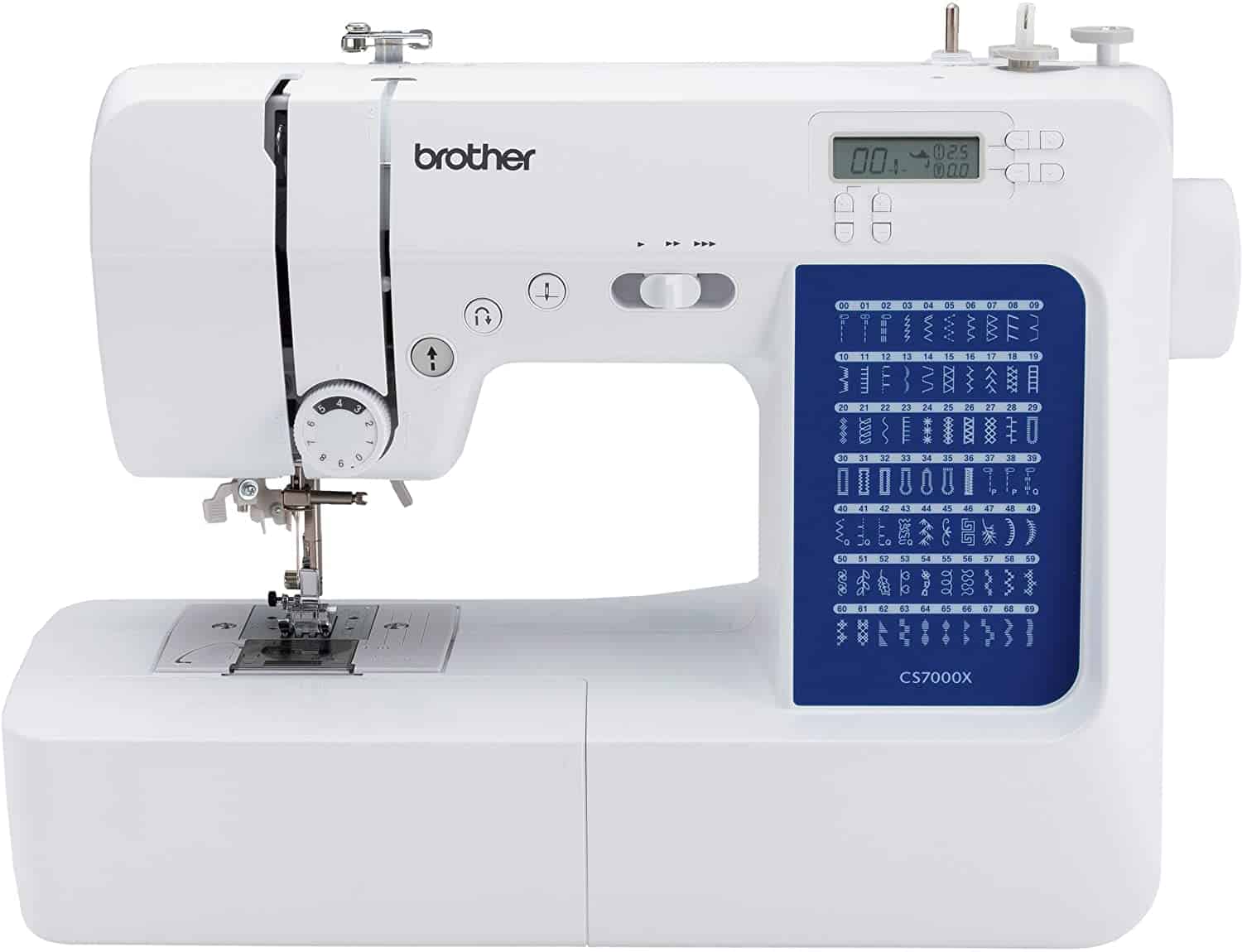 Key Features
70 unique built-in stitches
Automatic needle threader
Sewing and quilting functions
Sewing Speed of 750 Stitches/Minute
Heavy-duty metal frame
Lots of included accessories
Easy to drop-in bobbin system
Large workspace from needle to arm
25 years limited warranty
Brother CS7000X Review
The Brother CS7000X is one of the best self-threading and ultimate sewing machines for adventurous crafters! This mega quilting and sewing machine boasts a plethora of features that will exceed even the most advanced user's expectations.
Its 70 Built-in Stitches and 111 Utility Functions will help you create a wide range of styles. The Brother CS7000X comes equipped with a 1-Step Auto-Size Buttonhole to create professional-quality buttonholes on the first try. The Machine's Automatic Needle Threader makes threading a breeze.
Furthermore, the long arm work table and extra-large fabric table provide ample space to work with. The Brother CS7000X also comes with a storage tray and quilting table so that you can keep all of your tools and accessories within reach.
Whether you have been sewing for years or are a beginner, this sewing machine will help you craft your very own unique creations. This sewing and quilting machine features a metallic frame and a fixed needle bar, making it sturdy and reliable. What are you waiting for?
Also Interested In: Brother CS7000i Vs CS7000x
2. Singer 4423 – Heavy Duty Self Threading Sewing Machine
Key Features
23 Built-in stitches
1 Step automatic buttonhole
97 Stitch applications
4 Presser feet included
Easy stitch selection
The sewing speed of 1100 Stitches/Minute
Heavy-duty metal frame
60% more powerful motor
Bonus accessories included in the package
25 Years Limited Warranty
Singer 4423 Review
New and Improved! The Singer 4423 Sewing Machine is one of the most popular and best-selling sewing machines on the market in 2023. This is because it is one of the most versatile and self-threading sewing machines. It can sew through a variety of heavy-weight fabrics and provides long-lasting stability.
Coming down to the features of singer 4423, it has more than 23 built-in stitches to meet a wide range of sewing needs. It comes with a wide table that is perfect for larger projects. It also has a mighty motor, which allows for extra speed. The Singer 4423 comes with a wider bobbin that is easier to thread for beginners.
Aside from all of this, the machine has a stronger motor that can handle thicker materials. This sewing machine can sew just about anything, from fashions to quilts and more. With a heavy-duty metal interior frame, stainless steel bed frame, a powerful motor, SINGER 4423 is a true workhorse.
A variety of accessories are included with the sewing machine, such as All-purpose foot, seam ripper/lint brush, quilting guide, and needles are all conveniently located and stored in the accessory tray.
Read More About Best Industrial Sewing Machine
3. Brother CS5055 – Automatic Needle Threading Sewing Machine
Key Features
60 built-in stitches
Automatic needle threader
Sewing Speed of 850 Stitches/Minute
Heavy-duty metal frame
All necessary accessories included
Accessible to drop-in bobbin system
Large workspace from needle to arm
Free-motion Sewing
Free arm feature
25 years limited warranty
Brother CS5055 Review
Brother CS500 is another best self-threading sewing machine in our today's list. It is a Computerized Sewing Machine and the perfect machine for sewing enthusiasts of all ages. The machine's built-in needle threader simplifies the threading process, and the needle is fixed in place while you work, allowing for cleaner stitching and even lines.
One of the features worth mentioning is its larger workspace with increased width in needle-to-arm space, allowing users to work on larger projects. This sewing machine includes 60 built-in stitches, including utility, decorative, and heirloom stitch options, and 7 1-step auto-size buttonholes.
Brother CS5055 machine has a metal frame construction that allows your machine to tackle any project. You can sew a seam with a 1/4-inch seam allowance, and an automatic needle threader quickly threads the needle. The buttonhole foot allows you to create buttonholes quickly.
4. Janome 3160 QDC Computerized Sewing Machine
Key Features
60 Built-in stitches
6 Buttonholes
Adjustable stitch length and width
Lock Stitch Button
Easy-Set Top-Loading Bobbin System
Sewing speed of 820 Stitches/Minute
Automatic threading system
Helpful control buttons
Automatic Thread Cutter
Control Panel with LCD Panel
A handful amount of accessories
25 Years limited warranty
Janome 3160 QDC Review
Sew like a pro with this Janome 3160QDC Computerized Sewing Machine. The Janome 3160QDC is a computerized sewing machine and great for beginners and hobbyists! Featuring a quick-set bobbin system, 60 built-in stitches, and 6 built-in buttonholes, the Janome 3160QDC is a breeze to use!
The Janome 3160QDC also comes jam-proof, so you don't have to worry about those frustrating thread jams that other sewing machines are prone to. The Janome 3160QDC also features an easy-to-read control panel with large stitch selection dials and an easy-to-read LCD screen so you can view your stitch number and length.
Furthermore, it has a drop-in top bobbin, transparent sewing area, and a thread cutter. It comes with an incredible amount of accessories, including a hardcover, extension table, and many more. All in all, it is the best sewing self-threading sewing machine and best suitable for beginners.
5. Singer 3232 – Basic Sewing Machine with Automatic Threading
Key Features
32 built-in stitches
1-step buttonhole
heavy-duty metal frame
Sewing Speed of 750 Stitches/Minute
High presser foot lifter
Self-threading with automatic needle threader
Simple Stitch Selection
Front Loading Bobbin
Adjustable Stitch Length and Width
Automatic reverse stitching
Lightweight and portable
Singer Simple 3232 Review
Our next choice in the list of best self-threading sewing machines is singer simple 3232 sewing machine. If you're a beginner sewer, you want to start sewing with a machine that gets the job done at a budget-friendly price. Singer simple 3232 is the same kind of product.
The SINGER 3232 sewing machine also has built-in features like a 1-step buttonhole and a built-in needle threader that helps you thread the eye of the needle effortlessly. The SINGER 3232 sewing machine is a portable sewing machine perfect for sewing, mending, and quilting.
Singer Simple 3232 sewing machine also has 32 built-in stitches and a maximum speed of 750 stitches-per-minute so you can quickly sew and quilt whatever you want. The SINGER 3232 sewing machine has an easy-to-replace presser foot that also adjusts to the thickness of the fabric for precise sewing.
6. Janome MOD-19 Self-Threading Machine
Key Features
19 Stitches and 1 Four-Step Buttonhole
One hand automatic needle threader
Heavy-duty metal frame for skip-free stitching
Snap-on presser feet
Sewing speed of 750 Stitches/Minute
Adjustable stitch length and width
5 pieces feed dog system
Top loading bobbin
Auto declutch bobbin winder
25 Years Limited Warranty
Janome MOD-19 Review
Another automatic threading sewing machine is Janome Mod-19. It offers everything you need to start and continue sewing – including 19 built-in stitches, adjustable stitch length and width, 4 presser feet, a heavy-duty metal interior frame, and an easy-to-use stitch selection dial.
The MOD-19 has a durable, satin-finish metal exterior and features a robust and heavy-duty metal interior frame for long-lasting durability. The MOD-19 is packed with features that offer a professional-quality sewing experience at an affordable price.
Janome's MOD-19 is a remarkable machine that's right at home in your apartment or house, in the classroom or sewing club, and the workplace. The standard 5-piece feed dog gives you the power to maneuver fabric of all kinds easily. The drop-in bobbin allows for easy and fast bobbin changes.
The full rotary hook allows for quilting and embroidery with ease. And the one-hand thread cutter allows for simple and easy trimming of threads.Whether you're a novice or an experienced sewer, the MOD-19 offers the features that make sewing more enjoyable.
Common FAQs About Best Self Threading Sewing Machine 
What is an auto threader on a sewing machine?
The auto threader on a sewing machine is a device that automatically winds thread around the needle in preparation for sewing.
Which is the best automatic sewing machine for home use?
In our opinion, Brother CS7000x  is the best self-threading sewing machine for home use. With its 70 built-in stitches, wide table, automatic needle threader and affordable price make an ideal choice from beginners to pro sewers.
Which sewing machine is easy to thread?
Singer 4423  is the easiest sewing machine to thread. Also, it has a heavy-duty metal frame that makes a durable sewing machine.
Bottom Line
So here we are with the conclusion of the best self-threading sewing machine. We have done a lot of research and found the best self-threading sewing machine. You can buy any one from the list above.
They are the best in the market. You can buy the best sewing machine that will make your work easier and more fun. You just have to concentrate on the essential features mentioned above to make the right decision quickly.