Watermelon Quilt Patterns capture the essence of refreshing summer days, delivering vibrant splashes of color and whimsical designs to your quilting collection. These radiantly detailed, fruit-themed patterns offer a unique twist to the traditional quilt patterns—an unexpected yet delightful addition to any space. Each stitch is a slice of summertime, inviting joy and warmth into your quilting projects. By incorporating these artistic and playful watermelon quilt patterns, you will not only enrich your quilting journey but also create pieces that share continuous inspiration and conversation.
Free Watermelon Quilt Patterns – Top Picks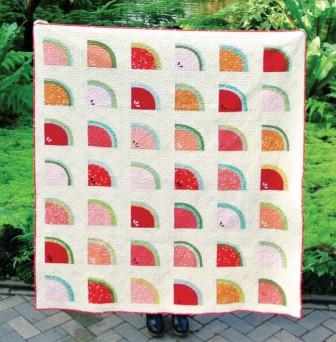 Designer: Suzy Quilts
Ready for something exciting? This Mod Melons Quilt is a delightful pattern by Suzy Quilts, made using the fabric collection Mod Basics 3 by Birch Fabrics. Despite the intimidating curves, Suzy smoothly guides you with her innovative sewing techniques, making it simple. This fun and charming quilt measures 56 by 65 inches when completed—a refreshing project to love and show off!
Designer: Lindsey Weight for Fort Worth Fabric Studio
Presenting a delightful quilt designed to brighten your table during summer days! The Watermelon Whimsy Table Runner quilt pattern is crafted by Lindsey Weight for Fort Worth Fabric Studio. Combining piecing and raw-edge appliqué techniques, it's well-suited for confident beginners. With a finished size of 21.5 by 46.5 inches, this adorable quilt is a charming addition to your summertime decor.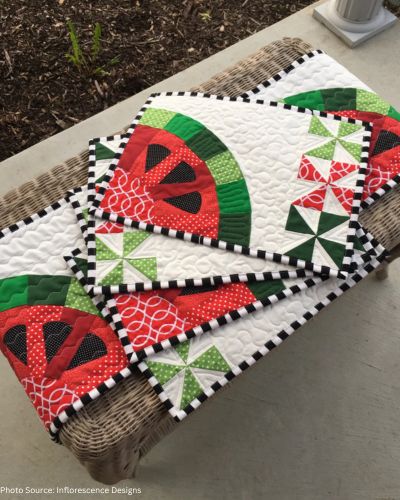 Designer: Julia Schweri of Inflorescence Designs
Savor the essence of summer with the Watermelon Placemat and Table Runner, a free quilt pattern from Inflorescence Designs by Julia Schweri. This fat quarter friendly design masterfully melds watermelon blocks with pinwheel blocks for a juicy, playful dynamic. Crafted using the Grandmother's Fan Die and Fruit Wedges Die, the watermelon blocks come alive with detail. Further enriched by the applique technique, these blocks mimic the charming complexity of watermelon slices, adding a vibrant twist to your table. A joyful fusion of traditional blocks and summer fruit, this pattern invites quilters to create a refreshing slice of summertime.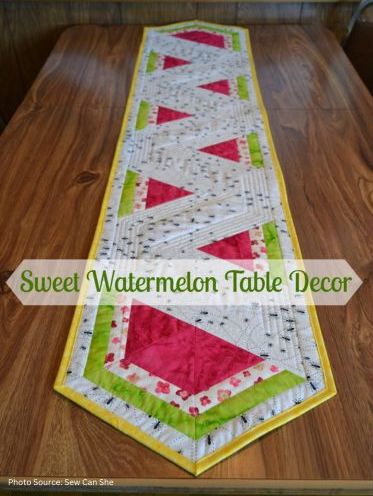 Designer: Lorna McMahon for Sew Can She
Introducing the Sweet Watermelon Table Runner by Lorna McMahon of Sew Fresh Quilts, created exclusively for Sew Can She. Embrace the vibrant energy of summer with this eye-catching table runner, measuring approximately 60″x12″. The exciting design features a pattern of equilateral triangles, skillfully arranged to evoke the refreshing feel of crisp watermelon slices. Add a burst of color and cheerful charm to your table setting, impressing guests with this playful, fruit-inspired design. Perfect for quilters seeking a fun and spirited project, the Sweet Watermelon Table Runner is a delightful slice of summer style.
Designer: Kelli of Kelli Fannin Quilts
Delve into the luscious world of quilting with the Watermelon Quilt Block by Kelli of Kelli Fannin Quilts. Perfect for scrap quilt projects, this charming block offers a juicy slice of summer, rendered in vibrant fabric. With its user-friendly assembly diagram, the process is truly as simple as it seems, encouraging quilters of all experiences to bring their own watermelon block into fruition. Upon completion, it's guaranteed you'll be visually feasting on—and likely craving—the sweet inspiration behind this design.
Designer: Shelley Robson for American Patchwork & Quilting
Summertime Table Runner by Shelley Robson for American Patchwork & Quilting is a delightful pattern bursting with summer joy. Employing the quilt-as-you-go method, it adds a playful novelty with its watermelon-themed design. This finished table runner measures 11×28 inches, serving as the perfect summer highlight for your dining area. It not only gives purpose to your red fabric scraps but also infuses a refreshing ambiance of warm-weather charm. Embrace the vibrancy of summer, partake in a fulfilling quilting experience, and enhance your home decor with a tantalizing slice of this nostalgic summertime delight.
BONUS Watermelon Quilt Patterns For Sale from Online Shops
Presenting the Watermelon Wedge Quilt Block Pattern by Quilt Fabrication – a fun-filled summer quilting project! This engaging pattern features four watermelon slices arranged in a playful pinwheel formation. The quilt block size is 12″x12″. The easy stitch-n-flip method makes this a suitable project for confident beginner quilters. Each slice explodes with juicy delight and takes a whimsical spin on the classic fruit. As you piece together the engaging elements, you will thoroughly enjoy the process of creating your own vibrant 'fruit salad' quilt block.
Watermelon Delight, a quilt pattern by Quilt Fabrication, brings summer fun to your life! Use the finished quilt, sized 64″x81″, for a picnic, to brighten a room, or to decorate a twin bed. It captures the excitement and color of watermelon in summer. This pattern is best for someone with quilting experience, at the intermediate level or above. Enjoy the journey of making this lively quilt that shouts out the joy of summer!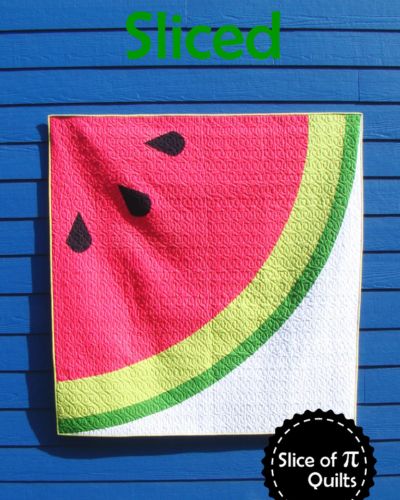 Designer: Slice of Pi Quilts
The Sliced Quilt Pattern by Slice of Pi Quilts is a tribute to summer joys. Inspired by watermelon, a signature summer fruit, it is excellent for a picnic or as a vibrant table topper for summer gatherings. The pattern is available in two sizes – a 30″x30″ mini quilt and a 60″x60″ throw quilt. With speed and flair, intermediate quilters can bring this pattern to life, although it uses curved seams and different cutting methods. This unique quilting journey will result in an attractive piece, radiating summer warmth in every stitch.
The Watermelon Twist Table Runner Quilt Pattern by Quilt Fabrication is a delightful addition to your summer decor. Embodying watermelon slices twisting playfully, it's guaranteed to spread cheer while adding a lively highlight to your table. The finished runner, measuring approximately 16″x42″, possesses the ability to make any table setting visually appealing. Intended for intermediate or expert quilters, the pattern calls for a good understanding of quilting techniques. Craft this vibrant piece and add a burst of refreshing watermelon twist to your summer days!
Designer: Burlap and Blossom Patterns
Celebrating summertime, the Summer Garden Watermelon Farm Quilt Block Pattern by Burlap and Blossom Patterns brings the joy of watermelons to your quilt. The pattern provides clear instructions for creating 6″, 12″, 18″, and 24″ finished blocks. It includes easy-to-follow written instructions and colored graphics for smooth construction. This pattern, crafted using traditional machine piecing, showcases a beautifully intricate watermelon design – half covered, half sliced open. Quilters can enjoy crafting while bringing the colors and essence of a summer garden to life. No paper piecing required!
Designer: Ahhh…Quilting
Here's a fast, straightforward craft project that's perfect as a summer décor addition. The Watermelon Quilted Table Topper Pattern involves an appliqué technique on a single fabric piece. Get your material stash ready, and whip up this summery delight that can be used as a wall hanging or table topper. With a finished size of 36 by 36 inches, it's an inviting taste of summer to enhance your living area.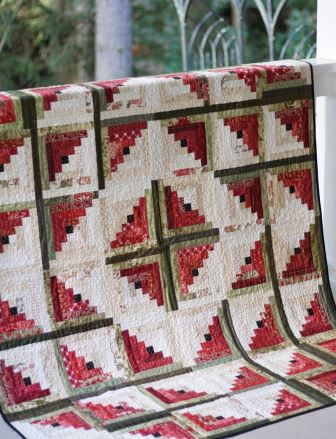 Designer: Maple Cottage Designs
At first glance, these quilts resemble both the juicy allure of bitten watermelons on scorching summer days and the blossoming elegance of poinsettias in winter nights. Crafted by Maple Cottage Designs, the Log Cabin Delight quilt is a versatile and scrap-friendly pattern suitable for every season. With project sizes ranging from Throw to King, this quilt invites you to embrace its beauty and warmth all year round. Tailored for the advanced beginner, it's an ideal project to hone your quilting skills while creating a visually captivating masterpiece for any occasion.
As we wrap up our delightful journey through the Watermelon Quilt Patterns roundup, it's clear how each pattern, beautifully capturing the essence of summer, can add a vibrant touch to any space. From picnic quilts to table runners and versatile blocks, these patterns open up a multitude of creative possibilities. They cater to a vast range of quilting abilities, making them a charming project for both practiced quilters and excited novices. Each stitch sewn brings the unparalleled freshness and joy of summer at your fingertips, creating potential for treasured possessions or memorable gifts for years to come.