We have gathered different tutorial versions of the Window Pane Quilt Pattern for you to create.
Free Window Pane Quilt Pattern – Top Picks
Get rid of that dull and monotonous attic! Consider these free patterns for your next quilting project:
1. Window Panes Quilt
A bold, bright-colored quilt for every eyes astonishment. This Free quilt pattern from Free Spirit Fabrics is using the collection fabrics from Garden Brighter by Sue Penn. Window Panes quilt is a perfect project for beginners that wanted to start their quilting journey.
Learn more about Window Panes Quilt pattern here.
2. Window Pane Mini Quilt
A mini quilt that is perfect for a wall decorative idea or can be a blanket of your daughter's doll. The Window Pane Mini Quilt is a beginner-friendly pattern where you can use your favorite scraps. Have fun organizing your chosen colors and do the trial and error test with the free PDF coloring sheet to prior check how your quilt will look once it is done.
Learn more about Window Pane Mini Quilt pattern here.
3. Window Pane Quilt (Stained Glass Panel)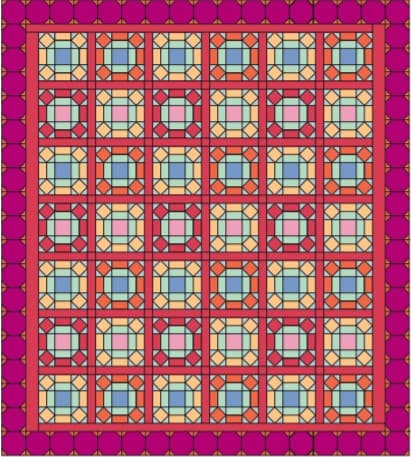 An impressive work of art quilt that reminds us of church windows. This Window Pane Quilt (Stained Glass Panel) is a stunning quilt by Lucie Sinkler. An eye-catching pattern that needs a lot of care when quilting. Use contrasting colors to showcase the stained glass quilt blocks.
Learn more about Window Pane (Stained Glass Panel) Quilt pattern here.
4. Disappering 9 Patch Window Pane Quilt
This simple yet beautiful Disappering Nine-Patch Window Pane quilt is perfect for beginners. Various printed fabrics are cut squarely and are outlined by black strips to resemble a window pane. The design is shared for free by Jenny Doan of Missouri Quilt Co. A video tutorial for visual quilters.
Printable Window Pane Quilt Patterns To Download From Online Shops (Paid)
1. Window Pane Table Runner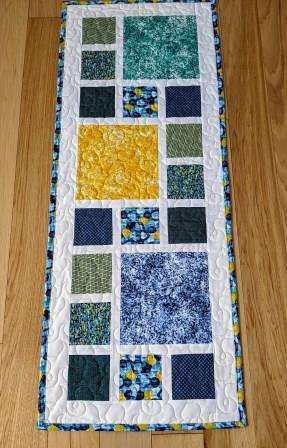 Perfect for any occasion, this gorgeous Window Pane Table Runner will give a special touch to your dining table. A scrap-friendly quilt pattern with easy-to-follow instructions. Designed by Peggy Pasche from Perfectly Pasch Gifts shop. Make this home decor in no time.
2. Window Pane Quilt by Primrose Cottage Quilts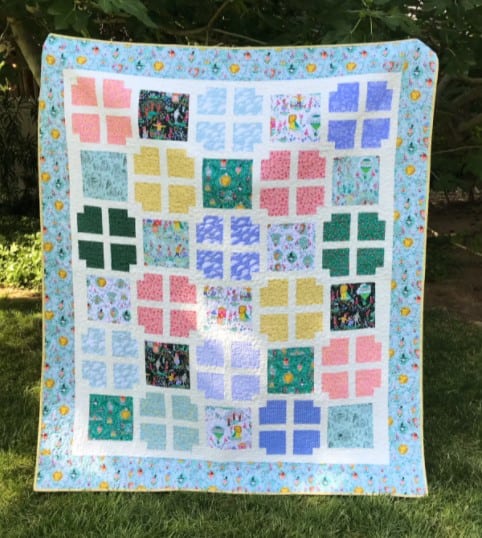 Here is another Window Pane Quilt pattern that you will surely love. Designed by Lindsey Weight of Primrose Cottage Quilts this pattern is a fat quarter friendly project. The fabrics used on the sample quilt are from Dorothy's Journey collection by Jill Howarth for Riley Blake Designs. You can also use your favorite scraps and let your creativity soar.
Project Finished Size: 64 3⁄4 inches x 75 inches
Skill Level: Intermediate
3. Stained Glass/Denim Quilt
Do you like Denim? Or do you also like various blue gemstones? Stained Glass/Denim Quilt Pattern will offer those qualities for you. If you wish to test out a leftover denim fabric for your quilting project, this is a great choice. The repetitive pattern goes back and forth on the small and big squares to create the look of a rock wall. It is perfect for quilters who are just starting out in their quilting journey. This window pane pattern is created by Alicia Wells.
There are two sizing options available: 52 inches X 56 inches or 60 inches X 80 inches.
4. Trouble in the Window Quilt
Trouble in the Window-Spring Wall-Hanging Pattern is easy to make, especially if you're a lover of the spring season. Feel a nostalgic as you stare at the cat watching the birds trilling in the tree branch. Patchwork and strip quilting are employed in this pattern. The quilt measures 23 inches x 27 inches.
5. Lattice Windows Quilt
This is designed by Diana Beaubien and is very easy to recreate. The black background fabric allows the bright colors to pop. It comprises half-squared triangles, and the four patches in the center complete the design. It is designed by Diana Beaubien.
Choose from a wide array of sizing options:
Crib Size – 45 ½ inches x 54 ½ inches
Twin Size – 63 ½ inches x 81 ½ inches
Queen Size – 90 ½ inches x 108 ½ inches
Ready to Ship Window Pane Quilt Pattern (Paid)
1. Stained Glass Window Quilt
This minimalist and simple pattern brings elegance to your room. The pattern resembles the wooden floor designs we usually see in the living room. The paper-piecing technique is used to complete this pattern. This design is owned by Scruffy Quilts. It measures 44 inches x 57 inches.