If you are one of the many quilters who are looking for a new idea on what to do with their left-over fabrics and precuts, then you have come to the right place.
This kind of quilt block is traditionally known as Chinese coins, stacked coins, or coins.
The Chinese Coins with Coins Border Quilt is a free pdf quilt pattern shared with us by Mary Johnson of Mary Quilts . Instead of using plain borders, Mary decided to use the stacked coin units as a border too. The coins strip width measures 5 inches on this coins quilt project.
This scrappy coins quilt is so fun, simple, and easy to make which makes this quilt pattern popular with budget and fabric hoarder quilters.
Mix and match with your favorite colors to make it your favored snuggle blanket.
Finished Quilt Measures: 57 inches x 74inches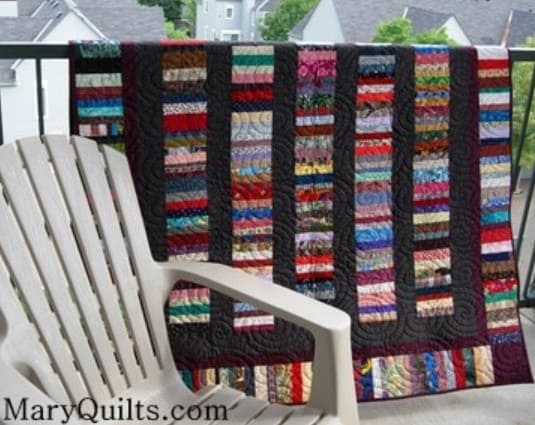 Similar Quilt Pattern: Playing the Scales Quilt