Modern quilt patterns give new fresh ideas and twist to traditional quilting. The standards that govern traditional quilt designs have evolved over time. This includes utilizing contemporary fabrics, changing the way the blocks are arranged, and even altering the block's size. Improvise your patterns in a fun and creative way. We handpicked the best modern quilt patterns to recreate.
Free Modern Quilt Patterns – Top Picks
1. Hidden Garden Quilt
Feel a sense of bliss as you run your hand down in this elegant quilt as if you're also feeling the soft flower petals in your garden! A free pdf quilt pattern designed by Suzie of Suzy Quilts . It features natural flower colors of all kinds, creating a semblance of that of a real flower.
Beginner and advanced quilters will have no problem recreating this piece! You'll only apply the raw edge applique technique, and you'll have your Hidden Garden Quilt!
Project Finished Size: 50 inches X 60 inches
2. Modern Maze Quilt
Every home should have this Modern Maze Quilt. It is a minimalist quilt design that will enchant every eye. This modern-style maze can also be a great gift idea to give to a man. Whether it is your son, husband, uncle, father, boyfriend, or a family guy friend, they will appreciate this masculine quilt.
Project Finish Size: 60 inches x 80 inches
Learn more about Modern Maze Quilt pattern here.
Still looking for a perfect gift for your man? Here are the Top 10 Free Quilt Pattern for Man round-up to give you great ideas.
3. Noel Quilt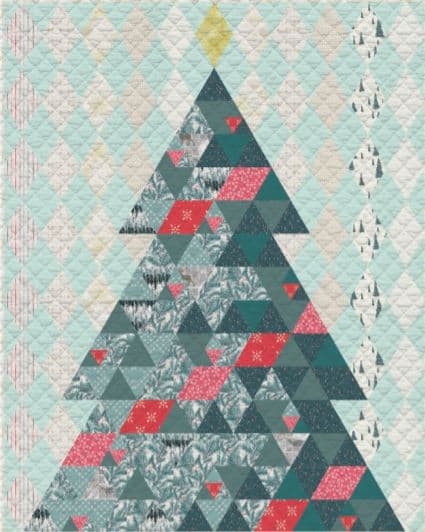 Are you always looking forward to the magic the Christmas holiday brings? This quilt evokes the spirit of Christmas with this festive and enchanting pattern! It spotlighted the creative assemblage of mini triangles to form a Christmas tree while using the bright colors of the Christmas season. Quilters of all levels will definitely enjoy this one.
The finished quilt measures 76 inches x 96 inches.
Learn more about Noel Quilt pattern here.
4. Ribbon Box Quilt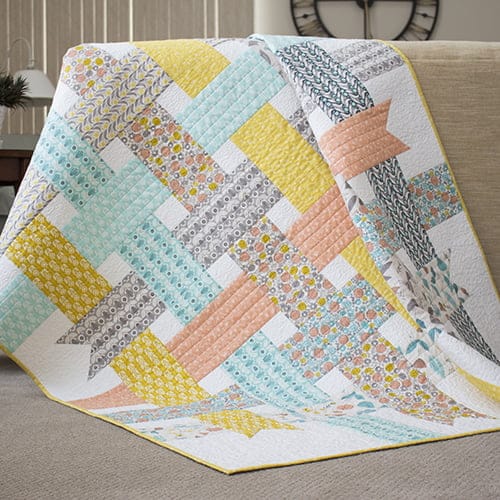 This quilt with the most stunning collection of interlacing ribbons will fascinate you. The employment of neutral colors brings out its modernity and chicness. It's also easy to recreate, so quilters of all levels won't have trouble recreating this design.
Project Finished Size: 55 inches X 63 inches
5. Snippets – Pearlescent Quilt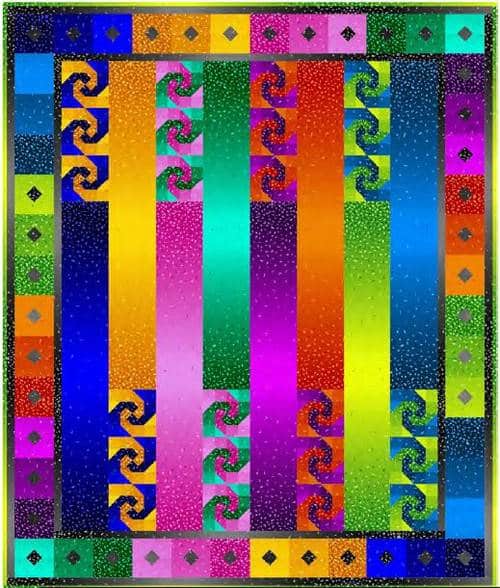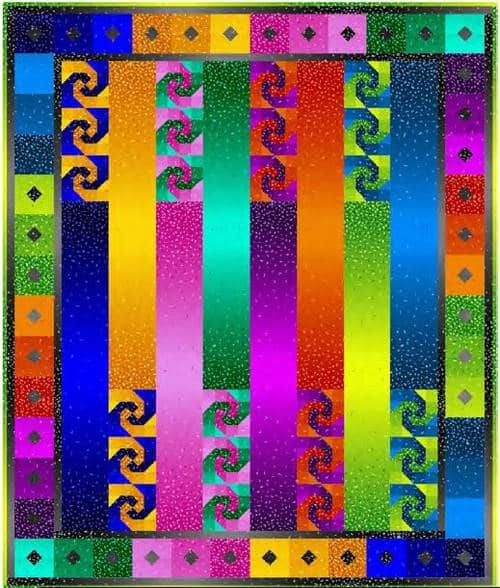 This shining quilt will remind you of disco lights bouncing off the walls of a club. It resembles the luminescence of a pear. Experience in quilting and piecing techniques is required. Advanced beginner quilters will love recreating this unique quilt. This was designed by Denise Russel.
The finished quilt measures 62 inches x 74 inches.
6. GO! Fading From Black to White Throw Quilt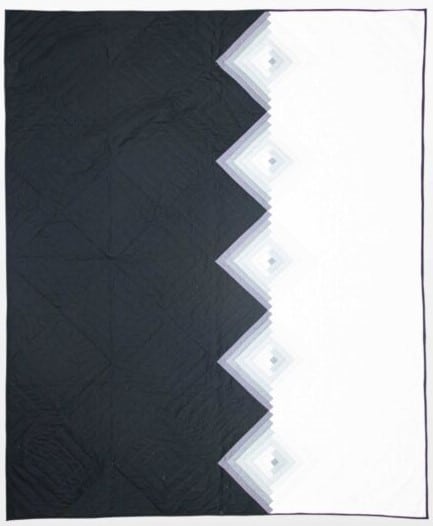 The beautiful fading effect of this two-toned quilt creates a modern look. This lovely quilt is composed of traditional quilt blocks. The one that stood out the most is the 12-inch log cabin quilt block which gives the illusion of fading colors.
This minimalistic quilt project is perfect for tiny homes to add aesthetic value to their decor.
Project Finish Size: 68 inches x 84inches
Learn more about GO! Fading From Black to White Throw Quilt pattern here.
7. Bird Watching Quilt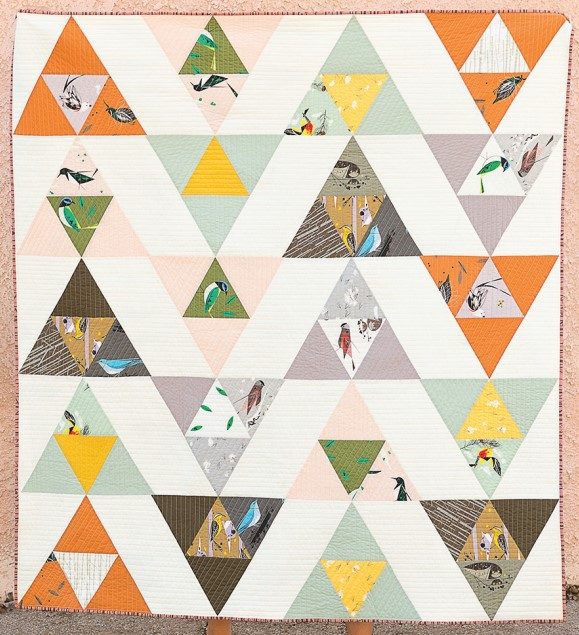 Who doesn't love watching birds? They embody the essence of gentleness and gracefulness. Designed by Suzie of Suzy Quilts , this downloadable quilt showcases the beauty of birds using printed fabrics in equilateral triangles and one rhombus. The earth colors also magically blended with the birds. Beginners will definitely have fun recreating this.
Project Finished Size: 60 inches X 55 inches
8. Chandelier Dark Quilt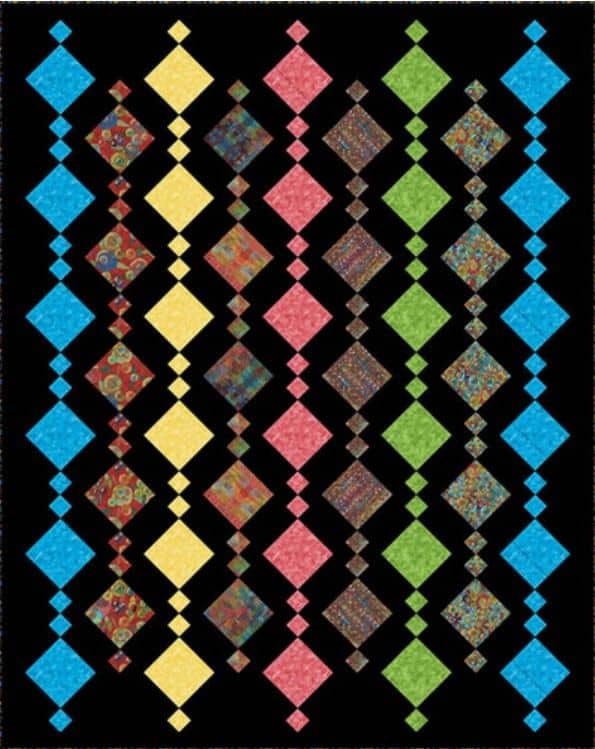 A new way to design your chandeliers is by using a dark-colored background. This idea will create a pop of color which helps the beads to stand out. This modern chandelier quilt is a great quilt to use on cold nights as dark fabrics help keep our body warm which gives us better comfort and protection.
Project Finish Size: 70 ¾ inches × 88 ⅞ inches
Learn more about Chandelier Dark Quilt pattern here.
Here are other chandelier quilt patterns to choose from. Visit the Top 6 Free Chandelier Quilt Patterns round-up now!
9. Giant Plus Quilt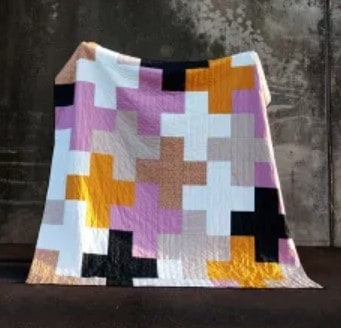 Are you looking for that one decoration to add to your home that will spellbind your guests? Then this quilt is right up on your alley! The minimalist cross patterns on this quilt exude high-class luxury. It has a serene picturesque quality to it that will add more personality to your home with its posh and refined design. Designed by Ash of Giant Quilts , this cross quilt design is ideal to be a wall-hanging decor, a throw blanket, or a comforter! It's also great for beginner just starting in their quilting journey.
The two sizing options are as follows:
Throw – 55 inches x 55 inches
Queen – 88 inches x 88 inches
10. Memoir Quilt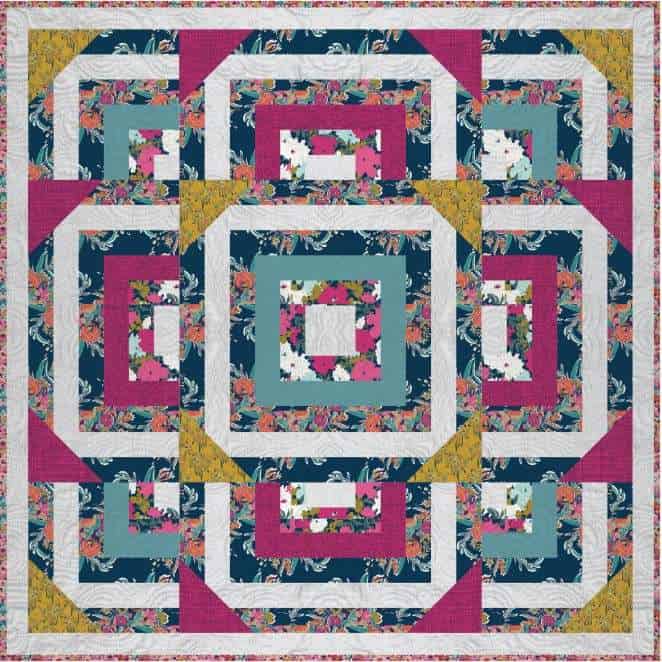 Don't know what gift you will give your family and friends as a remembrance token? Don't worry because this Memoir quilt pattern is just the perfect gift you're looking for! It is beautiful and pleasing to the eyes. The printed fabrics alone are jaw-dropping and eye-catching. You'll only need to cut your printed fabrics into strips and mini triangles to recreate this breathtaking quilt. It is also perfect for all quilters of all levels.
The finished size measures 52 inches x 52 inches.
11. Mosaic Quilt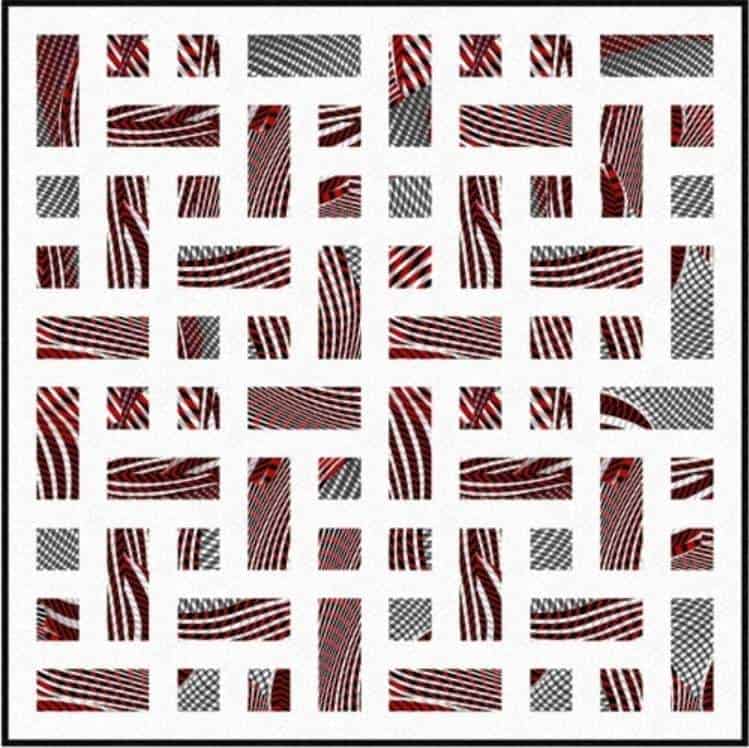 This beginner-friendly printable quilt pattern resembles a maze. It features an extraordinary design with different sizes of rectangles positioned in different directions. You'll only need strips of your fabric to sew the backing pieces together.
This easy modern quilt pattern is designed by Carl Hentsch, a maze quilt that features the Essentials 9 fabric collection from Studio E.
The finished quilt measures 88 inches x 65 inches.52 inches x 52 inches.
12. Flowers in My Windows Quilt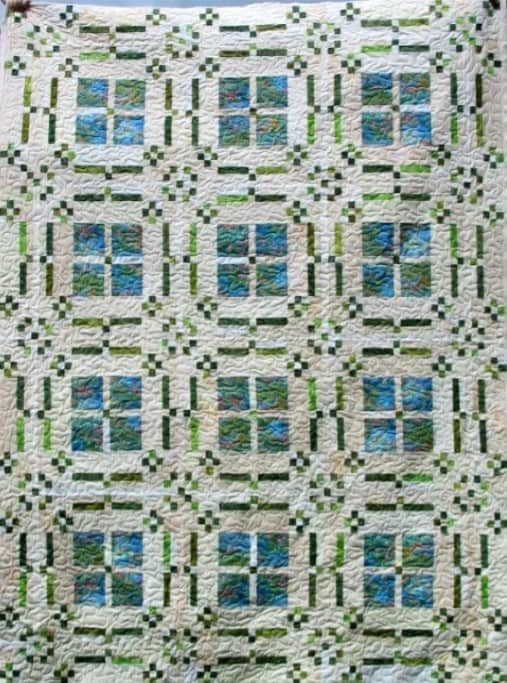 Perfect to be used as a comforter, this quilt has a panoramic view of an artistic garden that will charm you to sleep. Originally designed by Betty, you can easily recreate this pattern by purchasing Charm Packs. It will give you multitudes of printed fabrics that you can use for this quilt.
It has three sizing options you can choose from:
Full Quilt – 98 inches by 98 inches
Twin Quilt – 77 inches by 98 inches
Comfort Quilt – 77 inches by 77 inches
Learn more about Flowers in My Windows Quilt pattern here.
Printable Modern Quilt Patterns To Download From Online Shops (Paid)
1. Spinning Triangles Quilt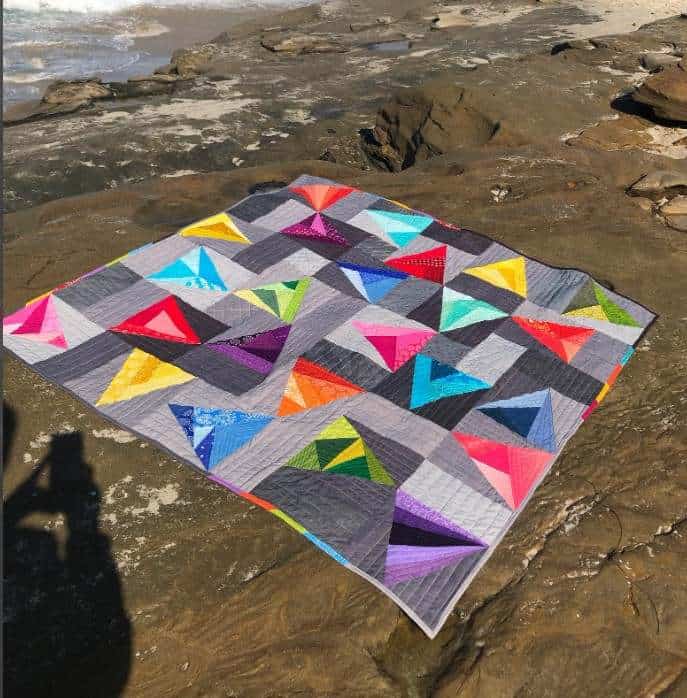 Feel free to have fun recreating this stunning quilt pattern! This scrap-based pattern is simple yet riveting, highlighting the distinctive placement of the various colored triangles in a palette of grey. Its versatility is perfect if you're going for a quaint or old-fashioned style. Carrie Wikander owns this lovely design.
The Spinning Triangles quilt pattern is recommended for advanced quilters. This is an instant download quilt pattern for you to start working with.
The finished quilt measures 60 inches x 60 inches.
2. State Fair Sampler Quilt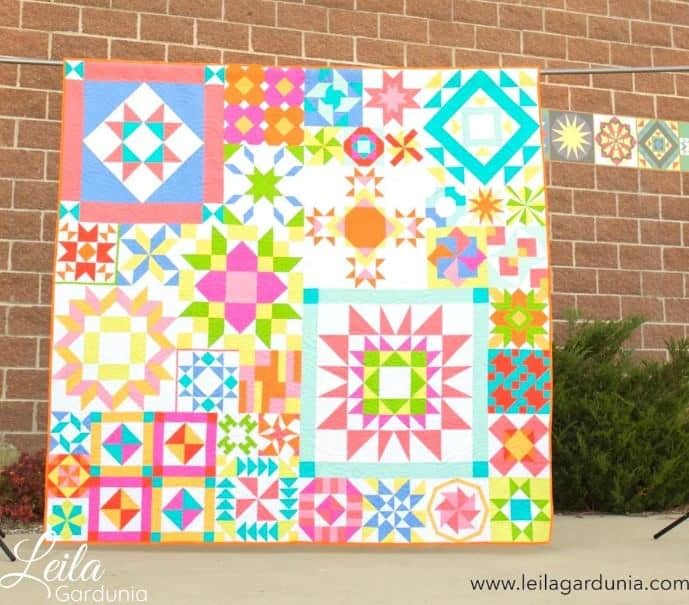 Summer is not the same without a fair festival. With this sampler quilt, be reminded of the blinding lights and the vibrant atmosphere of a fair festival inside your home! You will be pleased with how easily these endearing summer colors complement each other! If you're just starting your quilting journey, then this sampler quilt pattern is perfect for you! On this sampler quilt you will find 36 blocks in 6 different sizes. You will have endless possibilities of creating stunning quilts.
Originally created by Leila Gardunia, the inspiration came from a collection of tile mosaic blocks.
3. Windy Day Quilt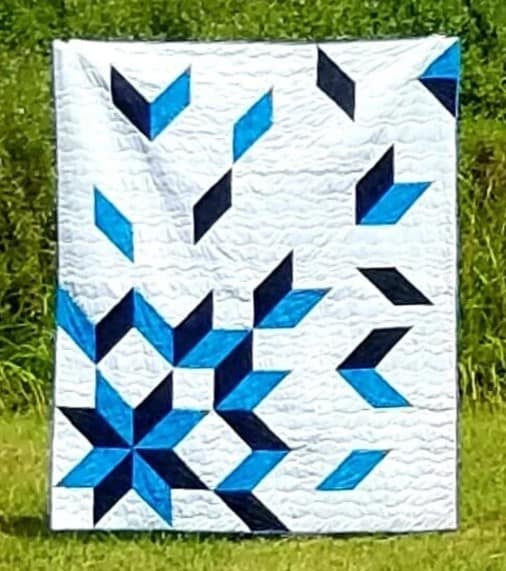 Designed by Sarah Schneider, this cuddly-looking quilt will unconsciously teleport you to a windy coast overlooking the ocean, your hair windswept and feeling peaceful. The traditional Carpenter Star was prominent, giving it a creative modern look. This is ideal for intermediate, experienced, and beginner quilters.
The finished quilt measures 68 inches x 72 inches.
4. Modern Quilt Pattern for Jelly Rolls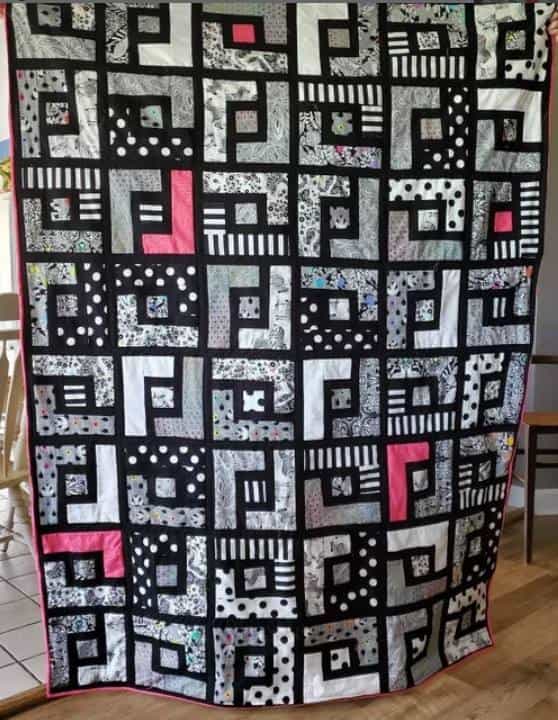 This simple yet intriguing pattern will add more personality to your home. It gives the appearance of a prism wherein multiple colors are refracted, giving it an altered version of a rainbow. It is perfect as a wall-hanging decor or a slipcover. Beginners will definitely have fun playing with colors in this one. This design belongs to Julie Taylor.
It has seven sizing options you can choose from:
Baby – 37 inches x 46 inches
Crib – 46 inches x 64 inches
Toddler/ Lap – 55 inches x 73 inches
Twin – 73 inches x 91 inches
Queen – 91 inches x 109 inches
King – 118 inches x118 inches
5. Modern Celtic Table Topper
Hailing from the designs of Annie's craft store, the intricate patterns on this quilt will give you a sophisticated look you're looking for. This pattern will complete the missing piece your kitchen or living room needs to achieve that modern look. It can be used as a table topper or a wall-hanging decor. Intermediate quilters will surely have the pleasure of recreating this pattern.
The finished quilt measures 31 ½ inches x 31 ½ inches.
It's time to improvise your patterns and try these designs! May these innovative modern quilt patterns ​​unlock your creativity. Don't forget to include in your weekend quilting project the unique GO! Almost Amish Lilies Throw Quilt