This beautiful Mandala Quilt is designed by AGF studio featuring their Boho Fusions fabric collection. The fabric collection is full of vibrant saturated colors and floral patterns which makes it a perfect fit for the mandala design.
This quilt pattern is a bit tricky as it has a lot of cut fabric pieces. To avoid potential mix-ups we suggest that in cutting the fabrics separate the left side and right side mandala and place it inside a zip-lock.
Flaunt this stunning Mandala Quilt in your bedroom and give a new and improved room décor for sophistication.
Project Finished Size: 61 inches x 61 inches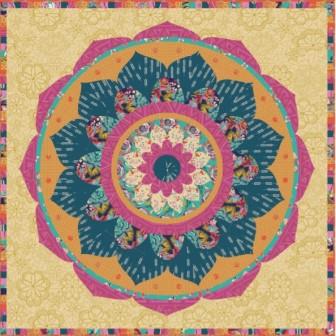 Love this pattern? Check here for the Best Mandala Quilt Pattern round-up.