Looking at the Window Pane Quilt reminds us of the windows at church because of the stained glass panels. A beautiful work of art that needs a lot of care when quilting. This Window Pane Quilt is designed by Lucie Sinkler for the How Stuff Works blog. This stunning masterpiece can be used as a blanket or ornamental mat.
The stained glass block on this quilt works magnificently with contrasting colors. Its focal point is a striking symmetrical design. The many-hued colors and patterns of the Stained Glass block are irresistibly mesmerizing that it makes a real treat for the eyes.
Project Finished Size: 60 inches x 69 inches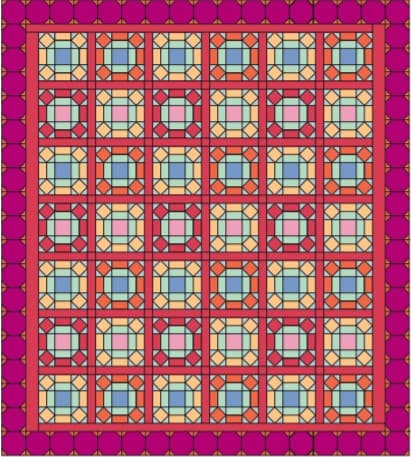 If you are looking for more Quilting inspiration then check out our full list of 400+ Free Quilt Patterns for beginners, intermediate and advanced Quilters. There are all kinds of quilt patterns from easy beginner quilt patterns up to advanced appliqué patterns and patchwork patterns.