Below we gathered different tutorial versions of the Layer Cake Quilt Patterns for you to create.
Free Layer Cake Quilt Patterns – Top Picks
1. Layer Cake Lollies Quilt Pattern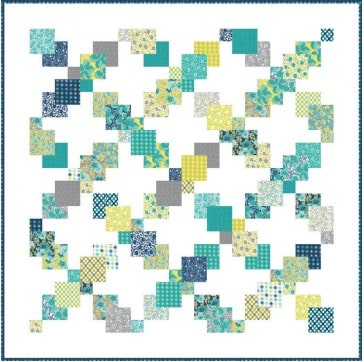 The Layer Cake Lollies quilt pattern is the perfect gift for your little baby! This quilt project is part of the Quilt Short Cut Series from Fat Quarter Shop. It radiates calmness and quietude that will comfort your little baby when sleeping. It uses the hues of cyan and yellows that will remind you of warm summer. Beginners will have no trouble recreating this one. The finished size measures 56 ½ inches x 56 ½ inches.
2. Layer Cake Lemonade Quilt Pattern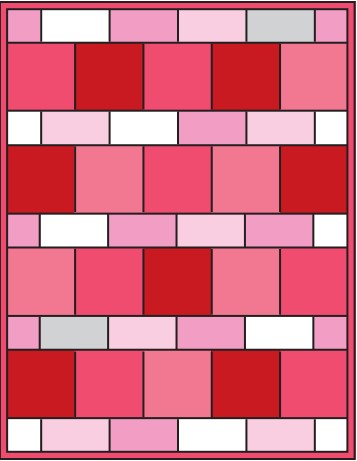 Lemonade lovers will definitely love this quilt pattern! Its minimalistic design is perfect for beginner quilters who are just starting their quilting journey. You can choose your own preferred colors.

There are three sizing options you can choose from:
48 inches x 61 inches
67 inches x 89 inches
86 inches x 89 inches
3. Layer Cake Coin Quilt
Don't you want to feel that soothing sensation when the winter season sets in? This soft-looking quilt is your perfect companion on a winter night! It will give you the most comfortable and warmest hug you can have. The use of a blue palette makes the quilt more inviting and you can carry this wherever you go. Designed by Peta of She Quilts a Lot, this beginner-friendly quilt approximately measures 45 inches x 51 inches.
4. Star Chain Quilt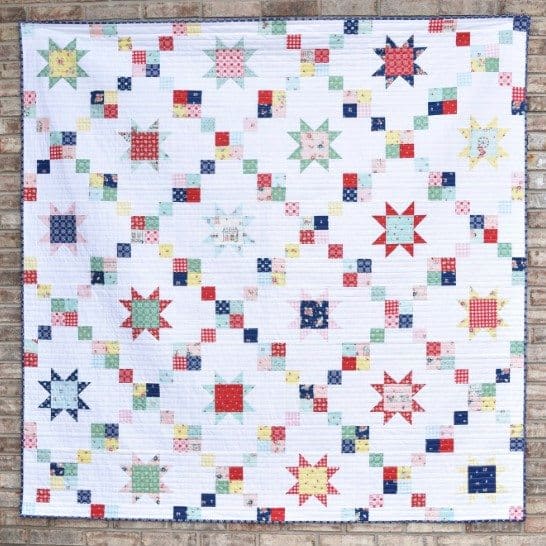 Do you love stargazing? Worry no more because you can stare at this charming quilt every day and every night! Designed by Amanda Castor of Material Girl Quilts , this beginner-friendly quilt only uses mini squares and half-block triangles to create this pattern design.

It has two sizing options you can choose from:
72 inches square
60 inches x 84 inches square
5. Checkmate Shortcut Quilt Pattern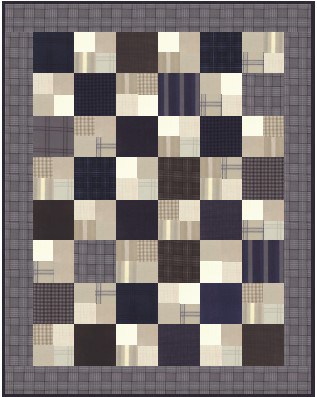 Do you have a friend who is skilled at playing chess? Then why don't you give them this Layer Cake Checkmate quilt pattern? This Checkmate shortcut quilt series pattern highlights the arrangement of a chess board, alternately using dark and light colors to give it a personality. You only need squares of fabrics to recreate this design. This is perfect for all quilters of all levels. Designed by Fat Quarter Shop, the finished size measures 66.5 inches x 84.5 inches.
6. Pop Shortcut Quilt Pattern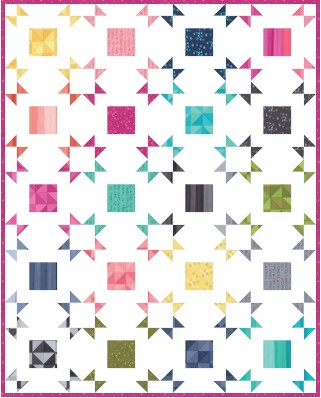 Quilters of all levels will have no trouble duplicating this quilt pattern. This free layer cake quilt pattern from Fat Quarter Shop is in PDF form that you can easily download and print. The finished size measures 48.5 inches x 60.5 inches.
7. Lattice Shortcut Quilt Pattern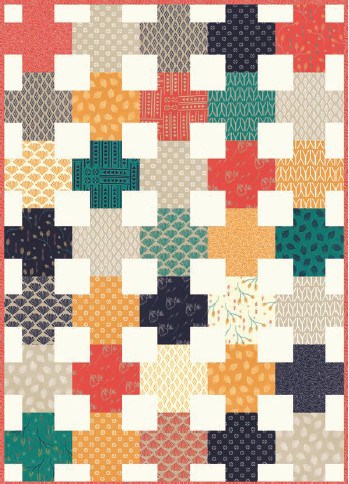 This colorful cross-patterned quilt is perfect for beginners to replicate. One of the many Fat Quarter Shop Shortcut Series, this layer cake lattice quilt pattern is a great throw that will add beauty to your living room. The finished size measures 48 inches x 67 inches.
8. Double Slice Layer Cake Quilt Pattern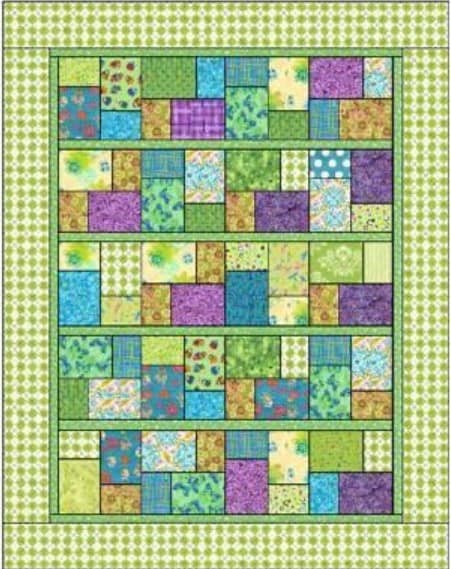 This Double Slice quilt pattern by Mary Ann Altendorf was created with the inspiration she got from the tutorial of Jenny of Missouri Star Quilt. This is a Double Slice Layer Cake quilt pattern PDF that you can easily downlaod and print. Learn more about Double Slice Layer Cake Quilt pattern here.
9. Layer Cake Custard Quilt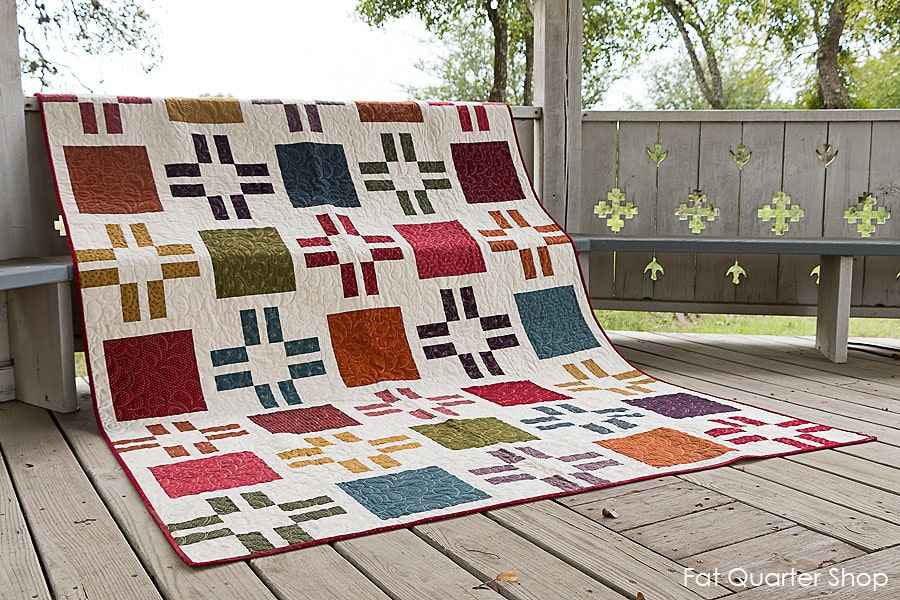 The Custard quilt pattern from Fat Quarter Shop is a quaint-looking bed quilt that measures 63 inches x 88 inches.This is an easy layer cake quilt pattern that you can download for free and there is also an available video tutorial perfect for visual quilters. If you are a beginner quilter, this is the ideal first project for you.
Printable Layer Cake Quilt Patterns To Download From Online Shops
1. Cake Blossoms Quilt Pattern
Designed by Sterling LaBosky, this quilt can be the perfect gift for the Christmas holiday. It induces festivity with its lively colors and the formation of stars that symbolizes its luminescence. Quilters who have previous basic knowledge about quilting will surely enjoy duplicating this design. The finished size measures 64 inches x 79 inches.
2. Easy Layer-Cake Quilts E-Book
These are simple and easy quilts perfect for all quilters of all levels! If you don't have any inspiration for your first quilt, this Easy Layer-Cake Quilts by Barbara Groves and Mary Jacobson got you. In this book you can find 10 inch layer quilt patterns that will surely put your pre-cuts in use.
3. Layer Cake, Jelly Roll and Charm Quilts E-book
This beginner-friendly quilt by Pam and Nicky Lintott will remind you of the summer season.Found on this ebook are quilt patterns that features the use of precuts like, charm packs, layer cake and jelly roll. You will have fun browsing different projects that will fill your imagination.
Ready to Ship Layer Cake Quilt Patterns
1. Bounce Quilt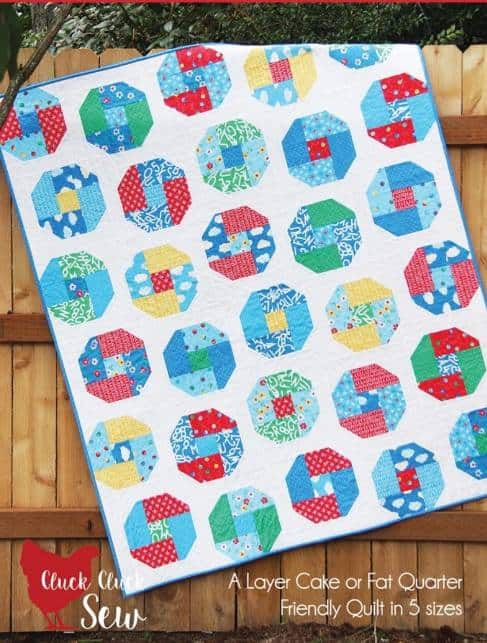 Your little kids will absolutely adore this eye-catching Bounce quilt pattern! Not only will they be comfortable in this quilt, but they can also play with this one! Beginner quilters will have no trouble recreating this quilt pattern as it only uses half-block triangles and mini squares.

It has five sizing options you can choose from:
Crib – 42 inches x 52.5 inches
Small Throw – 52.5 inches x 63 inches
Large Throw – 63 inches x 73.5 inches
Twin – 73.5 inches x 94.5 inches
Queen – 94.5 inches x 94.5 inches
2. A Piece of Cake Quilt Pattern
This adorable quilt showcases a vast collection of blooming flowers that will remind you of a botanical garden. If you are the kind of person who loves to collect flowers, then this quilt designed by Mel is a must-have! It is decorative and attractive. This is a beginner layer cake quilt pattern that uses strip piecing. The finished size measures 71 inches x 63 inches.
3. Layer Cake Bargello Quilt Pattern
Bargello quilt patterns are perfect for intermediate quilters to replicate. Using gaudy and vivid colors, they will definitely grab everyone's attention. The designs are intricately done and it will give you an illusion that it moves closely similar to that of a wave. Designed by Nancy Altsman, you can choose from two different sizing measurements.
41 inches x 43 inches
55 inches x 57 inches
If you are up for a challenge you can check the Best Bargello Quilt Patterns for some inspiration.
4. Layer Cake Recipe Book by Cozy Quilt Designs
Are you a beginner quilter but don't know what kind of quilt pattern to try? This Recipe Book by Cozy Quilt Designs will give you an array of quilt pattern choices you can choose from. And you don't have to worry about picking the perfect fabrics for your first quilting project, you can easily purchase charm packs and rolls! Their colorful designs will definitely stimulate your creativity.
If you are looking for more Quilting inspiration then check out our full list of 1000+ Free Quilt Patterns for beginners, intermediate and advanced Quilters. There are all kinds of quilt patterns from easy beginner quilt patterns up to advanced appliqué patterns and patchwork patterns.