The Ohio Star is a classic quilt block pattern, and its sharp angles and swooping curves give the quilt a sense of vibrant motion. As the name suggests, this pattern is a star made out of the points of four square triangles that radiate out from a central square. This traditional pattern is perfect for beginner quilters because it's easy to make. We outlined a modern take on Ohio Star classic quilt block that has been used for decades or centuries.
Free Ohio Star Quilt Patterns – Top Picks
1. Free Quilt Pattern: Random Ohio Stars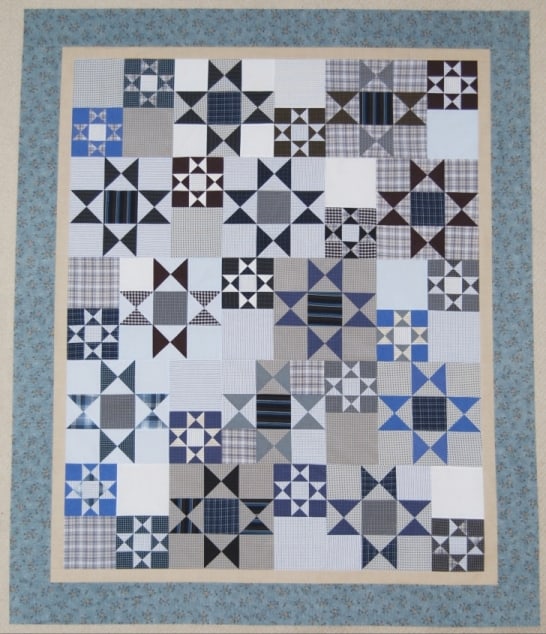 If symmetry in placement bores you, have fun recreating Random Ohio Stars! This pattern lets beginners forget about the rules and just stitch the star blocks wherever they please. It creates an abstract beauty that shines with elegance in a neutral color palette. The splash of blue is a feast for the eyes. The combination of these blue and gray tones has a charm that will leave you in awe. If this sounds enticing enough, give this piece a try!

Learn more about the Random Ohio Stars Quilt pattern here.
2. Free Quilt Pattern: Broad Stripes, Bright Star
Brighten up your space with a star that will wish you comfort and peace. This piece features a big star that guards bluish stars that alternate with printed blocks. Looking closely, you'll see dainty flowers and scenic prints, that will make your space cozier. The sturdiness of its design gives off a sense of security you'll never find anywhere else. If you want something that will calm your eyes and make you feel at home, this piece is for you.

Finished Quilt Measures: 76 inches x 76 inches

Skill Difficulty Level: Confident Beginner

Learn more about the Broad Stripes, Bright Star Quilt pattern here.
3. Free Quilt Block Pattern: Large Ohio Star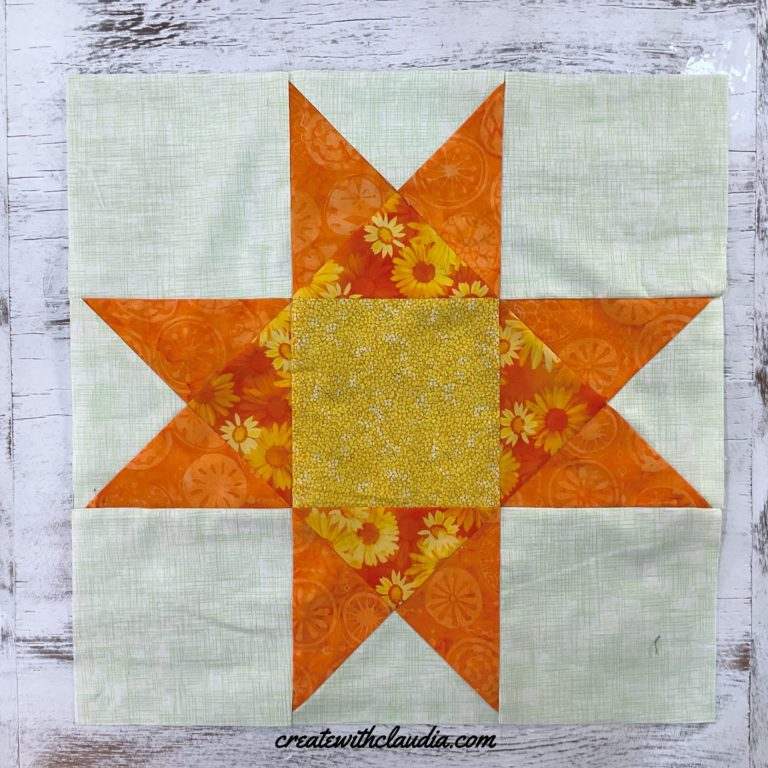 If you think you've recreated all of Stitchtober's fun and exciting star blocks to sew on your quilt, wait until you discover the Large Ohio Star Quilt Block by Create with Claudia! This piece seemingly folds two orange ribbons to form a crisscross pattern but if you'll look close enough, you'll realize it's a simple nine-patch block that even beginners can recreate. Brighten up your masterpiece with its vibrant hue, sunflower prints, and a golden center. Any plain background would look stunning with this beauty.

Finished Quilt Block Measures: 18 ½ inches x 18 ½ inches
4. Free Quilt Block Pattern: Evening Star
Evening Star quilt block is a majestic piece that will remind you of the stars above the sea in a solemn evening. With its traditional way of quilting, it takes pride in its mosaic-like beauty that recreates a starry sky with the combination of dark blue, light blue, and yellow fabric pieces. This Ohio Star Quilt Block variation tutorial by Patchwork Square is available in 6 inch, 9 inch, and 12 inch sizes. It's a PDF downloadable pattern that you can print at home. Beginner quilter will find joy in finishing this piece.
5. Free Quilt Pattern: Star Crossed
The cottage core aesthetic is definitely coming back in trend! If you are an old soul who is fond of nature, the Star Crossed quilt will delight you with its visuals. This free printable pattern used fabric pieces with earthy tones to assemble a grid of starry blocks. It gives a sense of being one with nature as it evokes images of woods, leaves, and flowers by the sight of it. Did this stylish yet timeless beauty captured your heart?

Finished Quilt Measures: 56 inches x 65 inches

Skill Difficulty Level: Intermediate
6. Free Quilt Pattern: Charlie's Star Puzzle
Charlie's Star Puzzle is a classic masterpiece that you wouldn't want to miss! What made this quilt so special is the intricacies of making the different shapes of squares and stars and making sure that they are in harmony with one another. The shades of blues and browns compliments each other perfectly on a cream background. The simple yet luxurious look of this quilt is something to be proud of. Intermediate quilters will feel a sense of accomplishment when they finish making this pretty quilt.

Finished Quilt Measures: 67 inches x 85 inches

Skill Difficulty Level: Intermediate
7. Free Quilt Block Pattern: Ohio Star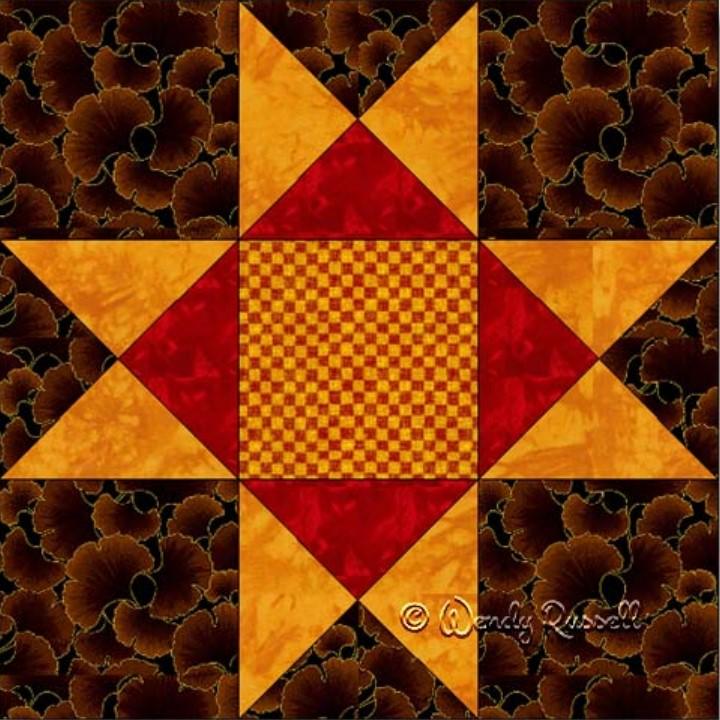 If you're looking for a warm-toned pattern to bring life to your space, the Ohio Star from Patchwork Square will not disappoint you! This piece combines yellow, brown, black, and red fabric pieces to assemble a look that is as fervent as the sun. Together, the nine-patch blocks will make your eyes feast. The yellow criss-crossed sashes and their tiny red triangles on the back elevated the look from the mushroom-like drawings in its background. If this sounds great, have it your way!
8. Free Quilt Pattern: Star Fusion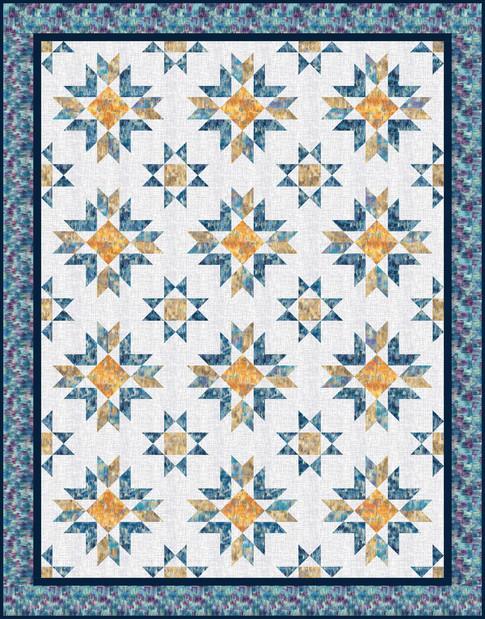 With the amazing blending of the colors blue and orange, the Star Fusion pattern lives up to its name. It is filled with fused stars with bright orange as its core and a mixture of orange and blue as a ray of light surrounding it. Surrounding them are borders that will remind you of the galaxy with its colorway. If you have recently begun quilting and want to learn more about advanced techniques, this brightly colored quilt may be the perfect project for you!

Finished Quilt Measures: 61 inches x 78 inches

Skill Difficulty Level: Intermediate
Printable Ohio Star Quilt Pattern To Download From Online Shops (Paid)
1. Wow-E Quilt Pattern
Wow-E Quilt takes pride in its traditional style that is spiced up the flavor of modernity. What makes it an astounding design is the perfectly symmetrical ribbon-like images with different colors that you may recreate for one of your quilts. The squares that contain the main object of this modern ohio star quilt pattern create an image that we got used to seeing on one of our tables as a child. It has a nostalgic element that will evoke precious memories from your past.
Whether you're a novice, intermediate, or experienced quilter, these classic Ohio Stars are a great option for your next quilting project!