Airplane quilt patterns offer a delightful way to bring the excitement and adventure of flight into your quilting projects. Perfect for aviation enthusiasts, children who dream of soaring skies, or as a nostalgic nod to the golden age of travel, these patterns vary from simple, playful designs to more intricate depictions of aircraft. Whether you're crafting a cozy throw for a pilot's den, a vibrant bedspread for a child's room, or a commemorative piece to celebrate a special journey, airplane quilt patterns provide a canvas for creativity and storytelling, merging the art of quilting with the wonder of flight.
Free Airplane Quilt Patterns – Top Picks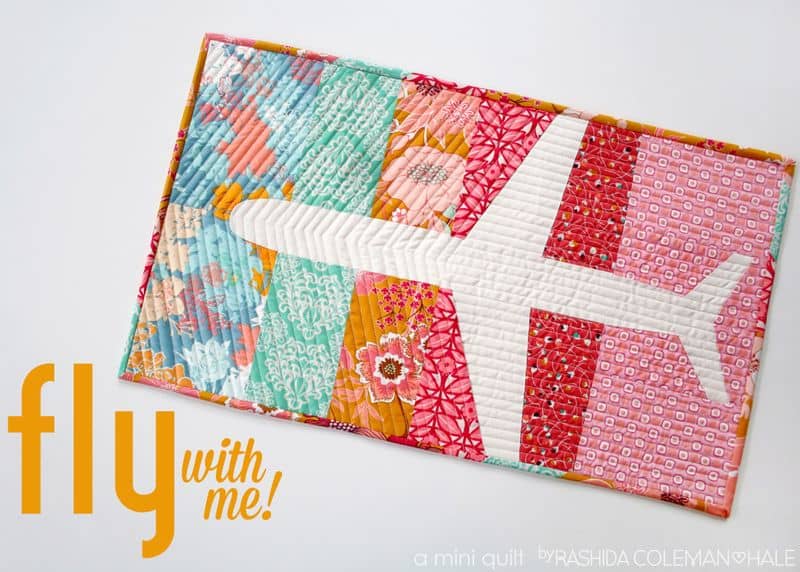 Designer: Rashida Coleman-Hale from I Heart Linen for Art Gallery Fabrics
Discover the joy of aviation-themed quilting with the Fly With Me Mini Quilt, a delightful free pattern by Rashida Coleman-Hale from I Heart Linen for Art Gallery Fabrics. Ideal for both art quilts and larger quilt projects, this design allows you to craft a charming piece filled with airplanes. Partially paper pieced, it's an enjoyable venture for quilters looking to combine traditional methods with a modern twist. Fat quarter friendly, this pattern is perfect for using up fabric scraps. The finished mini quilt measures 24 ½ inches x 14 ½ inches, making it a versatile addition to any aviation enthusiast's decor.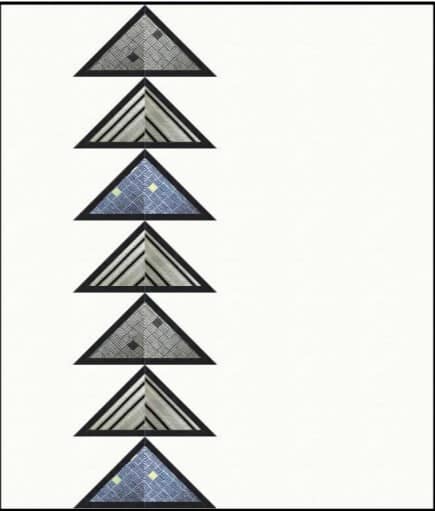 Designer: Leah Day
Embark on a modern quilting adventure with the Paper Airplanes Quilt, a captivating free pattern from Leah Day. This design offers an excellent opportunity to delve into the world of paper or foundation piecing, perfect for those seeking to explore this technique. The finished quilt, measuring 42 x 49 inches, showcases a contemporary aesthetic ideal for modern homes. Leah Day's expert guidance, filled with handy tips and tricks, ensures a smooth quilting experience, making this project accessible for quilters looking to expand their skills. Create this delightful quilt and let your creativity take flight!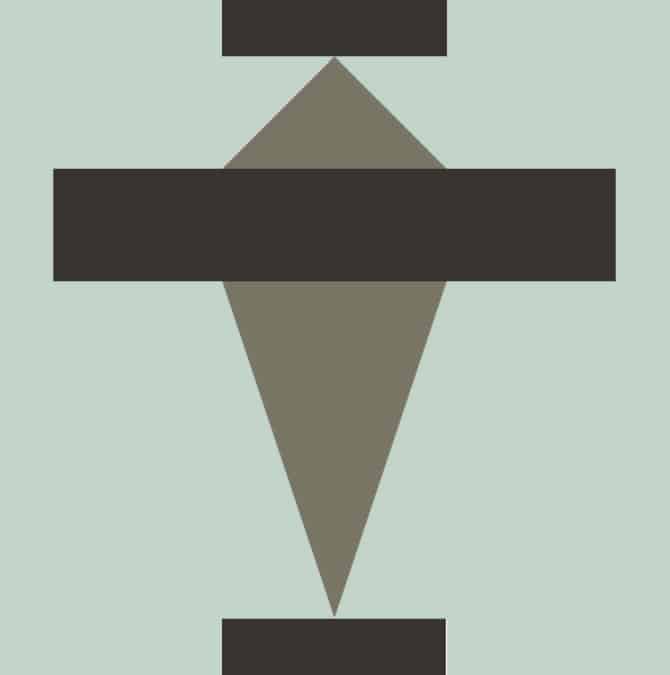 Designer: Maria of Scissortail Quilting
The Airplane Block by Maria of Scissortail Quilting is a must-try for intermediate quilters. This free quilt block pattern captivates with its versatility, allowing for striking arrangements either in straight rows or set on point. The design's charm lies in its ability to adapt to various quilt projects, making it a delightful choice for those who love thematic quilting. Whether you're creating a quilt for an aviation enthusiast or adding a unique touch to your collection, this pattern brings a sense of adventure and creativity to your quilting journey.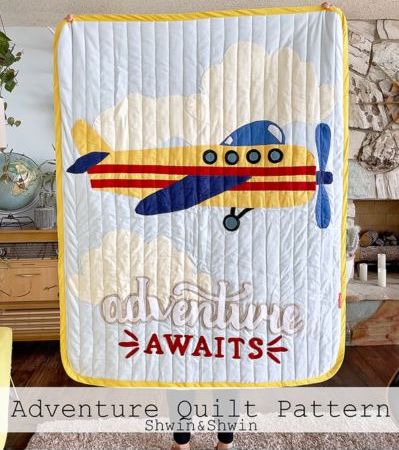 Designer: Shwin and Shwin
The Adventure Quilt by Shwin and Shwin, a free quilt pattern, captures the essence of exploration with its airplane soaring in the sky design. Measuring 45″ x 54″, it's an excellent size for baby shower gifts, blending comfort and inspiration. The quilt features the uplifting text "Adventure Awaits," encouraging a sense of discovery and wonder. Ideal for a child's nursery or as a cozy playmat, this quilt is a delightful mix of whimsy and warmth. It's a charming project for quilters to create a keepsake that will be cherished for years to come.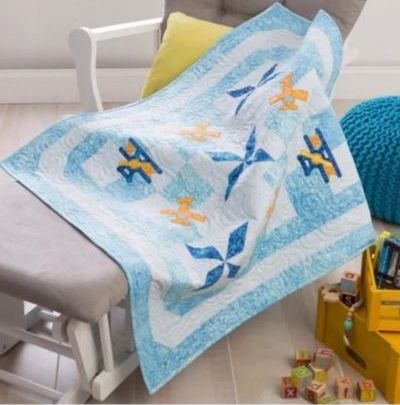 Designer: AccuQuilt
The GO! Propeller Planes quilt pattern by AccuQuilt is an imaginative creation for the adventurous at heart. It showcases two delightful airplane appliqués and a playful propeller block, evoking the feeling of soaring through a sky filled with fluffy clouds. This 36″ x 36″ quilt is ideal for those who love aviation themes or seek a whimsical addition to a child's room. The use of the GO! Airplanes die simplifies the process, ensuring that piecing this quilt feels as breezy as a flight through a clear blue sky. Perfect for both experienced quilters and those new to appliqué, this pattern brings a sense of joy and exploration to any quilting project.
BONUS Airplane Quilt Patterns For Sale from Online Shops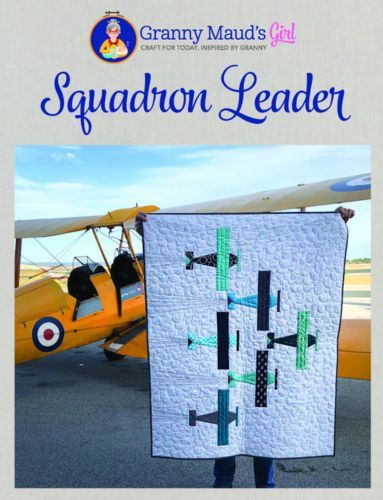 Designer: Carla Morris of Granny Maud's Girl
Squadron Leader Quilt Pattern by Carla Morris of Granny Maud's Girl is a charming baby quilt pattern, centering around a traditional 12-inch airplane block. This versatile design, finishing at approximately 41 × 51 inches, is perfect for utilizing fat eighths or coordinating scraps, as each airplane requires only small fabric amounts. With just six blocks to assemble, the quilt is a quick and enjoyable project. The pattern employs templates along with simple measuring and cutting techniques, making it accessible and straightforward. Ideal for creating a delightful and cozy addition to a child's room, this pattern is both a joy to make and a treasure to gift.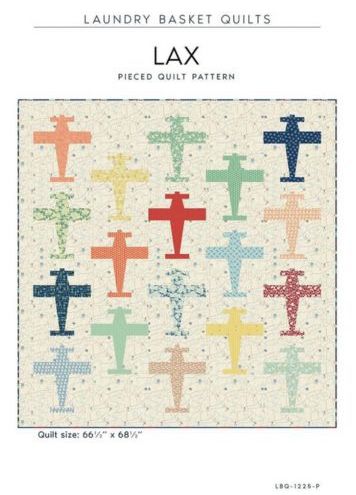 Designer: Laundry Basket Quilts
The LAX Quilt Pattern from Laundry Basket Quilts is a striking design that showcases a group of airplanes, making it a perfect project for aviation enthusiasts or as a unique gift. Measuring 67" x 69", this pattern is suitable for quilters of any skill level. The design cleverly integrates the airplane motif, offering a dynamic and engaging visual experience. Whether you're a beginner looking for a challenging yet achievable project or an experienced quilter seeking a fresh and exciting design, this pattern is an excellent choice, combining simplicity with a touch of sophistication in its layout and theme.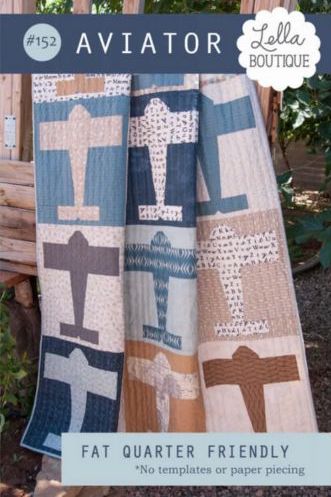 Designer: Laundry Basket Quilts
The Aviator Quilt Pattern from Lella Boutique is an ideal choice for anyone looking to create a special gift for a little boy fascinated by airplanes. This fat quarter-friendly pattern simplifies the process of crafting a stunning throw-sized quilt measuring 64″ x 66″. Impressively, it requires no templates, paper piecing, or appliqué, as the airplane blocks are entirely pieced. This pattern is perfect for quilters who prefer traditional piecing techniques and seek a project that combines ease of construction with an exciting and playful theme, making it a delightful addition to any child's room or play area.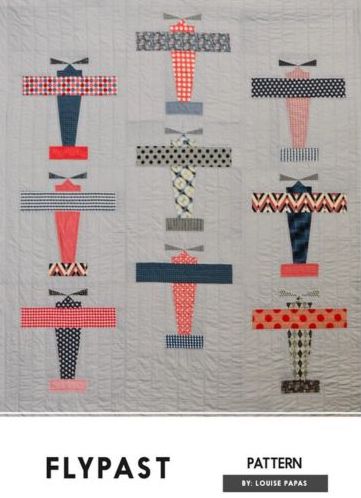 Designer: Louise Papas for Jen Kingwell Designs
The Flypast Quilt Pattern by Louise Papas for Jen Kingwell Designs presents a classic beauty in quilt form. Measuring 67 1/2" x 60 1/2″, this pattern features a striking blend of blues, reds, and a hint of black, creating an elegant airplane-themed quilt. It's suitable for both hand and machine piecing, offering flexibility to quilters of various skill levels. The combination of colors and the timeless airplane motif make this quilt an all-class piece, perfect for those who appreciate a blend of traditional and contemporary design elements. Whether as a cozy throw or a decorative piece, this quilt is sure to make a statement.
The Up Up and Away Quilt Pattern from Kids Quilts is a whimsical and delightful design, perfect for sparking young imaginations. It comes with comprehensive instructions, guiding quilters through each step of the creation process. This versatile pattern accommodates various sizes, including cot/crib, single/twin, and king single, making it an ideal choice for growing children. The design features charming elements that evoke a sense of adventure and fantasy, perfect for a child's bedroom or as a cozy companion for naptime stories. Whether you're a seasoned quilter or just starting, this pattern offers an enjoyable quilting experience with a beautiful result.
The collection of airplane quilt patterns we've explored encapsulates a wonderful blend of creativity and nostalgia, perfect for little aviators and aviation enthusiasts alike. From the playful imagery of propeller planes to the modern appeal of paper airplane designs, each pattern offers a unique opportunity to create something both visually captivating and deeply personal. These quilts are not just cozy beddings; they're gateways to imaginative adventures in the skies. Whether you're crafting a baby shower gift or a memorable keepsake, these airplane quilts promise to deliver warmth and inspiration, making every stitch a flight of fancy into the clouds of creativity.