Below we gathered different tutorial versions of the Attic Window Quilt Patterns.
Best Free Attic Window Quilt Pattern – Top Picks
1. Nature's Garden Quilt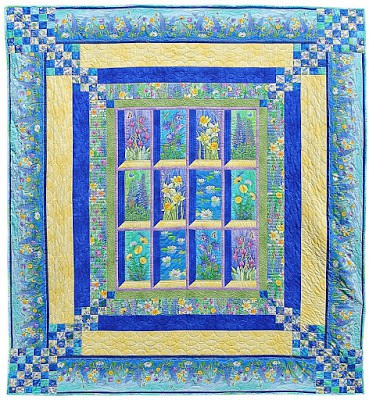 Here is the first version of the attic window quilt pattern. Nature's Garden Quilt designed by Chris Francis for P&B Textiles.
Project Finish Size: 85 ¾ inches x 95 ½ inches
Learn more about Nature's Garden Quilt pattern here.
2. Imperial Garden Windowpanes Quilt
Here is another version of the attic window quilt pattern. Imperial Garden Windowpanes Quilt from Paintbrush Studios.
Project Finish Size: 62 inches x 62 inches
Learn more about Imperial Garden Windowpanes Quilt pattern here.
3. Window Display Quilt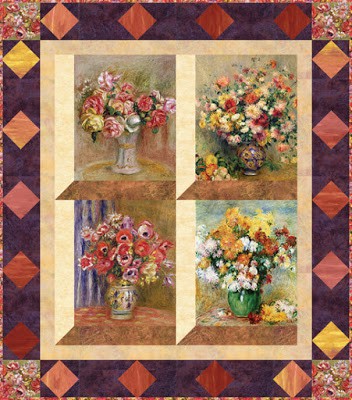 This Window Display Pattern is perfect for your living room or bedroom walls. It adds a sophisticated aura to the medieval period. It employs the paintings of four different bundles of flowers in different vases, surrounded by mineral-colored squares. This free quilt pattern owned by Elisabeth Hardy is a fantastic option for both novice and experienced quilters. Its final measurements are 36 inches x 41 inches.
Learn more about Window Display Quilt pattern here.
4. Alphabet in Attic Windows
Quilt your name and hang it on your wall. This unique quilt pattern is called Attic Windows quilt, designed by Susan K. Cleveland
Project Finish Size: 29 inches x 9.5 inches
Learn more about Alphabet in Attic Windows Quilt pattern here.
5. Tranquil Views Quilt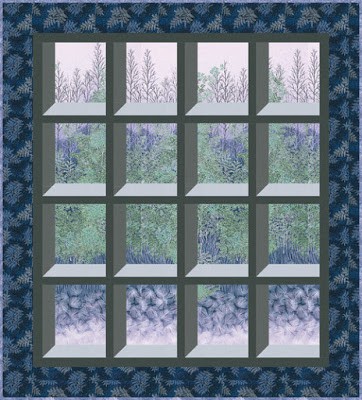 A relaxing pattern version of attic window quilt. Tranquil Views quilt by Elise Lea.
Project Finish Size: 56.5 inches x 62.5
Learn more about Tranquil Views Quilt pattern here.
6. Flora Fantasia Quilt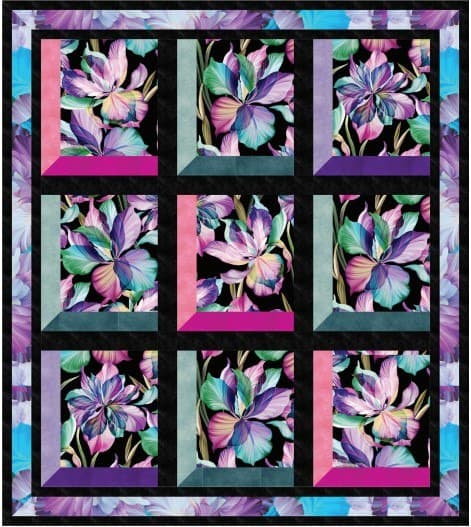 Cyndi Hershey designed this lovely attic window quilt project. This pattern is a great way to show off your favorite floral design. It is an ideal pattern for confident beginners and experts alike. The finished size is 48 inches x 54 inches.
7. Simple Attic Windows Quilt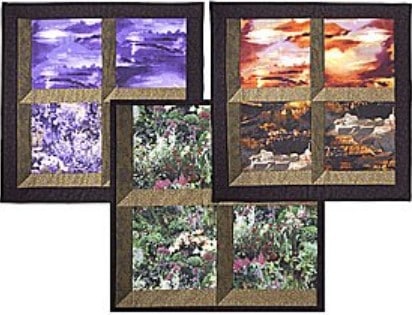 From the designs of Connecting Threads , this beginner-friendly Simple Attic quilt is perfect as a decoration for your attic walls. The half-square triangles form the shape of a window as it outlines its window sills. Colorful printed fabrics are sewn as the view when looking out through the window. It approximately measures 21 ½ inches square.
8. Attic Windows Quilt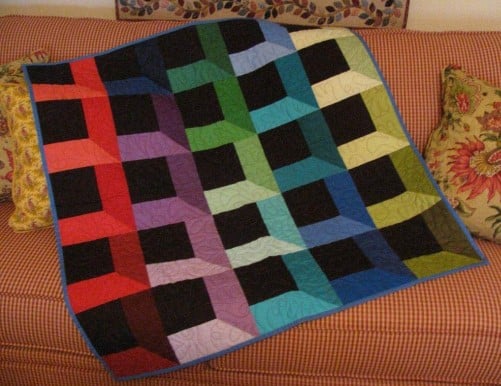 Lighter and darker hues incorporated into the fabric strips that form an attic window create a shadow effect on the finished quilt. Mary Diamon designs the window pane pattern for Pellon Projects .
Skill Difficulty Level: Beginner
9. Lovey Buggy Quilt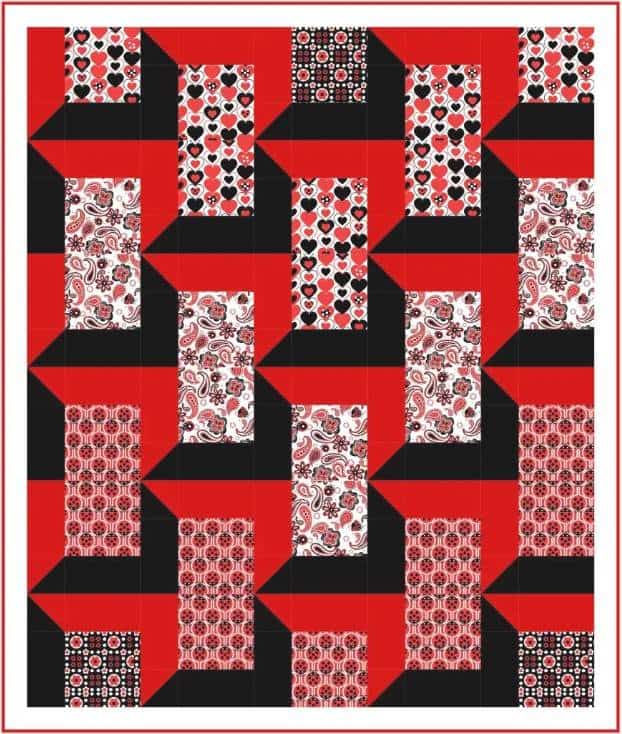 This window pane quilt pattern is an excellent gift to your sweethearts t on Valentine's day or Anniversary. The combining ladybugs, hearts, and paisleys make a powerful statement. This modern quilt design is crafted by Wendy Sheppard of Ivory Spring for Benartex. The finished size of the quilt is 48 ½ inches x 57 ½ inches.
10. Overlooking the Rose Arbor Quilt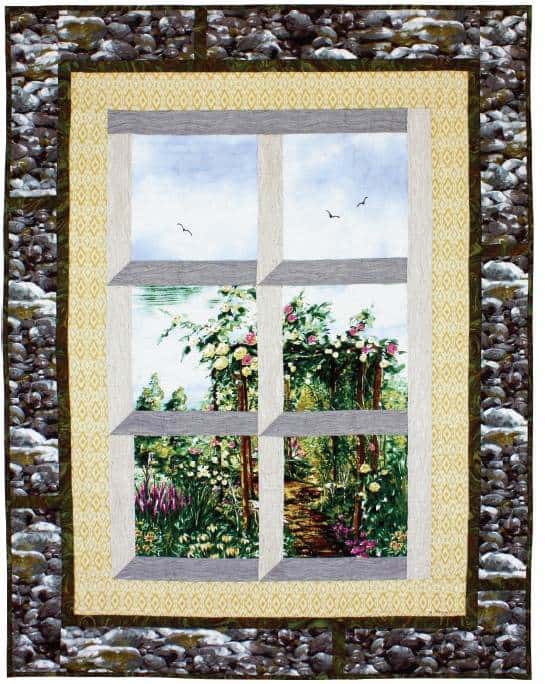 Bird watchers will love this attic window pane design. The enchanting quilt highlights a beautiful garden with birds flying. Add an outdoor scene to your homes with this pattern designed by Marinda Steward for Michael Miller Fabrics. Simple fabric placements create three-dimensional frames that form an ideal backdrop for your favorite scenery. The accomplished quilting pattern measures 42 x 54 inches.
Skill Difficulty Level: Confident Beginner
Printable Attic Window Quilt Patterns To Download From Online Shops (Paid)
1. Attic Window Twin Quilt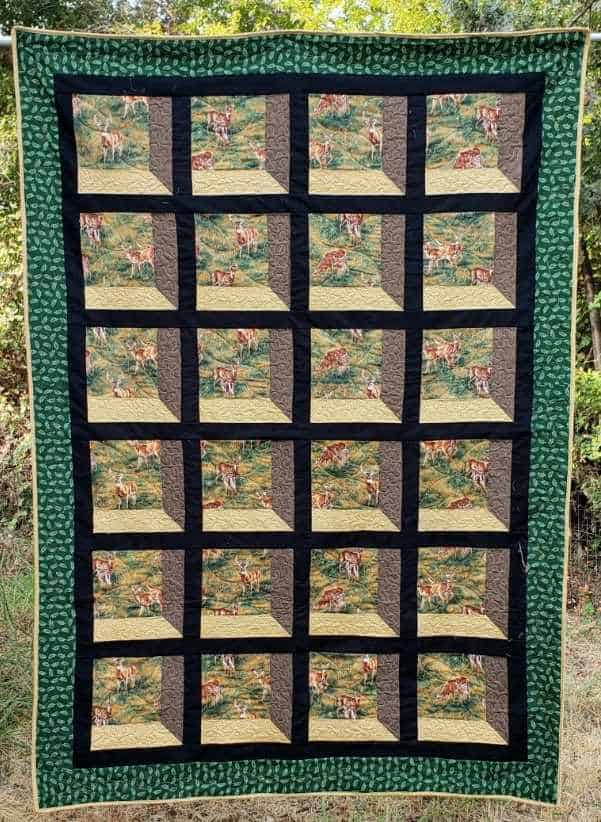 The Attic Window Twin Quilt Pattern will definitely put a smile on everyone's face every time you see it as a decoration in your house. Be mesmerized by this 3D-looking repetitive pattern that made a brilliant illusion as if you're looking through a window with a view of animals. The pattern is crafted by Becky Cable. It is best for beginners and a quilt project that experienced quilters will enjoy. The finished quilt measures 39 inches x 47 inches.
2. Winter Window Quilt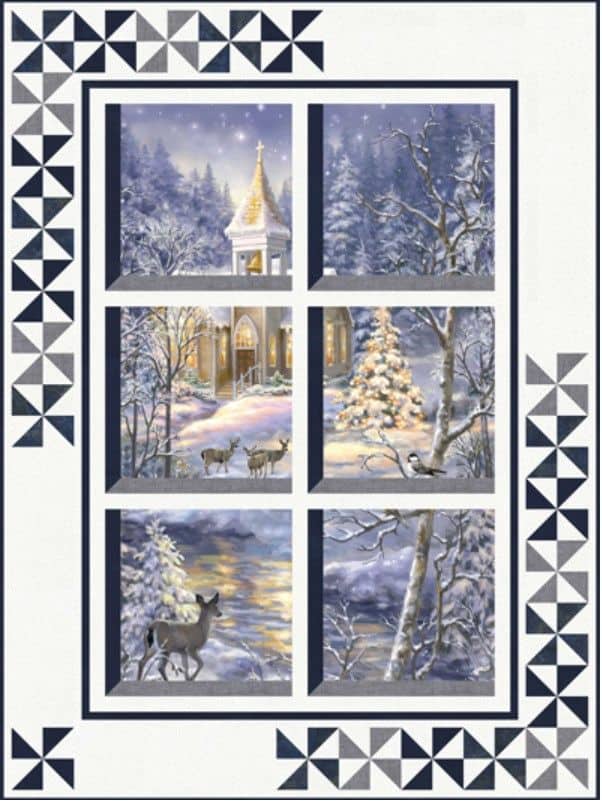 The Winter Window Quilt Pattern will remind you of your wonderful memories during winter. The half-square triangles in the corners make it much easier to recreate. It gives off a cozy vibe to your home. This is designed by Sara Lister from Ladeebug Design and measures 38 inches x 51 inches.