Blankets are essential to keep babies clean and comfortable. It's important to note that not all blankets are the same. Some are too rough, and others are too heavy. To ensure the best quality for your baby, why not quilt a custom-tailored blanket just for them? Whether you're pregnant and wanting to make a productive maternity leave or expecting your first grandchild, here are modern and stylish quilts for your babies.
Free Baby Quilt Patterns – Top Picks
1. Simple Baby Quilt
If you want to keep your nursery room simple yet sleek, this pattern is best for you. It is recommended to mix plain and baby-printed fabric for best results. Lauren Terry of Brights on White crafted this pattern. Beginners and advanced quilters will enjoy recreating this one.
The finished size of the quilt is 36" x 36" inches.
2. Paisley Splash Quilt
A cute animal quilt to add to your little one's nursery. This colorful quilt pictures a silhouette of a baby elephant spraying water from his nose. This lovely quilt pattern is best recommended to quilters who has a basic knowledge in using applique technique.
Project Finished Size: 22.5 inches x 33.5 inches
Learn more about Paisley Splash Quilt pattern here.
Here are the best baby applique quilt patterns that you might be interested in.
3. Pure Baby Boy Quilt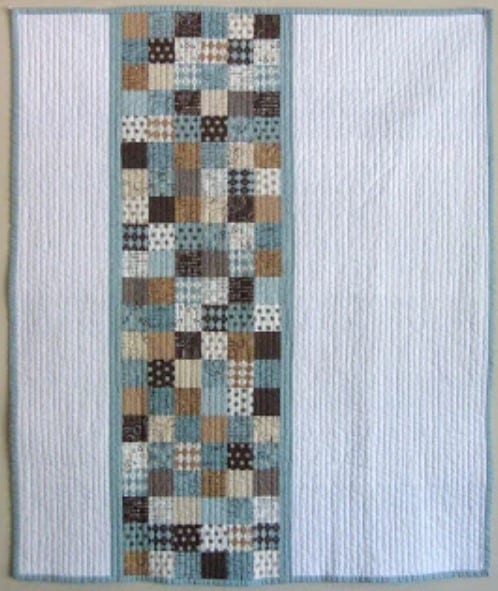 This modern Pure Baby Boy quilt pattern is an ideal gift for a baby shower. It is simple yet still captivating. Neutral and blue colors are used to bring relaxation to this baby quilt. The quilt used jelly rolls infused in a strip piecing technique. This jelly roll baby quilt pattern is designed by Alex of Tea Ginny Designs for Moda Fabrics.
The finished quilt measures 36 inches x 42 inches.
4. GO! Sherbet Dreams Quilt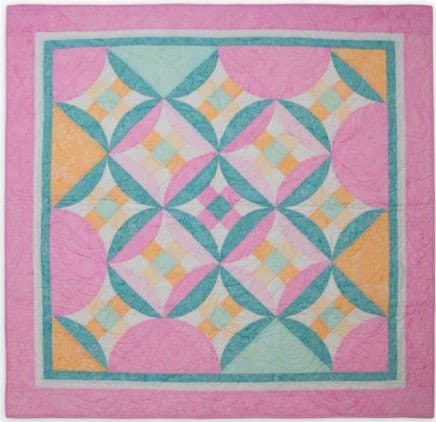 This yummy crib quilt will add a pop of color to your baby's room. This is a free quilt pattern from AccuQuilt that is downloadable (be sure to register first to get the free pattern). This pastel-colored quilt gives a calming effect that will help soothe your baby.
The size of this quilt is great for floor quilts for growing babies.
Finished Quilt Measures: 48 inches x 48 inches
Learn more about GO! Sherbet Dreams Quilt pattern here.
Still looking for more baby girl quilt patterns for your little princess? Check our Top Most Chic Baby Girl Quilt Patterns to give you more inspiration.
5. Simply Charming Baby Quilt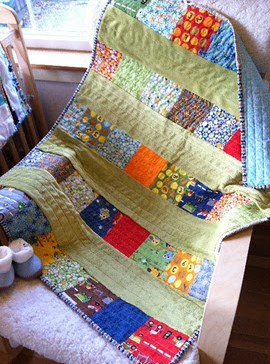 Looking for the best gift for your sister or friend expecting a baby? This beginner-friendly pattern is perfect for you. The vibrant and colorful pattern is perfect for any crib. You will only need one charm pack to be arranged in five rows. Make sure to choose a soft fabric for a more comfortable experience. The design is created by Jera Brandvig of Quilting in the Rain.
The finished quilt measures 36.5 inches x 41 inches.
6. Broken Dishes Baby Quilt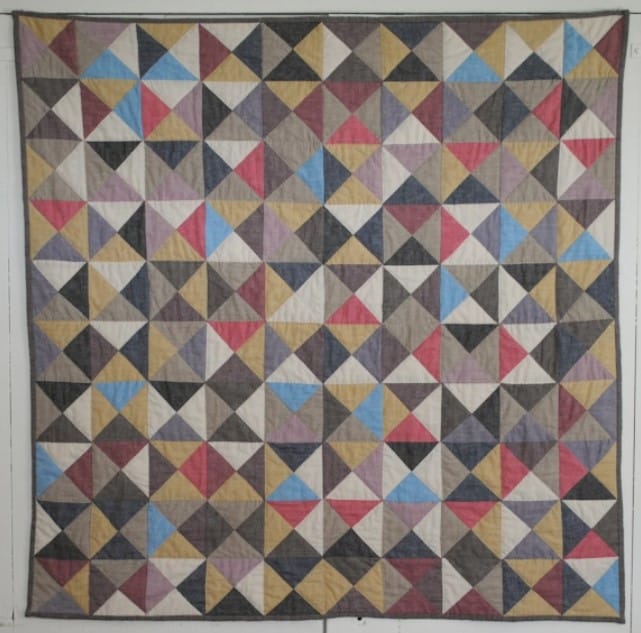 This vintage-looking pattern highlights diagonal patterns. With proper color matching, it creates an illusion that your babies will love. It is quick and easy to make that is ideal for your weekend project. For quilters who are just starting out, make sure to include this in your project list!
The finished measures 40 inches square.
Learn more about Broken Dishes Baby Quilt pattern here.
7. Checkered Streets Baby Quilt
This Checkered Streets Baby Quilt pattern will bring an exquisite style to your baby's bedroom. It features a cross sign per block. Previous experience and knowledge in quilting are needed to accomplish this design. Select two different kinds of color palettes to make the quilt more aesthetic.
The finished quilt measures 48 inches x 48 inches.
8. Sea Birds Baby Quilt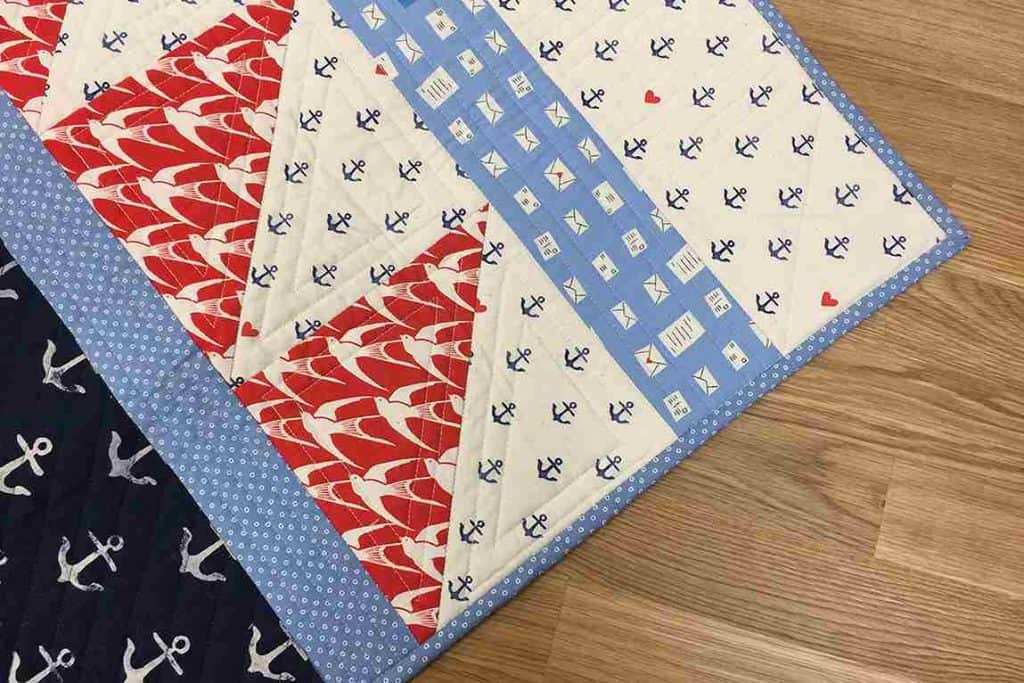 Who doesn't love a nursery room vibing with beach style? Try this pattern for your future sailorman! Designed by Hayley Grzych for We All Sew, this pattern will introduce your kids to the calming breeze of the ocean.
This pattern is perfect for quilters of all levels.
9. Gingham Baby Quilt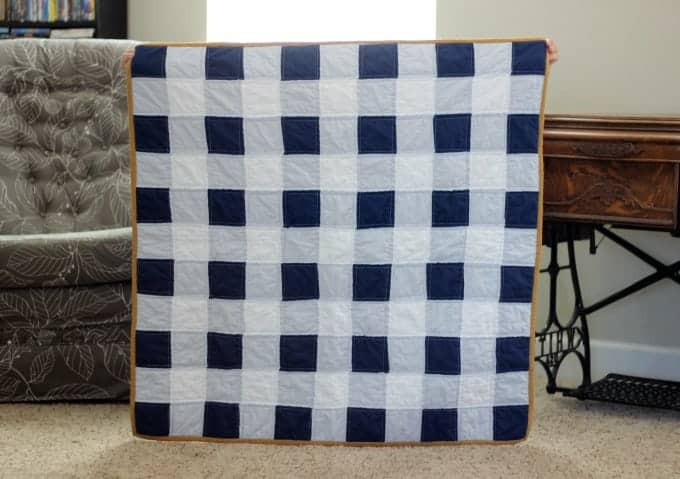 If you're looking for a simple baby quilt, Gingham Baby is perfect for you. It highlights the smooth patching of squared fabrics finished off with a brown border. It is a beginner-friendly quilt pattern. Originally designed by Brandy of Gluesticks, the finished quilt measures 36 inches x 36 inches.
If you like this quilt, maybe you will be interested in the 3-Hour Baby Gingham Quilt too. A baby quilt pattern that you can finish within 3 hours. Happy Quilting.
Printable Baby Quilt Patterns To Download From Online Shops (Paid)
1. Lucky Ducks Baby Quilt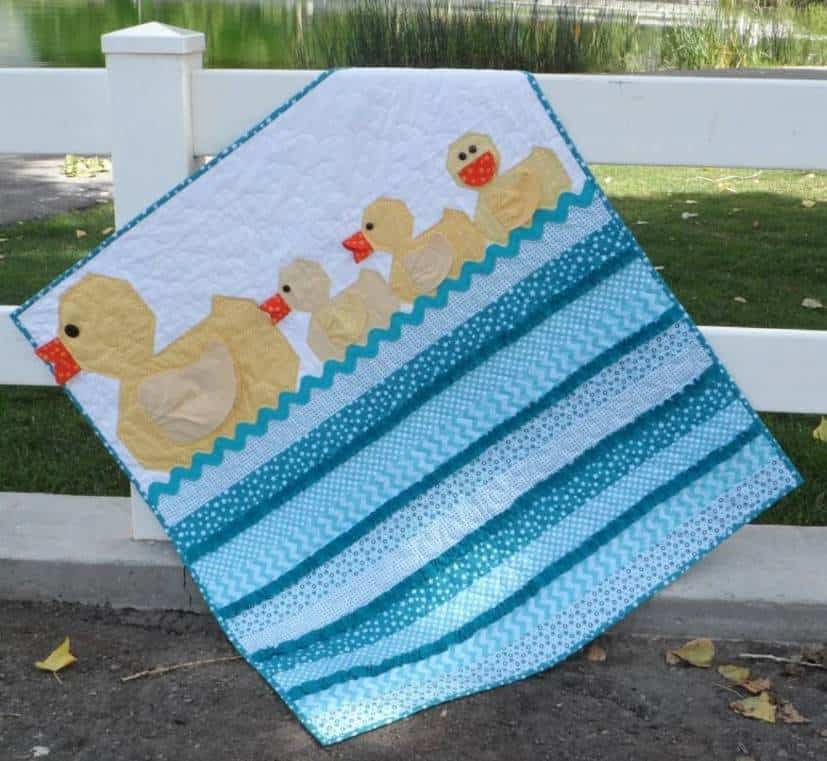 Babies love the quack song or the ugly duckling bedtime stories. This charming, lucky duck pattern will liven up your baby's room. It is also an exemplary addition to your child's bathing experience. Make them feel their swimming together with ducks. Kristin Roylance designs a beginner-friendly pattern.
The finished quilt measures 38 ½ inches x 41 ½ inches.
2. Good Night Baby Quilt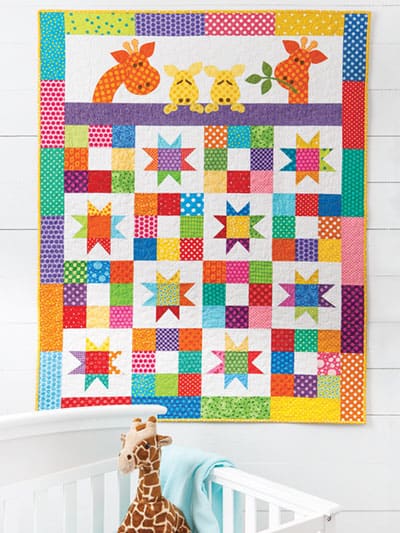 From the quirky and colorful designs of Annie's Craft Store, this baby quilt pattern will ensure that it'll chase away any nightmares and ensure only good dreams for your babies. It highlights a delightful giraffe family and vibrant star colors. Beginners and experts alike will enjoy this pattern.
The finished quilt measures 42 inches x 54 inches.
3. Sleepy Time Sheep Baby Quilt
If your baby's favorite nursery room is baa-baa black sheep, this pattern must be first in your quilting project! The use of neutral colors in the Sleepy Time Sheep quilt pattern induces relaxment during sleep time. The quilt applied the technique of fusible web applique, making it easier for beginners to recreate. It was designed by Vicki Abraham.
The finished quilt measures 39 inches x 48 inches.
Ready to Ship Baby Quilt Patterns (Paid)
1. Backyard Friends Quilt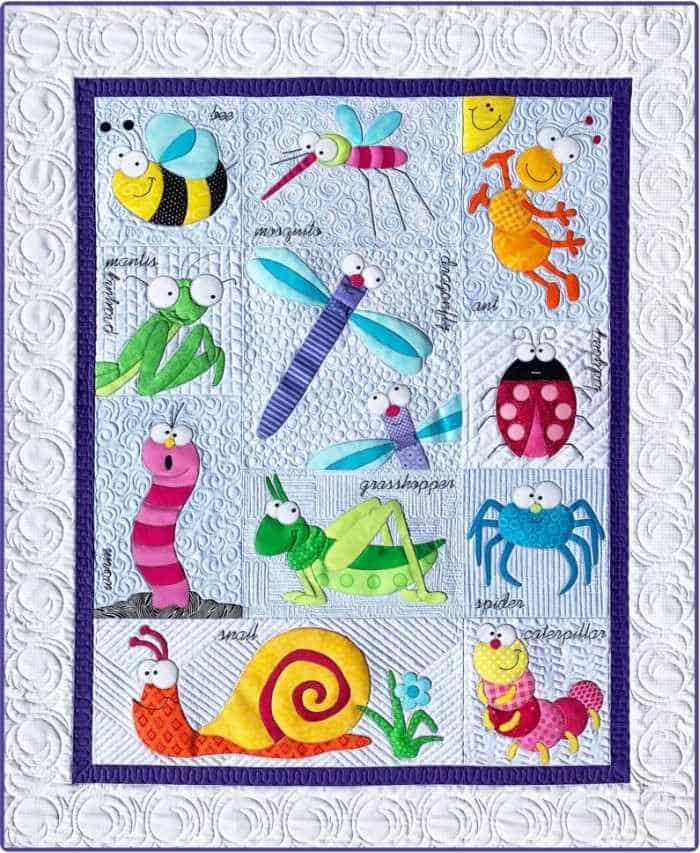 Introduce your babies to the different insects with this eye-catching and colorful pattern. This pattern will bring liveliness to your baby's room as a wall-hanging decor It uses the appliques technique where you can categorize all kinds of animals from your backyard or garden into one adorable quilt. Both novice and expert quilters will love recreating this pattern. Amy Bradley crafts this design.
The finished quilt measures 38 inches x 46 inches.
2. Dinosaur Quilt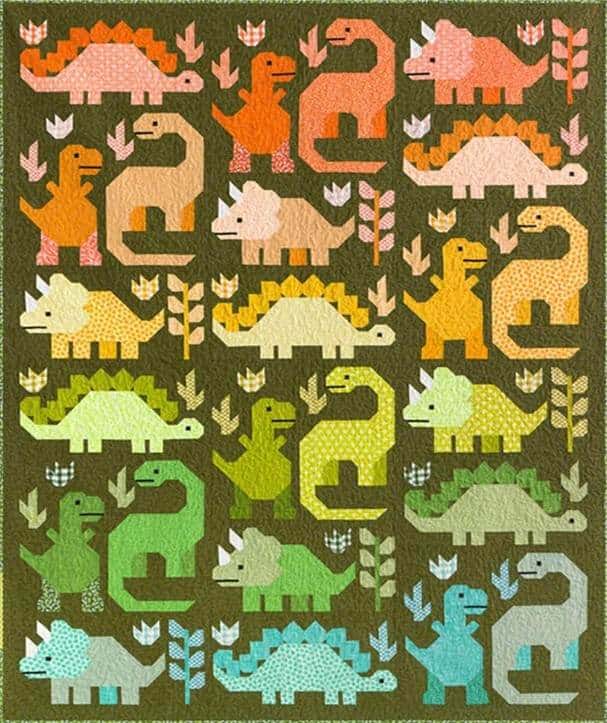 Most children develop a love of dinosaurs at an early age. Curiosity and exploration are at the root of a child's fascination with dinosaurs. This intricate pattern is perfect for your babies. It will spark your baby's interest with the fusion of the different kinds of dinosaurs. Almost all types of dinosaurs like Tyrannosaurus and Triceratops are featured in this design. It is a fat-quarter-friendly design that is ideal for intermediate and experienced quilters. It was designed by Elizabeth Hartman.
The finished dimensions of the quilt is available in two sizes: 48 inches x 48 inches and 69 inches x 85 inches.
Dinosaurs are the king of every little boy. Other than dinosaurs, there are lots of stuff that they like, check our Best Boy Quilt Patterns for more ideas.
3. Sleepy Babies Quilt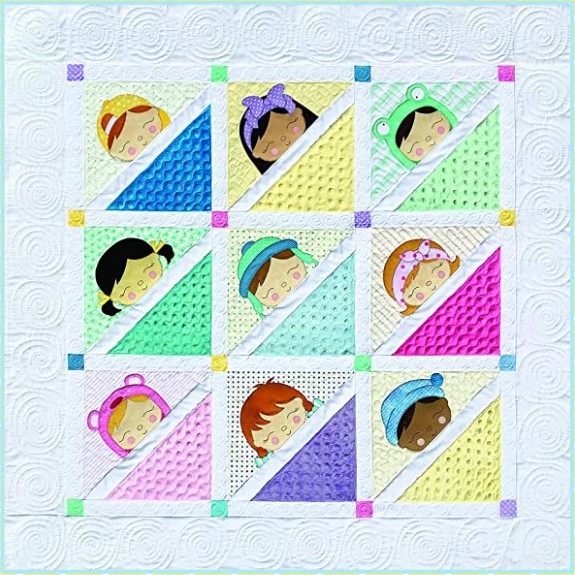 The Sleepy Babies quilt pattern is overloading with cuteness! This is one of the designs by Amy Bradley. It applied the technique of fusible applique to create the four tiny babies. This wall-hanging pattern encourages sleep time in any baby's room. This is a quick weekend project for quilters of all levels.
The finished quilt measures 45 inches x 45 inches.
Sew a love-filled quilts for your babies now! Make them feel the warmth of your love all day and night with the baby quilts. If you still need more ideas to liven your nursery room, try these Jelly Roll Posies for Baby Quilt!