Below we gathered different tutorial versions of the Southwest Quilt Pattern.
Best Free Southwest Quilt Patterns – Top Picks
1. Totem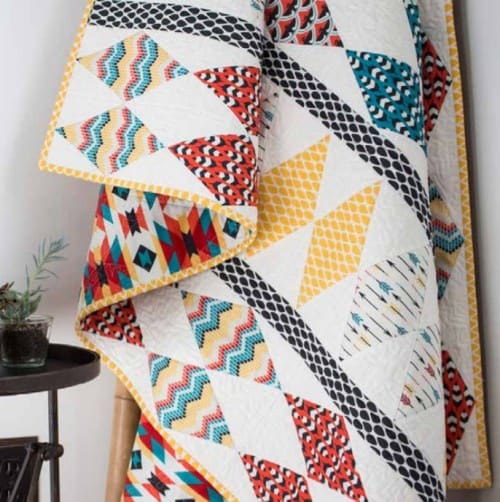 The totem quilt is a southwest quilt pattern that uses a diamond quilt block.
Project Finish Size: 46 inches x 64 inches
Learn more about Totem Quilt pattern here.
2. Pyramid Points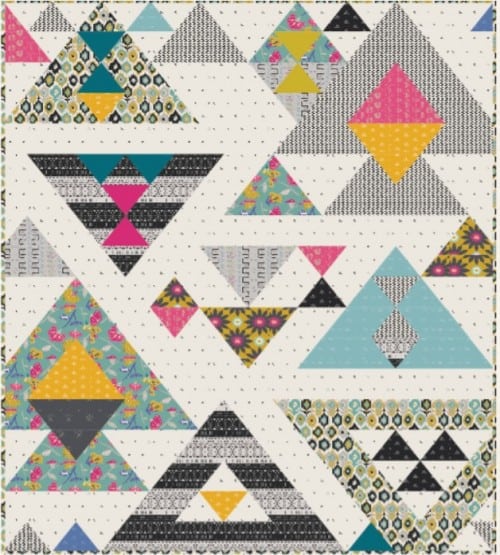 A beautiful tribal pattern using a series of triangles.
Project Finish Size: 70 inches x 90 inches
Learn more about Pyramid Points Quilt pattern here.
3. Four Corners Strip Quilt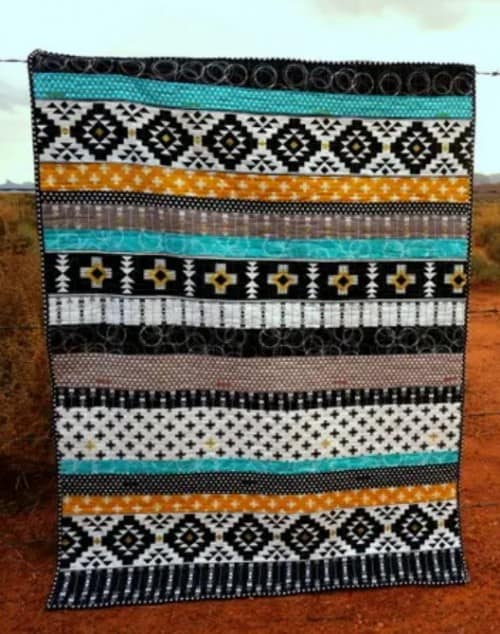 Four Corners Strip quilt is a trendy quilt pattern that is inspired by American southwest motifs. Designed by Amy Smart from Diary of a Quilter .
Project Finish Size: 40 inches x 54 inches
4. Navajo Sunrise Quilt
The Navajo Sunrise quilt pattern bears resemblance to a sky filled with violet-hued sunrise. The elaborated art of arranging single blocks is refined and delicate. It adds extra sophistication to your home decor. The pattern may look complicated but it's actually perfect for beginners and expert quilters alike. Jinny Beyer designed this pattern using her Palette Fabric Collection for RJR Fabrics. Select from five sizing options: from wall hanging to king quilt size.
Learn more about Navajo Sunrise Quilt pattern here.
5. Rough Hewn Quilt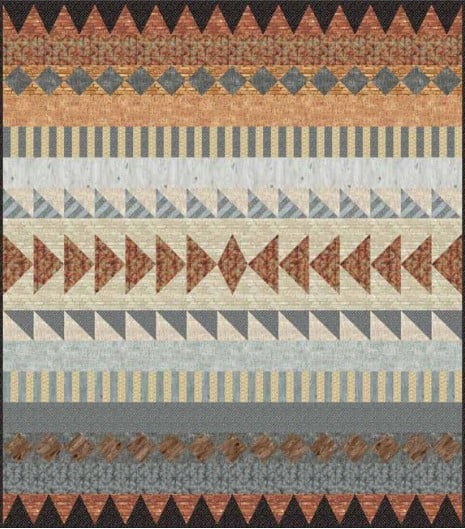 Rough Hewn is an industrial-rural mix that will give any project a marvelous patina. A neutral color palette with wood grains, tin ceilings, and basket weave patterns creates a distressed look. You'll only need to cut pieces of triangles and strips from your choice of fabric. It may look complicated but beginners can absolutely recreate this piece. This is one of the designs from Andover Fabrics.
The finished quilt approximately measures 60 inches x 68 inches.
6. Wind Bells Quilt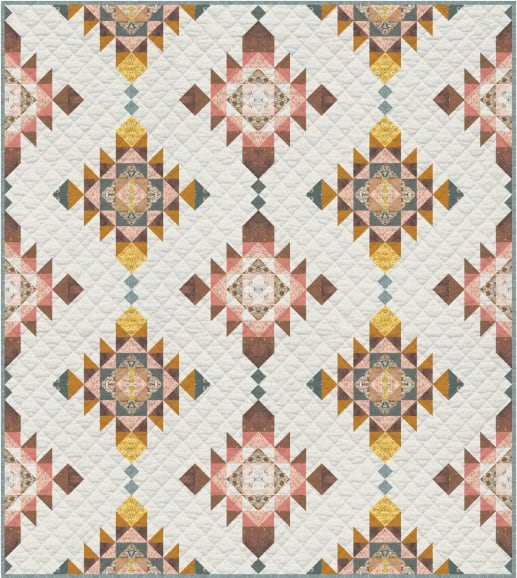 The pastel colors and positioning of this Wind Bells quilt pattern give off a modern and charming look of a southwestern pattern. The intricate triangle patterns are sewed carefully. Intermediate and advanced quilters will enjoy recreating this challenging piece. Designed by the AGF Studio featuring Shine On fabric collection, the finished quilt measures 96 inches x 108 inches.
7. Sundance Quilt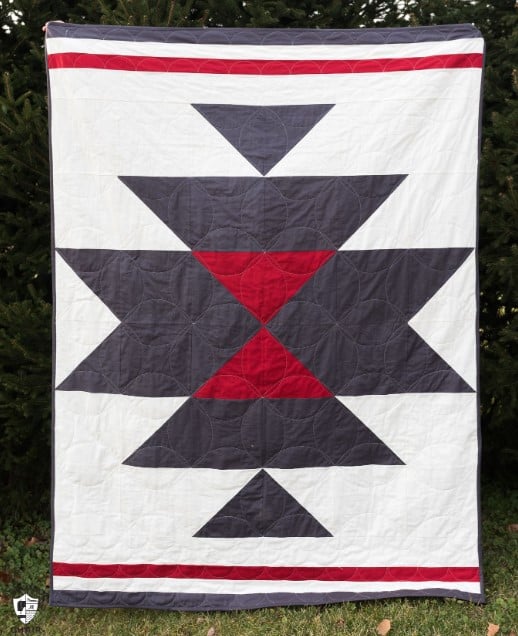 This simple and easy-to-recreate pattern is the best design for quilters who are just starting out. It utilizes half-square triangles. The simple ivory row with a touch of red makes it classy. The design is crafted by Melissa Mortenson of Polka Dot Chair. The finished quilt measures 58 inches x 74 inches.
Printable Southwest Quilt Patterns To Download From Online Shops (Paid)
1. Tribal Song Quilt
Tribal designs are unconventional and unusual in nature, which makes them fascinating to observe. Inspired by the rich Native American history of Western North Carolina, Brittany of Lo And Behold Stitchery crafted this design. Various shapes and positioning is highlighted in this pattern. It is only ideal for confident beginners and expert quilters. Diagrams and a coloring page are included in the pattern to assist you in fabric selection.
Project Finish Size:
Baby 30 inches x 45.5 inches
Throw 50 inches x 66.5 inches
2. Navajo Throw Quilt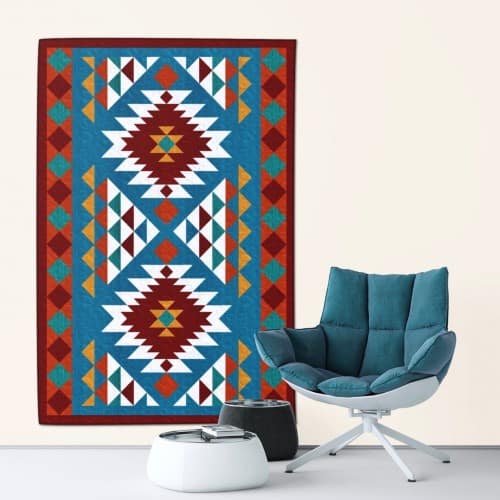 A beautiful and timeless southwest design by Judit Hajdu owner of QuiltPatterns.
3. Prairie Sky Quilt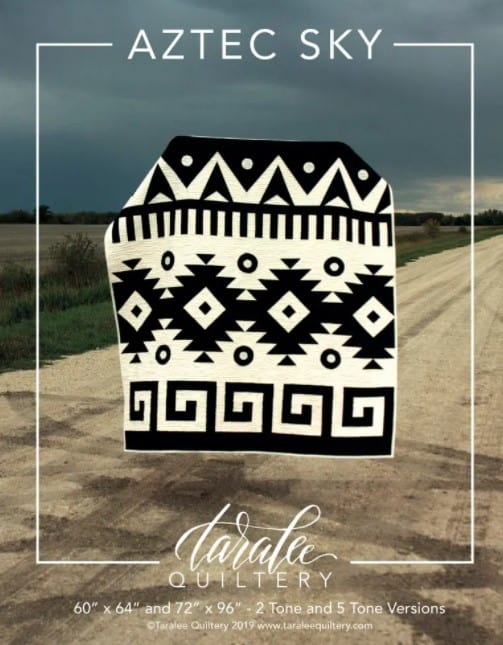 Prairie Sky quilt is a southwest quilt pattern inspired that uses traditional piecing with foundation paper piecing and applique. This beautiful bold pattern is from Taralee Quiltery.
Project Finish Size:
Throw 60 inches x 64 inches
Bed 72 inches x 96 inches
Skill Level: Intermediate
4. Aztec Trails Quilt
This Aztec trails will remind you of the bewitching spell of forests. It utlizes brightly colored jelly rolls in triangles to form a unique pattern. It comprises 24 blocks. This is a beginner-friendly pattern from Annie's Craft Store. The finished quilt measures 48 inches x 72 inches.
5. Aztec Quilt Pattern Pack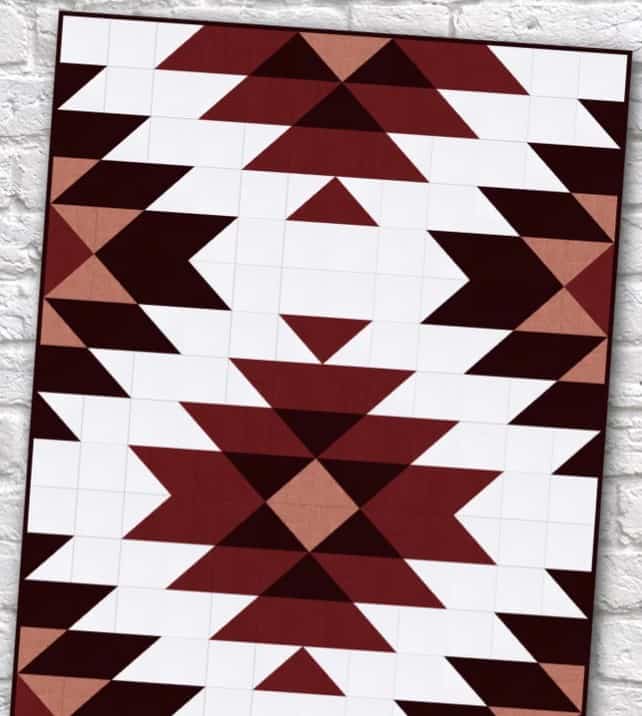 The assimilation of geometric shape designs in the Aztec quilt pattern is a brilliant representation of the culture of the Nahuatl-speaking people in the 15th century. The quilt made the Aztec-inspired pattern design modern-looking, giving your home an air of classic luxury. This is also fitting to be the beginner's first quilting project. This design is created by Abby Hecke.
You can choose from the three sizing options:
The Aztec Twin Quilt – A twin-sized quilt (74 inches x 98 inches)
The Heirloom Aztec Quilt – A large throw-sized quilt (78 inches x 86 inches)
The Aztec Quilt – A small lap quilt or baby quilt (approx. 42 inches x 48 inches)
6. Soleil Quilt
The Soleil quilt pattern means "sun." It represents the colors and ambiance of the spring season. The design is contemporary and appealing to the eyes. Make sure to recreate this to liven up your home! Novice and expert quilters alike will love this pattern. The pattern originated from On Williams Street.
The finished quilt measures 64 inches x 76 inches.
7. Heirloom Aztec Quilt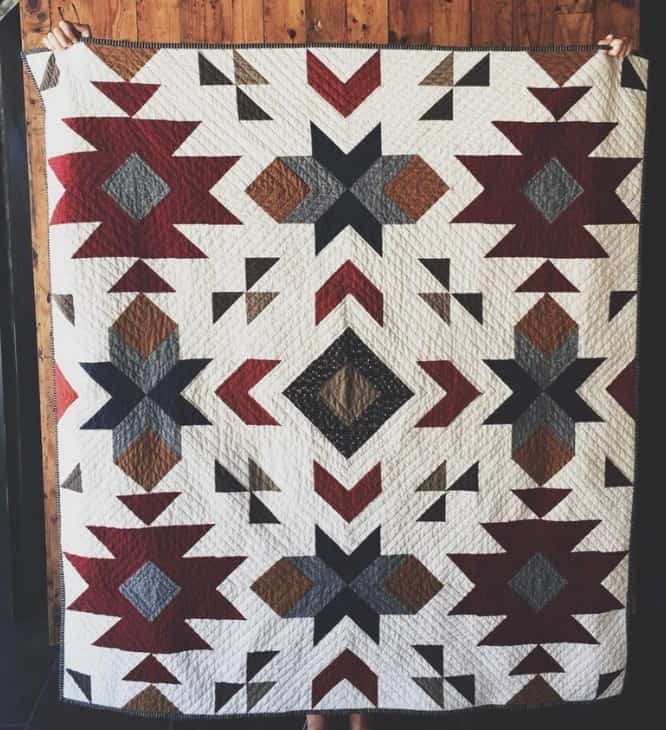 The Heirloom Aztec quilt pattern has a jaw-dropping and captivating design. This quilt is made up of four identical blocks. The use of dark earth-toned colors makes it more captivating. Blocks building requires reversed or mirror techniques. A fundamental understanding and experience in cutting, piecing, and binding is necessary. It is ideal for confident beginners, intermediate, and expert quilters. It was crafted by Abby Hecke.
The finished quilt measures 78 inches x 86 inches.