Loved by quilters worldwide, Argyle Quilt Pattern offers a challenge, a chance to play with color combinations, and the satisfaction of seeing a cohesive, striking design come to life. This distinctive pattern, reminiscent of Scottish tartans, is characterized by its overlay of intercrossing diagonal lines on a diamond-shaped grid.

We've put together a collection of free Argyle Quilt Patterns just for you! We've gone through loads of designs – the classics, the modern twists, the subtle, the bold – and picked the best of the best. From traditional charm to modern twists, our Free Argyle Quilt Pattern compilation is a vibrant palette of inspiration that caters to every quilter of all skill levels. Time to stitch your way through a Diamond-Studded adventure!
Free Argyle Quilt Patterns – Top Picks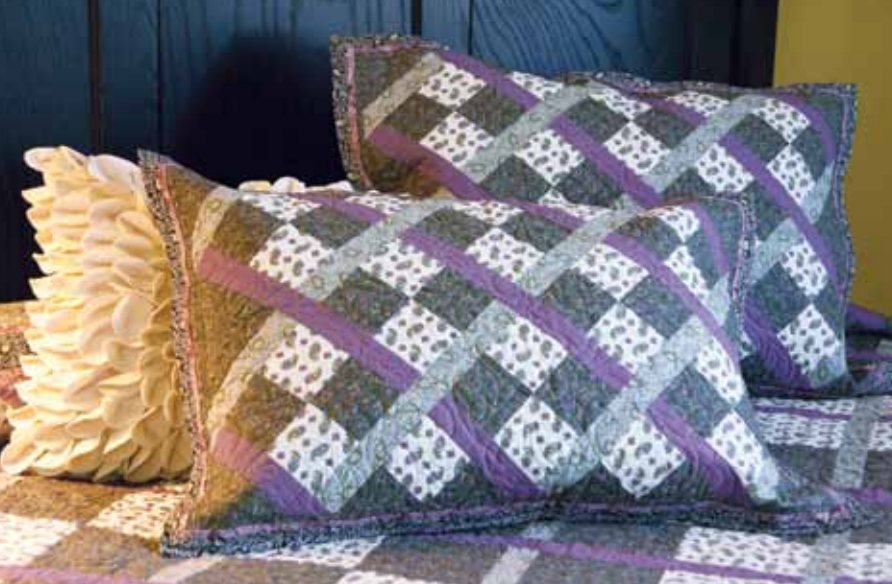 Designer: Terry Albers for McCall's Quick Quilts 
Enhance your bedroom decor with the captivating Argyle Queen-Size Pillow Shams Pattern, designed by talented quilter Terry Albers. This vibrant argyle design effortlessly draws attention and complements any room. Specifically tailored for standard queen-size bed pillows, the shams feature an envelope back for convenient washing. With precise G˝ seam allowances, quilters can delight in the challenge of piecing together this delightful pattern. These versatile shams make ideal gifts for housewarmings, weddings, or as striking accents in your own home. Let your creativity soar as you bring color and style to guest bedrooms or liven up your living room sofa.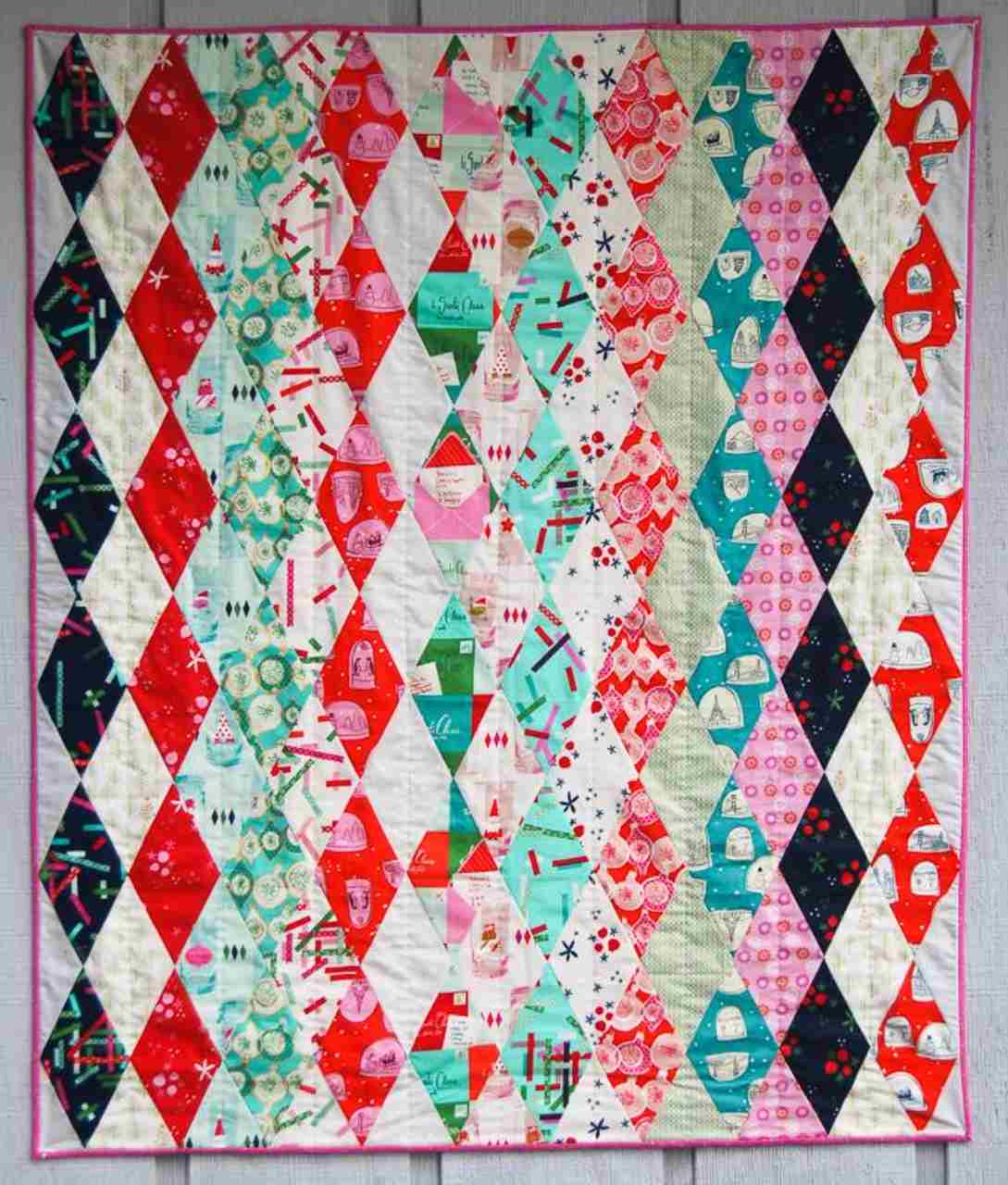 Designer: Meredith Daniel of Olivia Jane Handcrafted
Craft a cozy holiday atmosphere with the Argyle Christmas Quilt by Meredith Daniel of Olivia Jane Handcrafted. This intermediate-level pattern combines traditional argyle design with a modern twist, making it a must-try project for experienced quilters. It makes for a thoughtful gift for loved ones who adore Christmas or those who appreciate a festive ambiance. Envision wrapping up in this quilt while enjoying hot cocoa by the fire or displaying it on your couch for a charming holiday touch in your living room. Create a cherished masterpiece that captures the warmth and cheer of the season.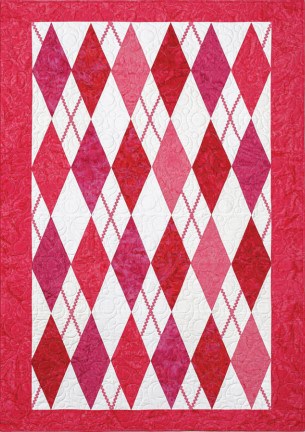 Designer: Misty from Missouri Quilt Co.
Snuggle up with the Easy Argyle Quilt, a timeless design by Misty from Missouri Quilt Co. This free video tutorial welcomes quilters of all levels to create a classic masterpiece. Perfect for beginners and intermediates, the approachable yet stylish quilt pattern invites everyone to try their hand at this iconic design. Inspired by Scotland's enduring pattern, this quilt evokes the warmth of cozy Argyle sweaters and stockings. Crafted using 10-inch print squares, background fabrics, and borders, the Easy Argyle Quilt effortlessly combines comfort and elegance, making it a versatile addition to any home. It also makes a heartfelt gift for birthdays, anniversaries, or housewarmings, bringing both warmth and style to any room.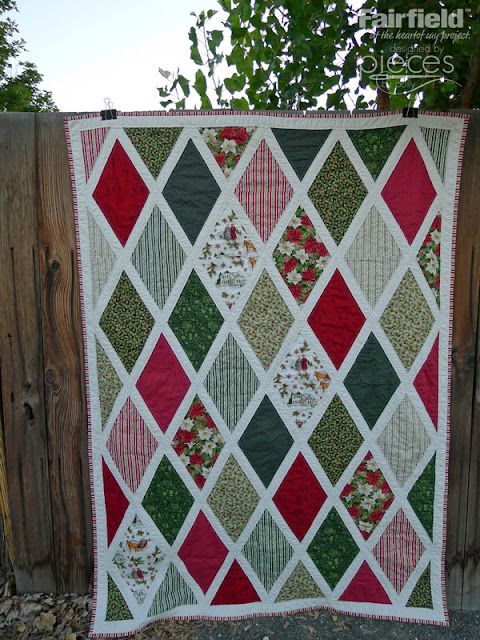 Designer: Pieces by Polly
Delight in the Anne of Green Gables Christmas Quilt, a beautiful argyle creation inspired by the beloved literary character. This free quilt tutorial, designed by Pieces by Polly, showcases the exquisite Anne of Green Gables Christmas fabric collection by Penny Rose Fabrics for Riley Blake Designs. With its nostalgic charm and festive motifs, this fabric collection stands out as a delightful Christmas ensemble. The finished quilt measures 54 inches x 72 inches, making it an oversized throw quilt perfect for snuggling under during the holiday season. Embrace the vintage quilt inspiration and indulge in the joy of Christmas sewing before the hustle and bustle begins.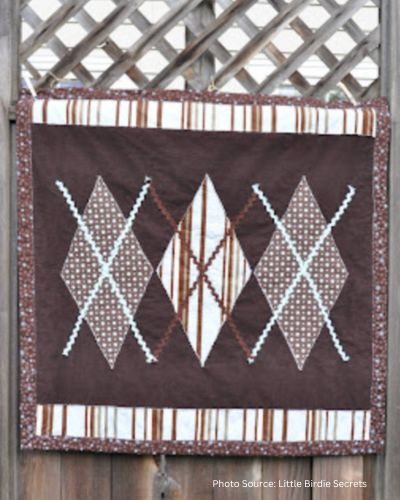 Designer: Little Birdie Secrets
Create a cozy masterpiece with the Easy Argyle Baby Quilt pattern, a delightful free quilt design courtesy of Little Birdie Secrets. This pattern is tailor-made for beginners with its step-by-step guide and helpful photos. Sewing up a stylish and charming quilt for a baby shower gift has never been simpler. Share the warmth and love with this project, and watch it become a cherished addition to any nursery. With a skillfully crafted argyle pattern, this quilt combines ease with elegance for a memorable and heartfelt present.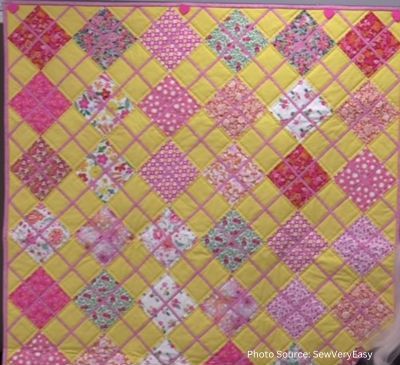 Designer: SewVeryEasy
Discover the magic of Charm Pack Argyle Quilt, a free quilt pattern brought to you by SewVeryEasy. This quilt combines the allure of the argyle pattern with the simplicity of charm packs, making it an excellent choice for quilters of all levels. With detailed written instructions and a video tutorial, crafting this charming argyle quilt is a breeze. By cleverly utilizing squares, you'll create the illusion of diamonds, giving it a unique and captivating design. Unleash your creativity and enjoy the journey of turning ordinary squares into extraordinary diamonds.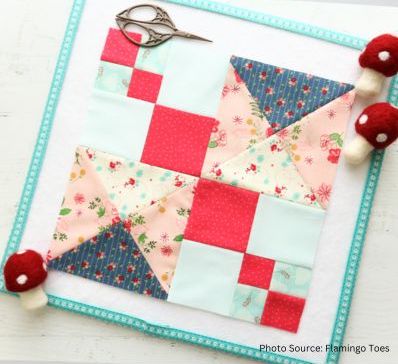 Designer: Bev of Flamingo Toes
Embrace the charm of the Argyle Square Quilt Block by Bev of Flamingo Toes, a delightful addition to the RBD Block Challenge. This block radiates with the enchantment of the Enchanted Meadow fabrics, adding a touch of magic to your quilting project. Whether you prefer following written instructions or watching a video tutorial, creating this block is a breeze. Let your creativity flow as you piece together this captivating design, and witness how a collection of squares transforms into an exquisite argyle masterpiece.
BONUS Argyle Quilt Patterns For Sale from Online Shops
Designer: Sheila Pressley of Seaside Snuggles QPC
Indulge in the art of quilting with the Argyle Throw Quilt Pattern by Sheila Pressley of Seaside Snuggles QPC. This captivating quilt, spanning 54″ in width and 72″ in length, is a testament to the beauty of precision and angles. While it may present a challenge for novice quilters, those willing to conquer the world of 60-degree angles will undoubtedly emerge as champions. Revel in the process of piecing together the intricate argyle design, and once completed, bask in the satisfaction of creating a true work of art that adds warmth and style to your home.
Designer: Cheryl of Quilting on the Corner
Unlock the charm of the Almost Argyle Quilt Pattern from Cheryl of Quilting on the Corner. With clear instructions, this pattern guides you through crafting your unique Almost Argyle lap quilt. Measuring about 57″ x 64″, it's a versatile project perfect for cozying up. Whether you opt for a layer cake or raid your fabric stash, the choice is yours. Dive into this creative endeavor and watch as your quilt comes to life, adding warmth and character to any space.
Designer: Bonnie Sullivan of All Through The Night
Delve into the festive spirit with the Holly Argyle Quilt Pattern from All Through The Night. Crafted with a 2 1/2″ Holiday Warmth strip set and 5″ Holiday Warmth charm pack of woolies, this quilt boasts a finished size of approximately 82″ x 82″. Its intricate design adds a touch of holiday magic to any space, making it a perfect project for spreading warmth and cheer. The combination of colors and patterns creates a visual feast, making this quilt a standout addition to your seasonal decor.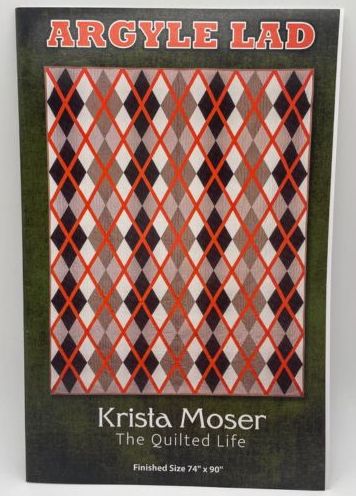 Designer: Krista Moser
Elevate your quilting game with the Argyle Lad Quilt Pattern by Krista Moser of the Quilted Life. Tailored specifically for the boys and men in your life, this pattern fills a gap for stylish, masculine designs. At 74″ x 90″, the finished quilt exudes a cool and contemporary vibe. Crafted with precision and attention to detail, this quilt is a testament to your quilting prowess. Stitch together this masterpiece and watch as it brings a touch of sophistication to any space, making it a cherished gift for that special someone.
In wrapping up our exploration of Argyle Quilt Patterns, we've delved into a world of creativity and geometric charm. From classic designs to innovative interpretations, these patterns offer endless possibilities for quilters of all levels. The argyle motif provides a captivating canvas to showcase your skills. The timeless appeal of argyle ensures that your quilts will stand the test of time, making them cherished pieces for years to come. So, pick your favorite pattern, select your fabrics, and embark on a quilting adventure that's sure to leave a lasting impression. Happy quilting!