Below we gathered different tutorial versions of the Clamshell Quilt Pattern.
1. Vintage Clamshell Block
Here is a tutorial of the clamshell block from AQS blog. This vintage clamshell block inspiration was from Ruth Ebright Finley, a quilt collector and the author of Old Patchwork Quilts and the Women Who Made Them (1929).
You may use hand piecing or English paper piecing to do this quilt block. Available in three sizes templates. Changing the colors may give a wide array of effects.
2. Easy Clamshell Quilt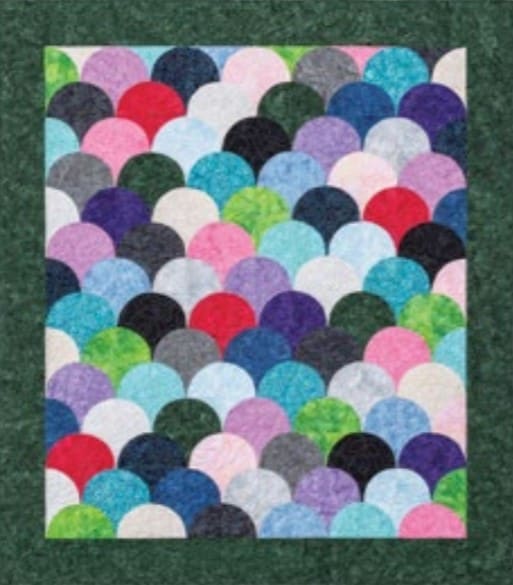 If you love to watch video tutorials, here is Jenny Doan from Missouri Star. In this video tutorial she illustrates how to make the Easy Clamshell quilt using a 5 inch square charm pack ( precut fabric) and a Drunkard Patch Circle Template. She also uses the "Kaleidoscope" Floral Batiks 5 Karat Jewels by Wilmington Batiks.
Project Finished Size: 59 inches x 67 inches
3. Clam Toss Quilt
The Clam Toss Quilt designed by Latifah Saafir Studios is a lively and fun quilt pattern with room for personalization. This clamshell pattern uses different sizes of Clammy rulers. The pattern also includes six different size quilts, from baby quilts to king size quilts.
4. Ahoy! Mermaids Quilt
Another clamshell pattern that we will share with you is the Ahoy! Mermaids Quilt. This dreamy pattern is designed by Melissa Mortenson for Riley Blake Designs. Ahoy! Mermaids feature a large clamshell design with gold on the curves to give more attention to the clamshells.
Project Finish Size: 36 inches x 43.5 inches
If you are looking for more Quilting inspiration then check out our full list of 400+ Free Quilt Patterns for beginners, intermediate and advanced Quilters. There are all kinds of quilt patterns from easy beginner quilt patterns up to advanced appliqué patterns and patchwork patterns.