Have you started quilting as a hobby? You may be struggling with picking the suitable long arm machine that will give you precisely what you need. To make your decision easier, we've rounded up the top eight picks for the best long arm quilting machines in 2022.
Longarm quilting machines take the "forever" out of the usual quilting process when venturing to make a bed-size quilt. Using a device like one of these, will not only save you lots of time but it will also save you lots of energy.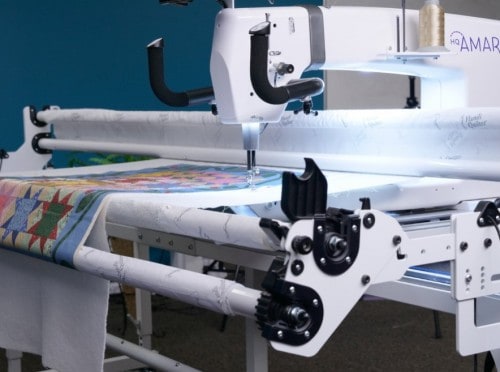 What is a Long Arm Quilting Machine? What does it do?
Longarm quilting machines generally offer quick and perfect stitching as they sew the three layers at once. These machines are durable, get the job done quicker, and are great for large quilting projects.
Longarm quilting machines will cut your quilting time down to between 90 minutes to 2 hours when making a simple pattern (small stipple or rule work are more time-consuming.
Longarm quilters can help you create big and bulky quilts. One can expect to make more significant pantograph designs and patterns with this machine and give you more room for your imagination to run wild because bigger is better for longarm quilting projects.
Generally, longarm quilters are giant machines that require a sufficient amount of space, especially if you are planning to purchase them for home use or have a small working space. You might want to consider creating a sizable working station for the longarm machine because, depending on your space, a longarm machine frame can reach up to 14 feet and more with the accessories and table.
Additionally, some quilting machines can prove to be challenging for beginning quilters who may be intimidated by the functions and size. However, more beginner-friendly machines are have featured in the list below, so there is no need to despair if you are a beginner.
If you are venturing into turning your quilting hobby into a stream of income or want to create more projects, you might want to consider getting yourself one of these longarm machines.
These are the top-rated Long Arm Quilting Machines in the market in 2021, and their prices in no particular order.
At the end of this read, you will be spoilt for choice, so choose wisely.
Criteria
Here are some of the things we looked at when compiling this list for you based on what is essential to consider when buying a longarm quilting machine.
First, the functionality of the machine – is it user-friendly? Does it have updated features? 
How much space is needed for the longarm? Most machines take up a lot of space, and so where space is concerned, the machines won't be much of a hassle.
The size of the throat space
If the longarm is computerised or not
Best Long Arm Quilting Machines in 2022