The Brother SE400 Embroidery Combo Machine is a combination of sewing and embroidery machines, which has been designed to complete a wide range of sewing and embroidery tasks. It is a machine that gives a good value for money and can do most household tasks with a professional finish. 
But recently got an opportunity to test Brother SE600, another combo machine of a well-known brand brother. It is a newer model as compare to SE400. In this blog, I will be reviewing SE600, comparing it with an older model, Brother SE400.
Also Read About: Brother PE500 vs PE525
Quick Features Comparison
Here is a quick comparison table where we have described the features of both the embroidery machines side by side.
| | | |
| --- | --- | --- |
| Features | Brother SE400 | Brother SE600 |
| Type | Sewing and Embroidery  | Sewing and Embroidery  |
| Embroidery Area | 4″ x 4″ | 4″ x 4″ |
| Embroidery Speed | 710 SPM | 710 SPM |
| Embroidery Designs | 70 | 80 |
| Needle Threader | Automatic | Automatic |
| Bobbin Type | Top Drop-in | Top Drop-in |
| USB Connectivity | Yes, Via Cable | Yes |
| Built-in Memory | Yes | Yes |
| Monogram Fonts | 5 | 6 |
| Pattern Rotation | 1, 10, 90 Degrees | 1, 10, 90 Degrees |
| Stitch Selection | LCD Touch Screen | Color LCD Touch Screen |
| Embroidery Slot | Yes | No |
| Stich Length / Width | Adjustable | Adjustable |
| Programmable Needle | Yes | Yes |
| Included Feet | 07  | 08 |
| Adjustable Presser Foot Pressure | No | No, Automatic |
| Included Cover | Dust Cover | Soft Cover |
| Warranty | 25-Year limited | 25-Year limited |
| Price | | |
Overview of Brother SE400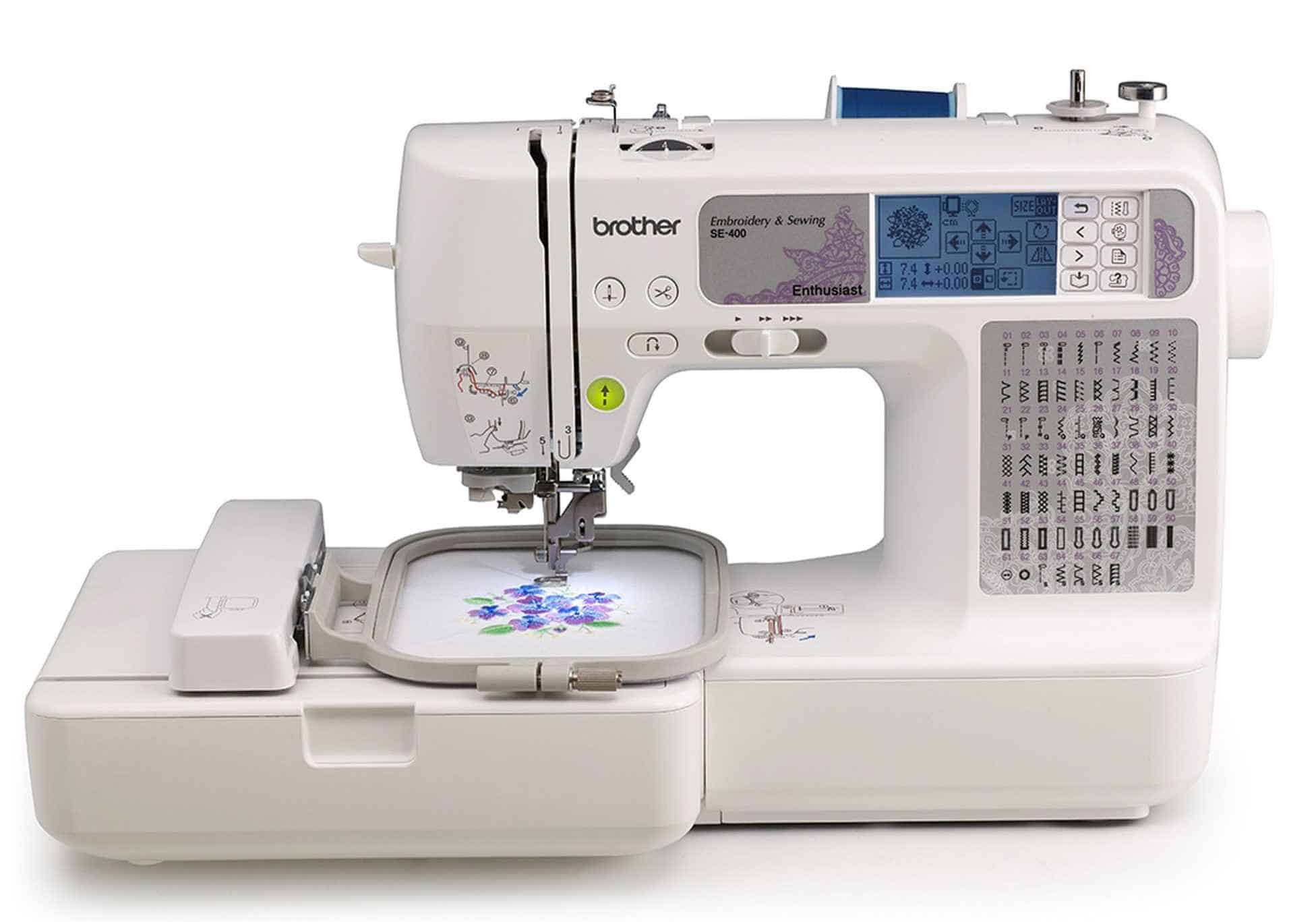 Brother SE400 is a versatile, computerized sewing and embroidery machine that packs a punch. You can take your sewing experience to the next level with its 130 built-in stitches, 8 styles of auto-size buttonholes, and 55 alphanumeric stitches.
The Brother SE-400 features a front-loading drop-in bobbin. You can also connect to a computer using a USB cable or use a USB flash drive to import designs.
Moreover, this computerized machine features an automatic needle threader that enables you to complete projects without spending time threading the needle. It is compatible with the most popular sewing formats; Brother's SE400 is perfect for everyday sewing, home decorating, and even hobby applications.
Overview of Brother SE600
Imagine the creative possibilities of sewing and embroidering at the same time! The Brother SE600 sewing and embroidery combo machine is here to help. It gives you all the features you need to create outstanding sewing projects.
The SE600 sewing and embroidery machine is computerized with a large 3.2″ LCD color touch screen for easy navigation. Also, It is featured with 103 sewing stitches, including 10 styles of auto-size buttonholes. 
Furthermore, a 4″ x 4″ embroidery field lets you get creative. This combo machine features automatic needle threading, drop-in top bobbin, and electronic foot control. Try your hand at sewing and embroidering with 80 built-in sewing and 6 embroidery designs.
Major Feature Differences – Brother SE400 vs SE600
Here are some of the significant feature differences of brother SE400 vs SE600;
Sewing Stitches
The first major difference between Brother SE600 vs SE400 is their sewing stitches. Brother SE400 has only 67 sewing stitches, whereas SE600 features 103 sewing stitches. So, we can say that here is SE600 clear winner in this department. 
Embroidery Designs
As being a higher model, SE600 offers 80 built-in embroidery designs. On the other hand, SE400 has 70 built-in designs. In our opinion, it is not a huge difference because you can import embroidery designs from the internet. 
LCD Screen
Both sewing and embroidery machines come with an LCD screen, but the location of the LCD screen is different on both machines. As being an old model, SE600 has a slightly smaller screen as compare to SE400. Plus, SE600 Screen is color edited, whereas SE400 has a simple screen. 
USB Connectivity
USB connectivity is a must-have feature for embroidery machines to import designs from the internet. Brother SE400 and SE600 machines feature USB connectivity, but the difference is that SE600 directly connects with the computer via a USB stick. But you need a data cable to connect SE400 with a computer device as it has a type B USB port.
Embroidery Card
Brother SE400 features an Embroidery cart slot, whereas an embroidery card slot is missing in the SE600 machine.
Monogramming Fonts
Another difference is that the SE600 sewing and embroidery machine offers 6 built-in fonts while SE400 has 5 monogramming fonts. 
Frequently Asked Questions
Is the Brother SE400 discontinued?
Yes, Brother SE400 has been discontinued in early 2019. This model of Brother was replaced with SE600 which is an upgraded form of SE400.
Is the brother SE600 good for beginners?
The Brother SE600 is a beginner embroidery machine with the simplicity of an easy load bobbin. If you enjoy embroidery and sewing, there are many free tutorials for this machine on YouTube.
Can I quilt with the Brother SE600?
Yes, you can quilt with Brother SE600. Quilters are free to attach their own needle to the machine. As long as they can sew, use a sewing machine, and thread the SE600's looper, it will work.
Bottom Line
All in all, both combo machines are excellent performers, and Brother SE600 is the next generation of SE400. So, if you have used the SE400, you are going to love SE600 even more.
The built-in features are excellent. You are going to love the decorative stitches, the buttonholes, the applique, and overcasting stitches. If you are confused between SE400 and SE600, we strongly recommend SE600.