English Paper Piecing quilts is a technique wherein a mosaic pattern is created by piecing together different fabrics and shapes using various templates. There is a wide range of EPP projects' difficulty, size, and shape. Sewing these english paper piecing patterns is fun, whether you're just trying out the method on a tiny project or going all out on a king-size quilt. With its precise, sharp edges and detailed designs, these projects are not for the faint of heart! But worry no more! We made sure to compile the best quilt patterns for beginners, intermediate, and expert quilters alike.
Free EPP Quilt Patterns – Top Picks
1. GO! EPP Heart Pillow Quilt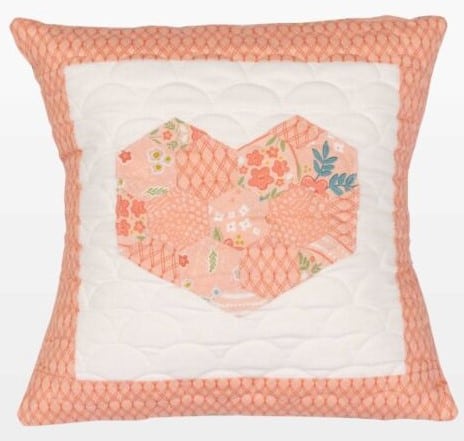 Here is a quick and fun tutorial for a Heart Pillow that will make you smile every time you see it. The Go! EPP Heart Pillow Quilt is a free quilt pattern from AccuQuilt. This cute project is a great Valentine's Day decoration, but it can also bring some cheer to your home all year long. It's an easy way to add a pop of color and some cuteness to your décor.

Project Finish Size: 14 inches x 14 inches

Learn more about the Go! EPP Heart Pillow Quilt pattern here.
2. Double Ring Hexagon Quilt Pattern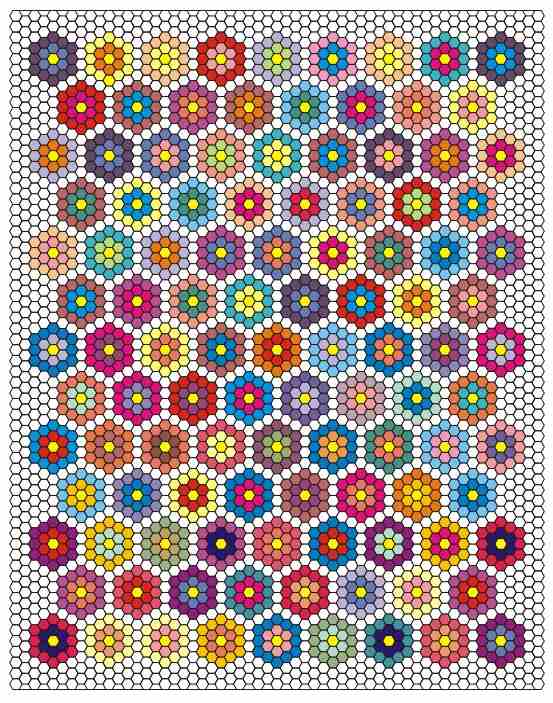 If you can't go outside to make a garden, you might as well stitch your own quilt of flowers at home! The Double Ring Hexagon Quilt has a stunning pattern that reaps adoration from quilters of all skill levels. Floral-like hexagons bloom all over the piece as they're arranged diagonally. With its beautiful gradient color placement and simple piecing pattern, its vibrance gave life to the empty honeycomb background. Grab your scrappy fabrics and take your time recreating this quilt.
3. Woven Star
This quilt block by Joan of Cali Quilter is as enjoyable as it sounds: a starry pattern with a clever arrangement to make it look like it's woven. The trick to recreating it is to cut triangle pieces and play with color placement. Each triangle piece is stitched with two more triangles with contrasting hues and lengths on one end. These slices are then assembled to form an octagon featuring the woven star in the middle. More triangle pieces are cut to fill the empty spaces of the block. Together, these blocks create a stunning quilt you wish to have in your home.
4. Flying Geese Paper Piecing Monday Style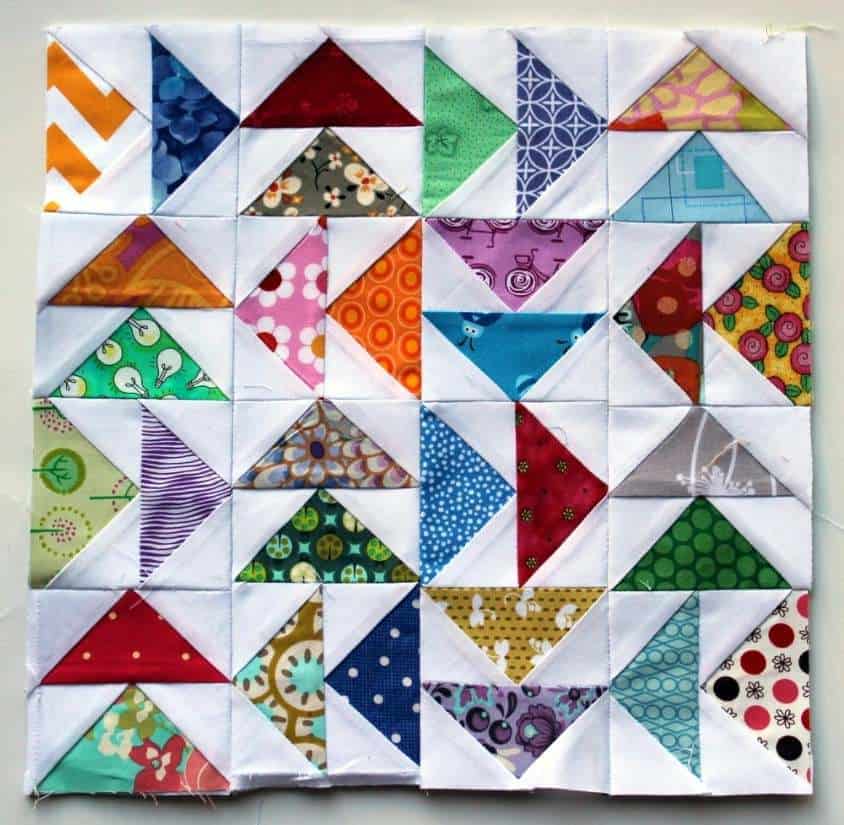 If you want to practice your Flying Geese technique, the Flying Geese Paper Piecing Monday Style pattern by Cath of Wombat Quilts, is perfect for you. This piece plays with scrappy fabrics to fill a block with flying geese patterns only. Such patterns are turned in a different direction to create a fun movement on a plain white background. Feel free to combine printed, patterned, and plain fabric pieces together. Though it can be challenging to recreate at first, it gets easier once you get the hang of it.
5. GO! EPP Rose Pillow Quilt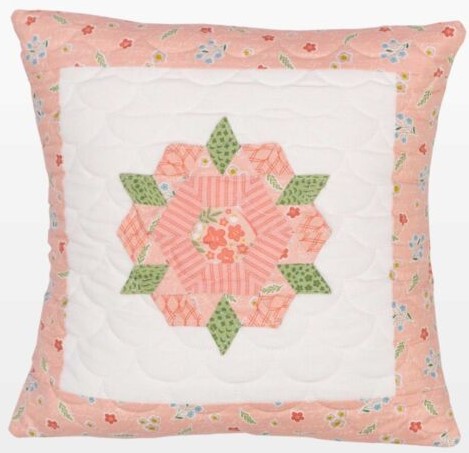 The Go! EPP Rose Pillow Quilt Pattern is a fun way to use up scraps and create lovely throw pillows. You'll need to be familiar with the English Paper Piecing technique to make this project. Make your space inviting and cozy with this rose quilt throw pillow; add it to your couch or bed for an instant upgrade.

Project Finish Size: 14 inches x 14 inches

Learn more about the Go! EPP Rose Pillow Quilt pattern here.
6. Diamond Triple Ring Quilt Pattern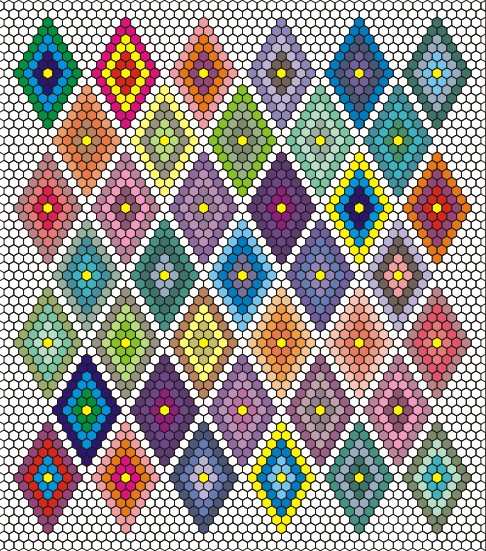 If you like the Double Ring Hexagon Quilt, you might also be interested with the Diamond Triple Ring Quilt! This piece is made of 39 pieced diamonds that are arranged in diagonal lines. Each diamond has a vibrant monochrome that makes them stand out on its own. Though they don't follow a uniform color palette, their difference harmoniously came together to create a festive look that will make you smile on any day. Whichever skill level you have as a quilter, you'll enjoy recreating this quilt from Connecting Threads!
7. Diamonds English Paper Pieced Quilt
Here's another vibrant piece that you would love to have in your home. The Diamonds English Paper Pieced Quilt follows the traditional quilting technique to create an adorable pattern. Diamond strings are arranged diagonally in two opposing directions on a crisp, white background. Once their lines intersect, they create a bed of vibrant flowers that will remind you of the beauty of spring. This piece gives you the creative freedom to select your fabric pieces. Feel free to go for a monochrome look or a patchwork design. It's totally up to you!
8 GO! Hexagon Needlebook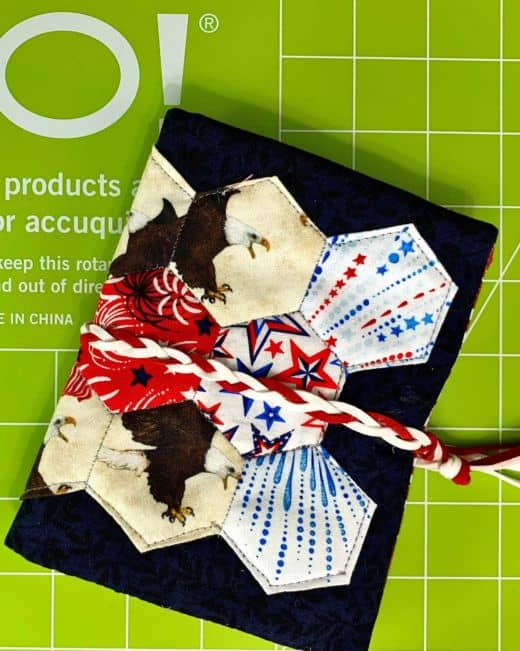 The GO! Hexagon Needlebook is a free english paper piecing hexagon pattern that will make a quick, thoughtful gift for any quilter on your list. This lovely sewing case will keep your supplies safe, organized, and easy to carry. It will keep your needles and pins from falling out or getting lost.

Learn more about the GO! Hexagon Needlebook Quilt pattern here.
Printable EPP Quilt Patterns To Download From Online Shops (Paid)
1. Butterfly Effect English Paper Piecing Pattern
Butterfly Effect is a beautiful piece that will make your heart flutter with its rare beauty! This printable english paper piecing pattern has straightforward instructional material that will keep quilters of any skill level busy. Vibrant fabric pieces are cut to form butterflies which will be arranged thoughtfully around a white starry pattern. Make three more of this block, and you can recreate an adorable 24 inches square that would look adorable as a mini throw pillow. You may resize it as much as you want, though! It may look too advanced for a beginner, but once you get the hang of it, you'll enjoy a fun quilting experience.
Inspire your home decor with this roundup of Butterfly Quilt Patterns.
2. Geranium – English Paper Piecing Pattern
Geranium's beauty is too irresistible you would fall in love at first sight. This english paper piecing pattern for beginners is only made of three shapes: hexagon and heptagon for the flowers and diamond for the leaves. Its instructional material comes with a template and a special coloring sheet so you can visualize your quilt before you start stitching it. Feel free to recreate it with your scrappy fabrics! A fixed color palette is nice already. Give it a touch of diversity, and you'll create something extraordinary from a simple pattern!
Check out this collection of Flower Quilt Patterns to inspire you.
3. Starry Sampler Quilt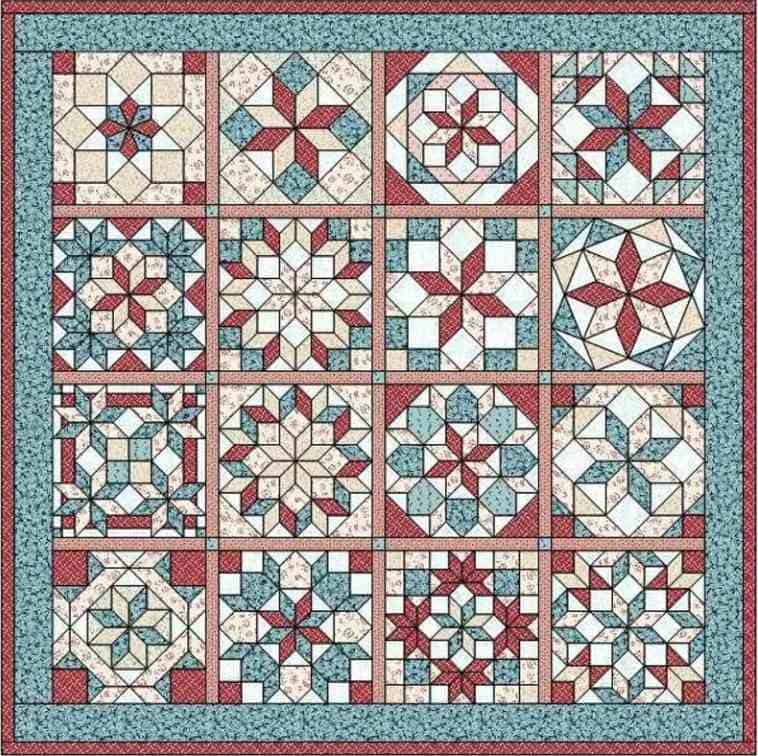 If you're looking for a quilt with fun and striking pattern, let English Paper Piecing unlock your creativity! This piece is home to 16 starry blocks that have their own way of catching your attention. Fabric pieces are arranged differently in every square, giving you a unique quilting experience on several occasions. The combination of red, blue, and white creates a cool yet classic look, but if you feel a bit more adventurous, feel free to play with your color palette!
Take a look at these other fun Star Quilt Patterns.
Ready to Ship English Paper Piecing or EPP Quilt Pattern (Paid)
1. The Peacock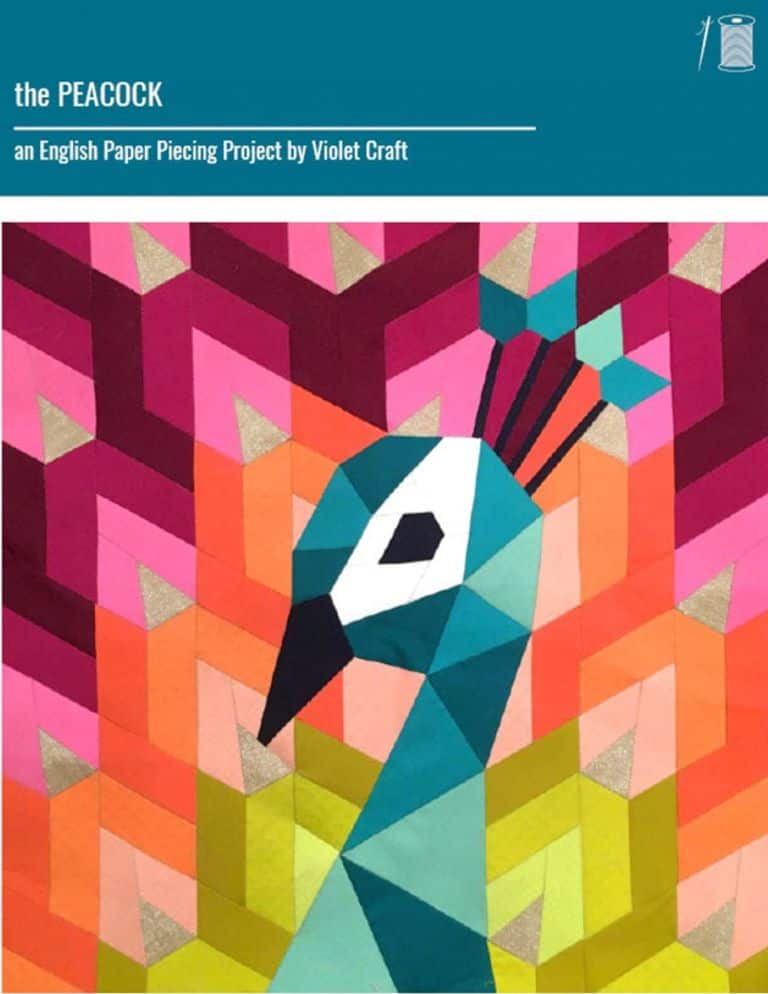 If you're an advanced beginner looking for a majestic pattern to decorate your home with, you'll fall in love with The Peacock quilt from Violet Craft. This modern English paper piecing pattern puts together a beautifully vibrant scrappy fabrics to form a portrait of a glamorous peacock. The pattern found on its background is reminiscent of its feathers. What makes it more eye-catching is the seemingly iridescent color placement which descends from the darkest pink to the lightest lime. Recreating this piece will be tedious, but honestly, it's truly worth your time!
Here are more Peacock Quilt Patterns to try.