It's the spooky season and this means getting those pumpkins carved, deciding what costume to wear when trick or treating, and most of all decorating your house to make it look haunted.
A timeless and classic way to shout Halloween is using black and white hues. Here is an eerie but cute wall-hanging decor to add up for a festive home.
All Hallow's Eve Wall Quilt pattern is designed by Amanda of Jedi Craft Girl featuring the Civil War Times fabric collection from Penny Rose Fabrics. The black cat along with the big moon and bald tree will remind you of a fun and scary night watching a horror movie with family and friends.
Grab those dark color stashes and start decorating for Halloween.
Project Finished Size: 42 inches x 42 inches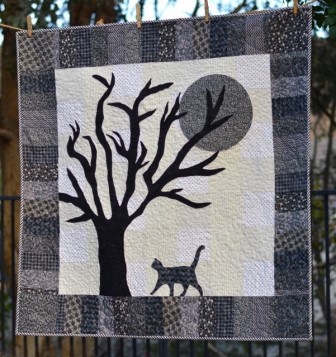 If you are looking for more Quilting inspiration then check out our full list of 400+ Free Quilt Patterns for beginners, intermediate and advanced Quilters. There are all kinds of quilt patterns from easy beginner quilt patterns up to advanced appliqué patterns and patchwork patterns.