Brace yourselves with this exquisite quilt pattern that will surely have a lot of compliments. Autumn Song Quilt #2 is designed by Heidi Pridemore featuring the fabric collection from Janet Nesbitt of One Sister Designs for Henry Glass & Co. This quilt pattern is for advanced or intermediate level quilters. This quilt may look complicated but with the free "PDF" quilt pattern guide you will be able to finish this project without hesitations.
The Autumn Song Quilt 2 looks like a blossoming flower with its festive seasonal shades but it also resembles a Christmas star parol lantern welcoming the cold climate.
Project Finished Size: 80 inches x 80 inches
Skill Level: Intermediate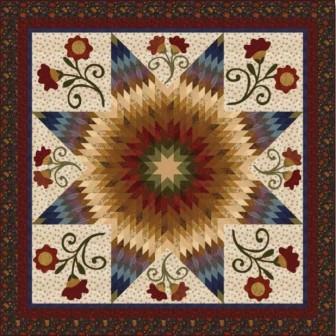 If you are looking for more Quilting inspiration then check out our full list of 400+ Free Quilt Patterns for beginners, intermediate and advanced Quilters. There are all kinds of quilt patterns from easy beginner quilt patterns up to advanced appliqué patterns and patchwork patterns.