Log cabins are timeless quilt projects. Since the American Civil War, classic log cabin blocks have been widely used. Many believe that a black center signified an underground railroad hideout. It may appear intricate to beginners, but this traditional design is easy to make. Sew your own version of this popular vintage quilt with the list of classic and modern designs!
History of Log Cabin Patterns 
Log Cabin quilts were prominent in 1863 when the Union troops auctioned them. The pattern represented the commitment to Abraham Lincoln as the Union leader. In the 19th century, Log Cabin quilts were created from silk, velvet, wool, and satin scraps. Different-weight textiles made sewing challenge. Quilters began using muslin bases to put blocks together.
Free Log Cabin Quilt Pattern – Top Picks
Maximize these free Log Cabin patterns for your next weekend project:
1. Quilt As You Go Log Cabin Block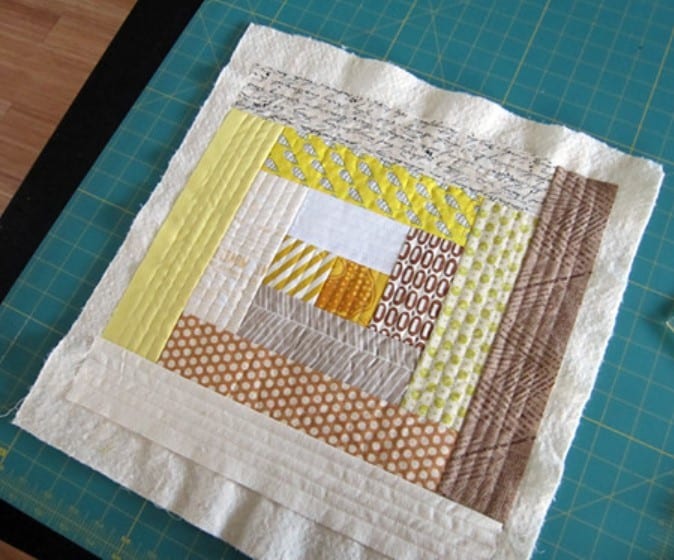 Here is a step-by-step quilt tutorial of the classic log cabin quilt in a simple color palette. This quilt project is easy to follow and has a photo diagram, perfect for those quilters who are just learning to quilt. This quilt tutorial is from Rachel Hauser from Stitched in Color.
Learn more about Quilt As You Go Log Cabin Block pattern here.
2. True Blue Log Cabin Quilt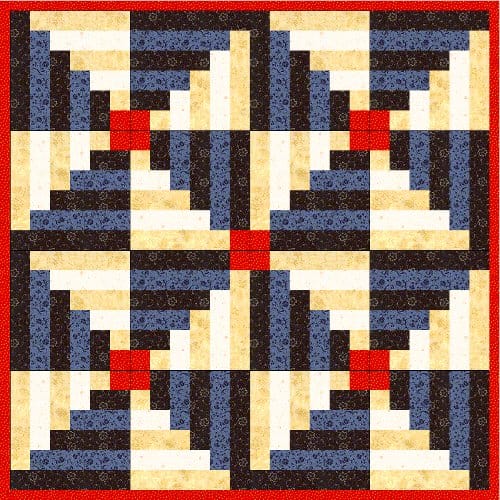 Get your dark and light blue fabric scraps to create the True Blue Log Cabin Quilt. A beautiful quilt pattern designed by Holly Elam. This can also be used as a lap quilt or baby quilt.
Learn more about True Blue Log Cabin Quilt pattern here.
3. GO! Log Cabin Love Wall Hanging Quilt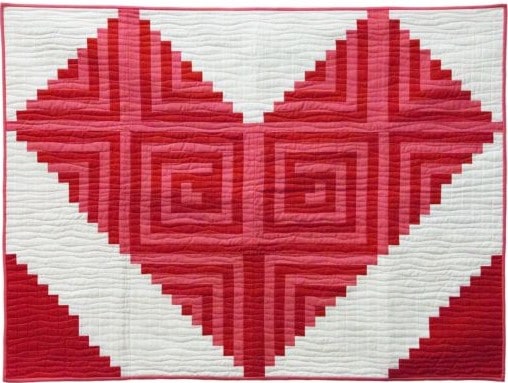 Spread the love with the GO! Log Cabin Love Wall Hanging Quilt. A free quilt pattern from AccuQuilt that makes a sweet and lovely decoration. Hang it in a room or dining area to set a romantic ambiance.
Learn more about GO! Log Cabin Love Wall Hanging Quilt pattern here.
4. Log Cabin Cross Quilt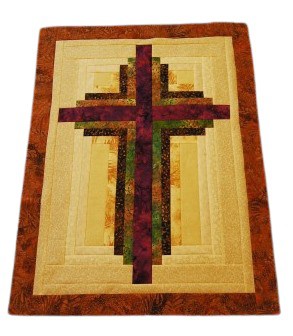 A religious quilt pattern for our fellow Christian brothers and sisters. The Log Cabin Cross Quilt shows that we celebrate your faith by bringing daily worship into our home. This Christian Cross quilt project is a perfect work of art to combine faith and your hobby (quilting) to start a tradition in your family.
Learn more about Log Cabin Cross Quilt pattern here.
5. Baby Heart Log Cabin Quilt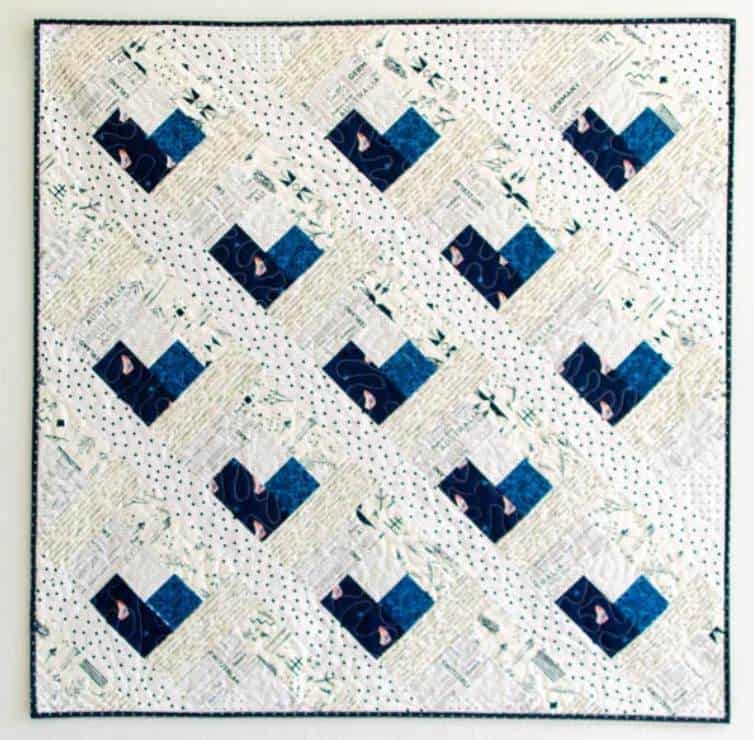 This relaxing match of blue hues and white is a fantastic addition to your baby's crib. Caroline of SewCanShe designed the pattern. It comprises floral, stripes, and print design fabrics. Thirteen baby heart log cabin blocks are required for this baby quilt. Choosing a bright color that contrasts well with the neutral fabric is recommended.
The finished size for this pattern is 42 inches x 42 inches.
6. Rectangle Log Cabin Quilt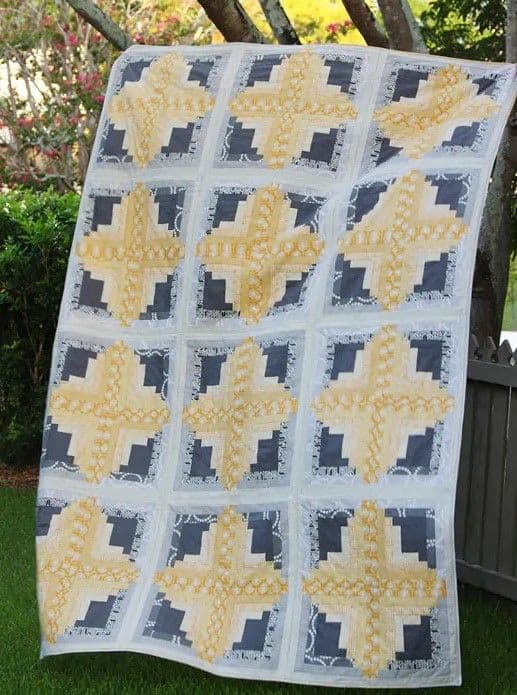 Exude elegance in your twin bed with this pattern. This quick and easy project is ideal for beginners and experts alike. It is crafted by Kristy of Bonjour Quilts. Detailed instructions and tips for sewing a log cabin fast are included for free.
Finished Quilt Measures: 60 inches x 88 inches
7. Confetti Cabins Quilt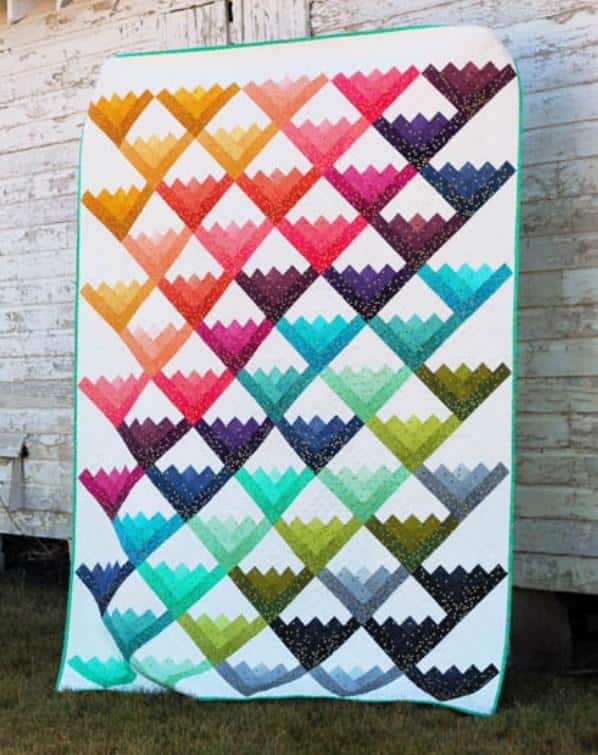 Kristina Brinkerhoff shares an adorable and radiant log cabin pattern for free. This pattern is a combination of traditional and unconventional block settings. It is suitable for intermediate quilters who have basic knowledge of cutting and quilting principles. Add a pop of bright colors to your picnic dates. The finished quilt measures 70 inches x 98 inches.
8. Sew Merry Log Cabin Quilt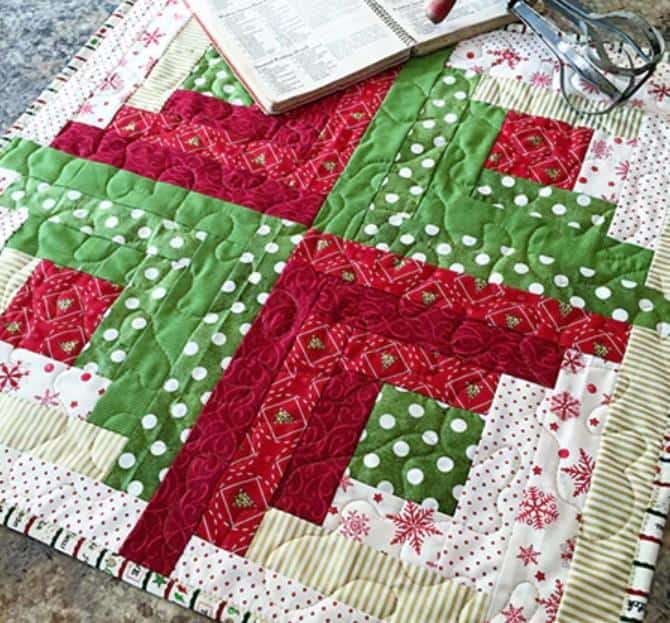 The perfect red, green, and white quilt for the Christmas season but can also be your favorite red and white winter topper. This log cabin resembles a gift. It is a beginner-friendly traditional log cabin designed by Lindsey Weight for Fort Worth Fabric Studio's . Embrace the Christmas season by adding this to your Christmas Eve dining table. The accomplished size is 24.5 inches x 24.5 inches.
9. Scrappy Log Cabin Quilt
This beautiful and simple Log Cabin quilt pattern brings out the perfect scrappy vibe! The colorful fabrics never fail to brighten up your day. Barn Raising's layout creates an astounding appearance for the color combinations. This traditional log cabin is created by Rita of Red Pepper Quilts.
10. Courthouse Steps Quilt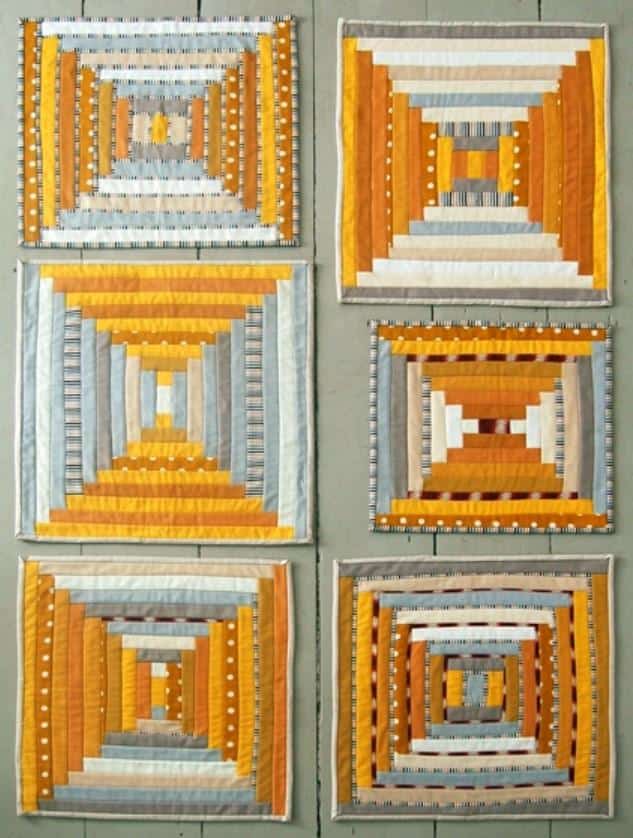 Courthouse Steps from Purl Soho is the best option if you're looking for cute quilting projects. This pattern is old but gold. Courthouse steps have not lost its visual charm and deep history. Utilize this mini quilt for your mug rug or a unique fabric coaster. The finished quilt measures 18 inches x 20 inches.
11. Candy Shop Quilt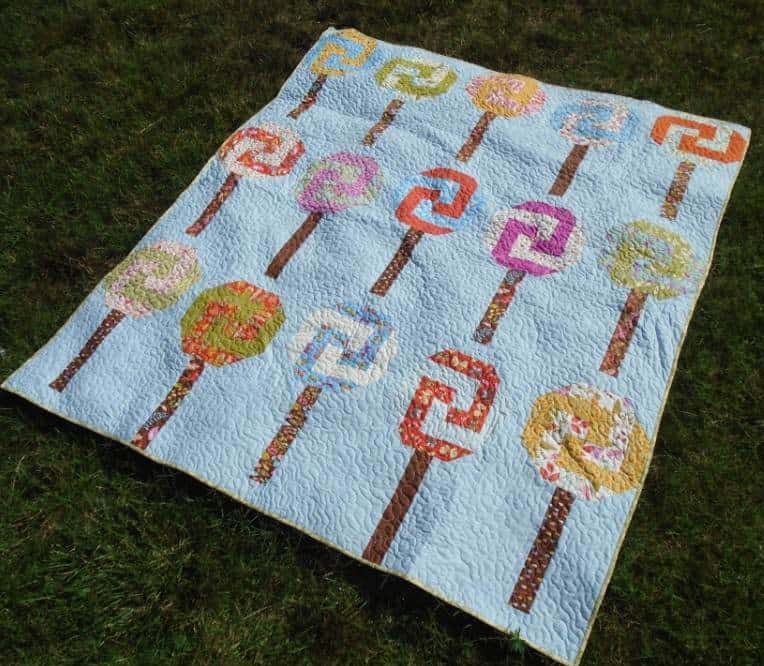 This design is a sweet treat for all candy lovers. The pattern showcases multi-colored lollipops. It is recommended for intermediate and expert quilters as it requires rotary cutting, partial seams, and flip triangles. Alison from Little Bunny Quilts crafted this extraordinary log cabin pattern.
Finished Quilt Measures: 68 inches x 78 inches
12. Modern Log Cabin Quilt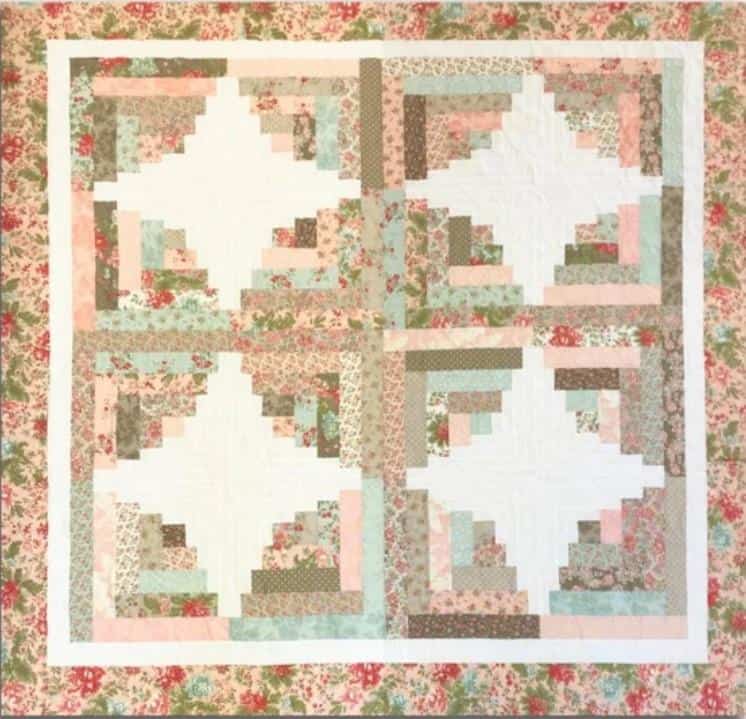 This curvy log cabin generates a lot of movement because of its curvy appearance. It is designed by Donna Jordan. One Jelly roll is needed to create this stunning piece. The Curvy Jelly Roll Log Cabin is ideal for beginners and immediate quilters. The finished size measures 68 inches x 68 inches.
13. Barn Raising Log Cabin Quilt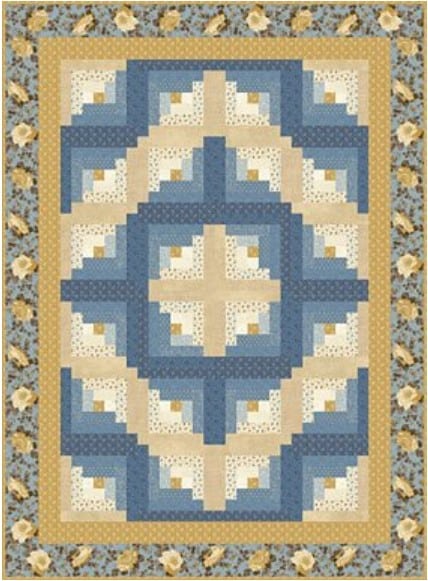 This beginner-friendly quilt is wonderfully designed with a proper color contrast of fabrics. Piecing is one of the methods used to complete this project. The Barn Raising vintage design never fails to add a sophisticated look to any room. Connecting Threads provides a free pattern and detailed instructions on the quilting process. The finished size is 51 ½ inches x 69 ½ inches.
Printable Log Cabin Quilt Patterns To Download From Online Shops (Paid)
1. Lincoln Log Cabin Quilt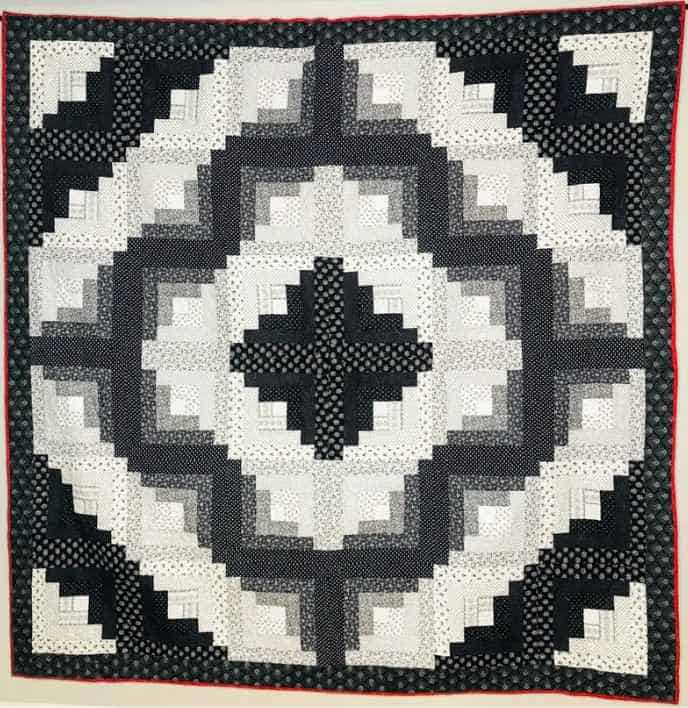 If you're a fan of black and white, you will surely love this Lincoln Log Cabin. The minimalistic style of this pattern can elevate your room. With just a few scraps, you can make a traditional log cabin in no time. It is perfect for a novice's first large quilt. The finished size is 92 inches x 92 inches.
2. Twisted Rainbow Log Cabin Quilt
For experienced quilters who are looking for a complicated Log Cabin project, this is the best option! The paper piecing foundation pattern provided can be used to finish this quilting project with expert precisionRebecca of Humburg Creations designs this colorful pattern.
3. Log Cabin Flowers Quilt
Log Cabin Flowers is not your ordinary block pattern. The intricate design showcases blooming flowers. The finished quilt measures 48 inches x 61 inches. It is perfect for sewers who have basic knowledge of rotary cutting and quilting principles. Add this to your top list when making a quilt present for your loved ones who adore roses or flowers!
4. Triangle Log Cabin Quilt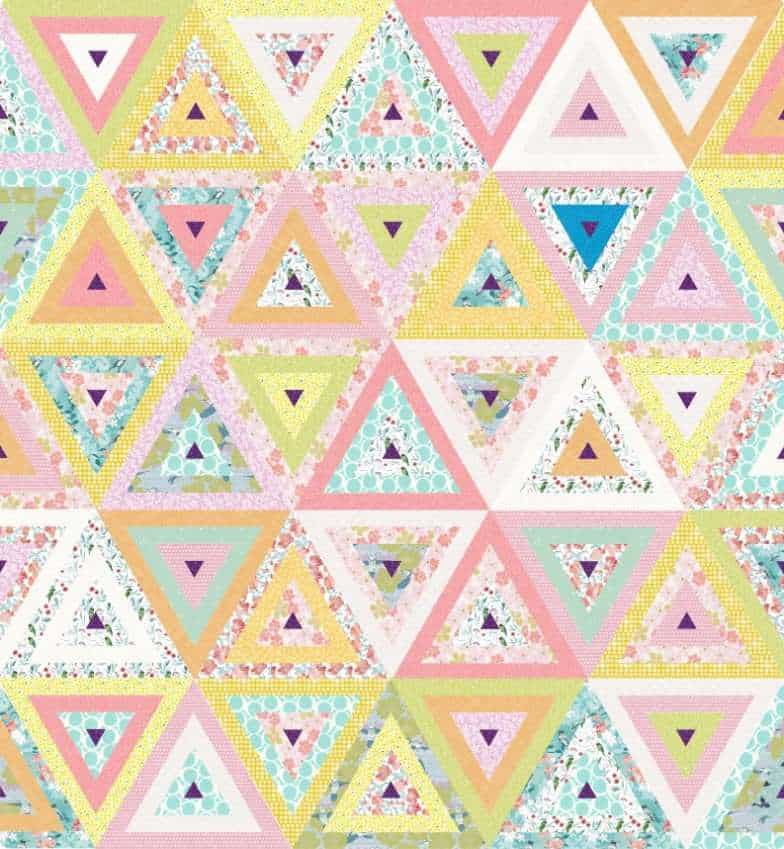 The Triangle Log Cabin pattern is a fun quilting project. It highlights various sizes of triangles for an artistic appeal. Play with bright and paster color combinations with this design from Teresa of Sewn Up. It is ideal for novices and beyond. The pattern comes with thorough video instruction. The approximate size of the finished log cabin quilt block is 6 inches x 7 inches.
5. Snails In The Cabin Quilt
This intricate pattern suits veteran quilters looking for a challenging log cabin project. Each block comprises a spiral pattern that can be tricky to create. Carla of Hogeye Quilt Co. developed this pattern. This vivacious pattern will liven up your space.
6. Guiding Star Quilt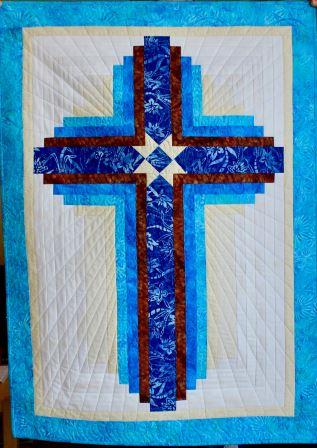 Looking for a pattern to honor your Christmas faith? The search is over! This pattern from Judit Hadju is a must-try log cabin project. The cross pattern spotlights a star in the center. A clear set of instructions with quilting recommendations is included to help you achieve an excellent output. The design is beginner-friendly, and a pattern veteran quilters will admire.
Need more log cabin cross quilt project ideas? Download your favorite design from these Best Log Cabin Cross Quilt Patterns now!
7. Maple Leaf Log Cabin Quilt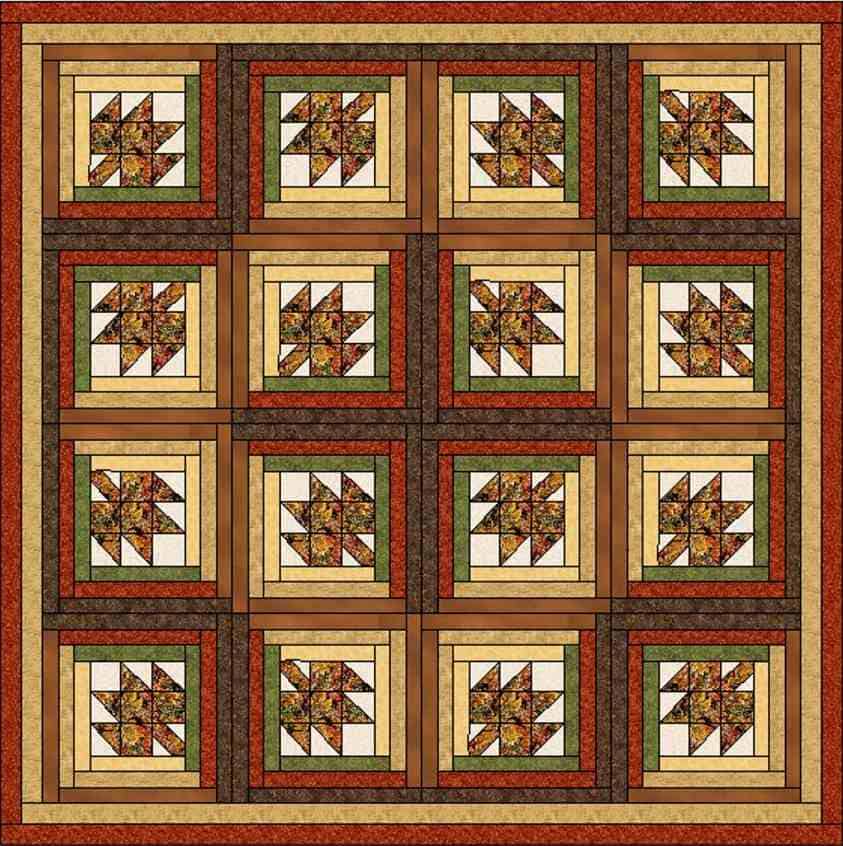 This beautiful maple leaf of the fall season is a classic pattern. Use warm harvest colors to depict the leaves precisely. It is perfect for quilters who are just starting out. Pattern designer, Shari, also included rotary cutting instructions and paper templates.
8. Log Cabin Flower Garden Mini Quilt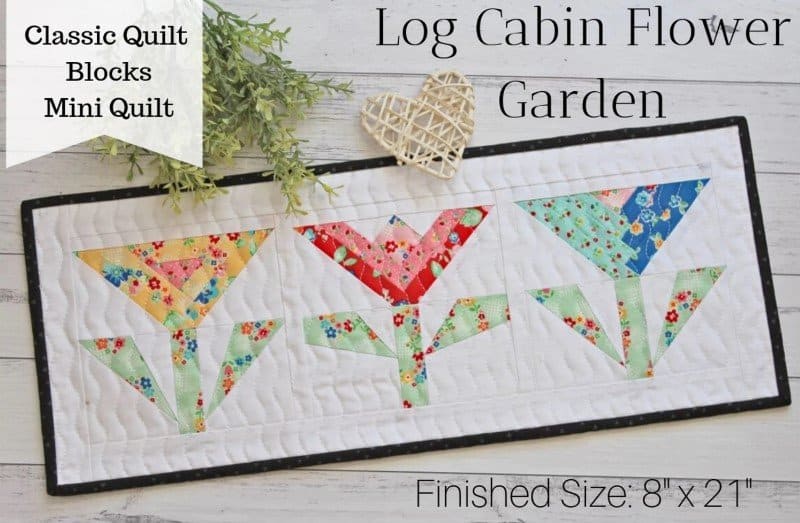 Another mini quilt to try is this Log Cabin Flower Garden pattern by Rose Johnston. This adorable and tiny pattern features three flowers. Add a dash of spring and summer to your home decor! Full-size paper piecing templates and step-by-step assembly instructions are included in the PDF pattern. The finished size of the quilt measures 8 inches x 21 inches.