A lovely quilt that will remind us of sharing our skills to give warmth and happiness to others. Christmas Presents Quilt is a beautiful pattern designed for free by Marinda Stewart for Michael Miller Fabrics.
This easy on the eye quilt project has several wrapped presents and snowflakes patterns on the quilt. Marinda is so generous that she is sharing the blocks placement guide and assembly diagram.
Start quilting this holiday quilt and share your work and offer comfort to whoever the recipient might be.
Finished Quilt Measures: 42 inches x 56 inches
Skill Difficulty Level: Confident Beginner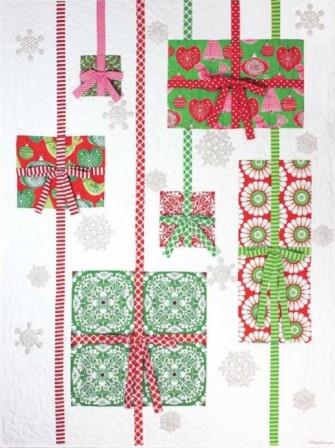 If you are looking for more Quilting inspiration then check out our full list of 1000+ Free Quilt Patterns for beginners, intermediate and advanced Quilters. There are all kinds of quilt patterns from easy beginner quilt patterns up to advanced appliqué patterns and patchwork patterns.