A cheerful and fun project to start with. The Joy mini quilt pattern is designed by Frieda Anderson from Friestyle for We All Sew. This is a quick and easy quilt as this uses fused art technique. Frieda also shares some tips on how to cut the fused shapes.
The Joy mini quilt is a wall-hanging decor that you can use as a background for a small Christmas Scene. It will surely add a little Christmas cheer to your home. Such a great project that appears simple but is a really pretty design.
Finished Quilt Measures: 16 inches x 16 inches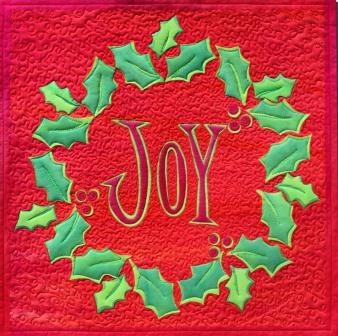 If you are looking for more Quilting inspiration then check out our full list of 400+ Free Quilt Patterns for beginners, intermediate and advanced Quilters. There are all kinds of quilt patterns from easy beginner quilt patterns up to advanced appliqué patterns and patchwork patterns.