Looking for a perfect basket for every occasion and for every use is definitely a taxing job. Finding one would definitely take you eons to discover but forget your worries as you have found us, your personal worry snatchers to the rescue! To aid your dilemma, we searched far and wide the world wide web and collated varying baskets from sizes to themes to fit your wants and needs that you could recreate and stitch at home.

Here's the list of quilted baskets that you might want:
Free Quilted Basket Patterns – Top Picks
1. Quilters Cupboard Easter Basket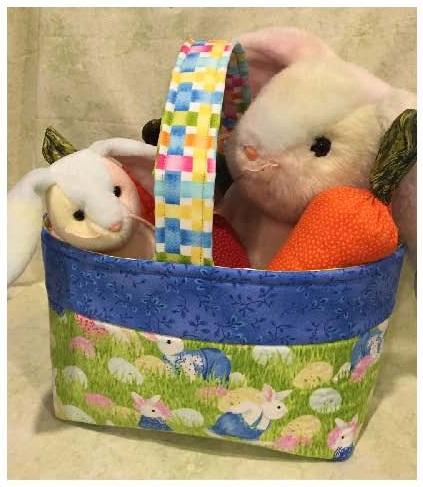 If you're looking for a cute easter basket, then maybe, this quilted easter basket titled "Quilters Cupboard Easter Basket" is just for you! With its adorable handle that looks like a colorful woven in blue, yellow, pink, orange, and green paired with its easter bunny eggs themed body with floral blue rim at the top, this basket will definitely inspire families to celebrate this eggtastic holiday!
2. Fabric Basket and Eggs
Some of the most needed things to prepare for this upcoming easter holiday are baskets and eggs for the famous egg hunting ceremony that is enjoyed by adults and children alike. This Quilted Basket and Eggs pattern designed by Amy Smart of Diary of a Quilter will help you get ready for Egg Hunting activity. In contrast to the popular designs of bunnies and eggs, this design screams spring as its linen is endowed with flowers in red, blue, and white with contradicting color (i.e. red = white, vice versa) as backgrounds.
3. Essential Baskets II
Looking for a marvelous basket to organize and store your essentials? Worry not, as this organizers titled "Essentials Baskets II" is definitely for you! With its pastel colors: Lilac Dust, Teal Fog, Cafe Latte, Cloud, Ballet, Sunglow, Granite, Red Desert, Skyline Blue, Steel, Blossomed, and ocean fog and varying sizes, you'll surely make a run for your money as this Essential Baskets can truly get the job done!
4. Megelles Basket
This Megelles Basket is definitely worth its work! This basket resembles a big tote bag great for carrying big essentials, like baby essentials! This Megelles basket is dawned with pastel colors and a design resembling a yummy and delicious cake. So, if you're a fan of soft aesthetics, then this basket is truly perfect for fitting your vintage / cottage core aesthetics, talking about functionality and added beauty!
5. Nest Organizer Basket
It's truly great to have a good organizer at home, and what is a better organizer we could make? A hanging basket to contain each of your loved ones essentials! This Nest Organizer Basket by Nancy's Notions resembles a baby's cradle in a color combination of beige, blue, and white with an open top part for easy access and a thick handle for your things' safety.
6. Sturdy Fabric Basket Quilt
If you're looking for a tiny basket that can fit your itty-bitty things like jewelry, masks, and make up, then this basket in the name Sturdy Basket Quilt by Lillyella Stitchery is definitely for you! This basket is adorned with owl embellishments in blue, white, brown, and gray aesthetics. With its finished size of 8" wide, 5" high, and 5" deep, this basket is definitely a cute addition to your favorite organizers!
We hope that you've found a perfect basket to stitch that fits your aesthetics and needs, until next time, Happy Quilting!