Bow Tie quilts offer a delightful blend of simplicity and elegance, making them a favorite among quilters of all skill levels. This classic pattern, characterized by its distinct bow tie shape, brings a touch of sophistication and charm to any quilting project. Whether you're creating a cozy throw, a bed quilt, or a decorative wall hanging, Bow Tie quilt patterns provide endless possibilities for color combinations and fabric choices. Ideal for both traditional and contemporary quilters, these patterns invite creativity and are perfect for anyone looking to craft a piece that combines timeless style with personal flair.
Free Bow Tie Quilt Patterns – Top Picks
Designer: Christa Watson of Christa Quilts
The Hugs and Kisses Quilt, an enchanting take on the bow tie quilt block, presents an X's and O's design. Christa Watson of Christa Quilts offers this free tutorial, which harmoniously blends Basic Grey's Kissing Booth and Kona Snow Jelly Rolls with assorted scraps. The quilt's design beautifully aligns with the X's and O's pattern, making it a versatile choice for all seasons. Its adaptability to various colors makes it perfect for occasions like Valentine's Day, Christmas, or as a unique autograph quilt for weddings. The completed quilt measures 48 inches by 64 inches.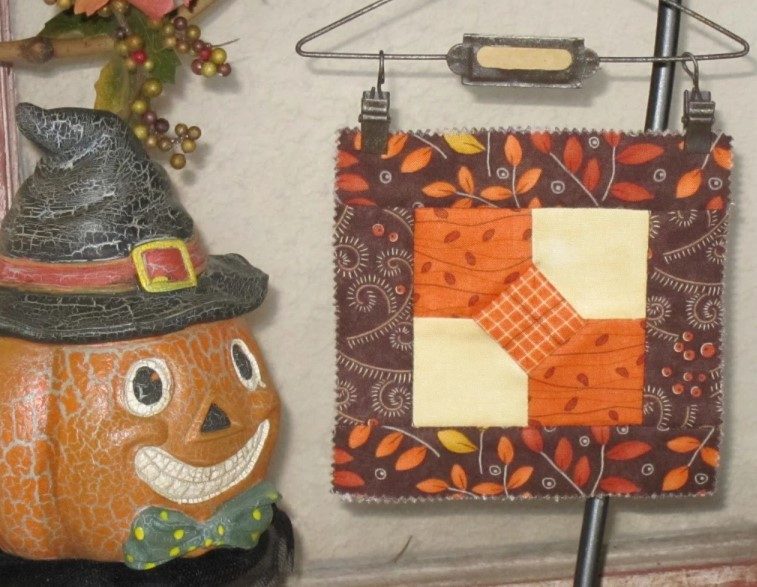 Designer: Claudia Vess of Breezeway Quilts for Moda Fabrics
Mr. Jack's Bowtie Quilt Block brings a unique flair to your Halloween decor with its striking 3D effect. Perfect for standout festive DIY projects, this block will catch the eye and add dimension to your seasonal decorations. Claudia Vess of Breezeway Quilts for Moda Fabrics provides a detailed, step-by-step tutorial for crafting this distinctive quilt block. Ideal for adding a touch of style and creativity to your Halloween setup, the finished block measures 5 inches by 5 inches, blending traditional quilting with a modern, three-dimensional twist.
Designer: Abigail Dolinger for Quilting Daily
Display a vibrant splash of color with the Polka Tot Quilt, a versatile pattern that suits both a twin-size bed and a baby quilt. Designed by Abigail Dolinger for Quilting Daily, this free downloadable PDF pattern features playful polka dot bowtie blocks. Its cheerful, bright hues are perfect for lifting spirits and adding a lively touch to any room. Ideal for using up fabric scraps, this quilt comes in two sizes: a cozy baby quilt measuring 38 ½ inches by 38 ½ inches, and a larger twin size at 68 ½ inches by 93 ½ inches. A delightful project for quilters looking to add a burst of joy to their creations.
Designer: Kris Driessen of Scrapdash
Kris Driessen of Scrapdash is sharing her method on how to do the Bow Tie quilt block in an easier way. At the end of her tutorial she shares some of the different layout possibilities to incorporate bow tie blocks into a quilt. So many unique versatile ways to arrange the blocks. A perfect quilt pattern to add to your bucket list.
Designer: Susan Kirschenheiter for All People Quilt
The Bitty Bow Ties quilt pattern, expertly designed by Susan Kirschenheiter for All People Quilt, is a charming and stylish project. This free pattern transforms the traditional bow tie block into a delightful miniature version, resulting in an elegant 15-1/2″ x 18-1/2″ quilt. Perfect as a sophisticated table topper, it adds a touch of classic refinement to any space. The small scale of the bow ties makes this quilt an engaging project for quilters who enjoy detailed work, offering a delightful fusion of timeless design and modern flair.
Designer: AccuQuilt
GO! Bowtie Bonanza is an exciting quilt pattern designed by Alex Anderson for AccuQuilt, showcasing the timeless appeal of the bowtie block. This 45 3/4″ x 45 3/4″ quilt presents the bowties in an on-point setting, adding a dynamic sense of movement. It's an ideal project for showcasing a variety of favorite prints, with the 4″ finished bowties allowing for creative expression through fabric choices. Alex Anderson's design skillfully combines traditional quilting elements with a playful, modern twist, making this pattern a delightful venture for quilters looking to blend classic and contemporary styles in their work.
Designer: Caroline Fairbanks-Critchfield of Sew Can She
The Bow Tie Baby Quilt Pattern, designed by Caroline Fairbanks-Critchfield of Sew Can She, is an adorable and versatile quilt perfect for any baby. With its sweet, simple design, this 40" square quilt complements nearly any fabric choice. Whether you opt for a coordinated fat quarter bundle or dive into your scrap bucket for a cheerful, scrappy look, this baby quilt pattern is delightfully easy to make. It's an ideal project for quilters needing a quick yet charming baby gift. The bow tie design adds a classic touch, making this quilt a timeless keepsake for any little one.
Designer: Andy Knowlton of A Bright Corner
The Ties to Liberty quilt pattern, crafted by Andy Knowlton of A Bright Corner, is a stunning piece showcasing the Liberty Lawn fabric collection. Requiring just 10 fat quarters, this project is both resource-efficient and visually striking. The finished quilt, measuring 56" x 70", embodies a blend of elegance and simplicity, making it a wonderful addition to any home. Its size is perfect for cozying up or adding a touch of charm to a room. The pattern's straightforward design ensures an enjoyable quilting experience, suitable for quilters at various skill levels.
BONUS Bow Tie Quilt Patterns For Sale from Online Shops
Designer: Andy Knowlton of A Bright Corner
Discover the charming Dad's Bow Ties Quilt, a delightful pattern that brings bow tie quilt blocks to life. Created by Melissa Mortenson of Polka Dot Chair, this design is inspired by her Derby Style fabric collection. The pattern cleverly uses quarter and half-square triangles to create a bow tie effect, making it quick and easy to piece together. The bow ties are arranged in neat rows, offering a sleek and stylish look. This versatile pattern can be personalized with your favorite fabrics, making it suitable for both boys and girls. Available in two sizes, it's perfect for a cozy baby quilt measuring 47 inches x 57 inches, or a more spacious Twin XL at 65 inches x 94 inches. A fun and fashionable project for those who love playful patterns.
Designer: Bonnie K Hunter of Quiltville
Boxy Bow Ties Quilt Pattern by Bonnie K Hunter of Quiltville is a delightful project for quilters who love working with scraps. This pattern simplifies the traditional bow tie block by eliminating the need for triangles, making it accessible and fun. Complete with easy-to-follow directions, full-color graphics, photos, and detailed pressing instructions, this pattern ensures an enjoyable quilting experience from start to finish. The finished quilt, measuring a generous 91" X 91", is perfect for a cozy bedspread or a large decorative piece.
Designer: Jen Shaffer of Patterns by Jen
The Spinning Bow Ties Quilt Pattern by Jen Shaffer of Patterns by Jen is an ideal project for beginner quilters, offering simplicity and quick assembly. This engaging pattern uses a single quilt block design to create a stunning quilt, available in multiple sizes. It features 4″ half-square triangles (HST), a great size for those looking to hone their quilting skills. The pattern includes detailed instructions for making perfect HSTs, ensuring a smooth quilting process. This pattern not only caters to beginners but is also a delight for experienced quilters looking for a relaxing project.
The Bow Tie Fat Quarter Quilt Pattern by Kari Nichols of Quilting Renditions is a versatile and enjoyable project for quilters with an intermediate skill level. This pattern provides options to create quilts in five different sizes, ranging from a cozy lap quilt at 44.5″ x 55.5″ to a generous king-size at 99.5″ x 110.5″. It's a fantastic opportunity to dive into your collection of favorite fat quarters and experiment with color and pattern combinations. The design is engaging and offers a satisfying challenge for those looking to expand their quilting skills while creating a beautiful, functional piece.
The Curvy Bow Tie Quilt Pattern from Sew Kind of Wonderful offers a refreshing take on the classic 'Bow Tie' quilt design. By incorporating a unique curve into the traditional pattern, it adds an extra dimension of movement and texture, infusing the quilt with contemporary flair. This pattern results in a quilt measuring 49"x56", making it a versatile size for various uses. It's an enjoyable project for quilters, blending ease with creativity. The Curvy Bow Tie quilt is perfect for those looking to experiment with traditional designs while adding a modern twist. Whether for personal use or as a gift, it's sure to impress with its elegant and dynamic appearance.
Our roundup of Bow Tie quilt patterns showcases the enduring appeal and versatility of this classic design. Ideal for quilters of all skill levels, these patterns range from simple and sweet to intricate and modern. The adaptability of the Bow Tie design to different fabrics and quilt sizes allows each quilter to inject their personal touch, making every quilt unique. Whether you're creating a cozy lap quilt, a playful baby quilt, or an eye-catching wall hanging, these patterns offer a delightful way to explore your creativity and keep the rich tradition of quilting alive and vibrant.