Every quilter understands how important it is to have a top-quality iron that is reliable and produces top results. But finding this perfect iron can be a little tricky.
You wouldn't want to invest in an iron that will burn your quilts or give up working after some time. That would be a waste of money. Instead, you need an iron that can handle all types of fabrics and meet your quilting needs.
In this post, we've shared the best quilting irons on the market today to help you select one that will give you seamless results with every single quilting project.
10 Best Iron for Quilting and Sewing 2023
After extensive research to help you find the perfect iron, we have recommended the top 10 quilting irons available today. We hope our list helps you when choosing your new quilting iron.
1. Rowenta DW5080 Steam Iron
The Rowenta DW5080 is a modern, smooth and affordable high-end steam iron that serves the needs of everyone, from beginners to professionals.
This German model is robust, durable and sturdy, weighing in at 3.4 pounds.
The stainless steel soleplate designed with 400 holes gives you a gorgeous finish on your freshly pressed clothes.
You won't have to worry about water dripping or burning clothes ever again with the Rowenta DW5080 because of its automatic 3-way intelligent safety system.
PROS:
The precision tip allows gliding over garments
1700 watts of power
Thermostat knob for easy control
Stainless steel soleplate
3-way smart safety system
Auto-cleaning system
Anti-calcium system for tap water use
CONS:
The weight of the iron can be a little difficult to balance at first.
2. CHI 13102 Professional Steam Iron
This high-end tech iron design offers a powerful experience for advanced quilters who would like to take their ironing to the next level.
The CHI 13102 professional steam iron has a titanium-infused ceramic soleplate that matches top hair styling products. Its 400 hole soleplate allows for effortless ironing and smooths out the wrinkles easily.
A striking feature of this iron is the electronic control temperature, where the iron sets the temperature accordingly for you, eliminating guesswork.
The CHI 13102 professional steam iron brings new features to the table for quilters. We highly recommend this iron.
PROS:
8 ft retractable cord for easy usage and storage 
Adjustable steam level gives you more control
Affordable
3. Panasonic NI-WL600 Cordless Steam Iron
The Panasonic PAN-NI-WL600 makes ironing a dream for quilters! This cordless design gives you freedom and flexibility to iron from anywhere you want to, no stressing about tripping over cords.
You can iron in every direction effortlessly with this curved 360 degrees freestyle soleplate. It helps you save time and get into the smallest of creases with its high precision, non-stick tip.
It has an electronic temperature control system where you can easily adjust the temperature according to the fabric just by touching a button. The iron also has easy heat, steam and dry settings available.
The cordless feature and lightweight makes it portable and easy for quilters to move around with.
PROS:
Anti-drip system
Cordless
Simple to use
CONS:
Unusual shape
Only 1500 watts
4. Rowenta DW6080 Steam Iron
The Rowenta DW6080 is similar to our previous suggestion but a more eco-friendly and energy-efficient model. It can save up to 25% energy, easy on your budget and the planet.
This sleek iron features a 3D design, micro steam stainless steel soleplate which concentrates and evenly distributes steam whilst ironing.
It has 3 manual steam settings:
Dry for a perfect finish
Eco for energy-saving steam
Boost for difficult creases
The iron also features an anti-calc system which enables a longer life span of the iron and improves its performance.
If you're conscious about helping the planet, then the Rowenta DW6080 model is an affordable and highly efficient option.
PROS:
3-way auto shut-off feature
Energy efficient
Settings for various fabrics 
Scratch-resistant soleplate
Affordable
CONS:
May experience problems with weight balance
5. Black and Decker Digital Advantage D2030
The Black+Decker's D2030 is a heavy-duty iron with a stainless steel soleplate, and comfy grip handle to help you glide over all types of fabrics. The best part is that this high performing iron doesn't break your budget!
It has a digital temperature control function which makes it easy to customise fabric and steam settings. You can view the temperature on the LCD screen, which also flashes "READY" when it reaches your desired temperature.
The only downfall of this durable iron is the awkward position of dial settings placed directly under the handle, making it a bit of a mission for some people to reach.
Other than that, this iron is perfect for quilting on a budget.
PROS:
Affordable
Auto shut-off system 
Digital settings
 Easy steam adjustments
CONS:
Hard to reach dial settings
6. Rowenta DG8520 Perfect Steam Iron
The Rowenta DG8520 steam iron is one iron you can't go wrong with! It is our number one preference when handling quilting and sewing fabrics. Although it costs much more than our other recommended irons, you won't have any regrets about purchasing this masterpiece.
PROS:
Incredible 5 bars of pressure to iron out the creases, smooth and shape sewing projects
1800 watts of power
No auto-shutoff
Save 20% of energy with Eco setting
Extra-large water tank = 1.5 hours of continuous ironing 
Best quilting and sewing iron
7. Oliso Pro TG1600 Smart Iron
If you are a devoted quilter who takes your work seriously, then the Oliso TG1600 Steam Iron will give you a run for your money!
This iron is a game-changer and will give you a one of a kind ironing experience. It has a 12 feet power cord and comes with a 360 pivot, making your life easier and giving you the flexibility to move around.
The Oliso steam iron provides you with a safe and fireproof environment with its 30-minute auto shut-off system. So you can bid farewell to scorched clothing!
Another top feature of this iron is the Tripleplay Xtremesteam and Pro-Press soleplate which provides a blast of water, removing creases from any fabric.
We're talking about a functional, high-tech and reliable iron that makes ironing a smooth process for everyone. The Oliso steam iron is worth investing in because it will stick with you in the long run.
Bonus- a free ironing board cover!!
PROS:
1800 watts of power
30 minute auto shut-off system
Pivoting handle increases flexibility
iTouch Technology makes for an effortless ironing experience
Precision tip
Bead blast stainless steel soleplate
8. Oliso TG1050 Smart Iron
If you're looking for a top of the range traditional and affordable quilting iron, you won't go wrong with the Oliso TG1050 Smart Iron .
Its unique features enhance the ironing experience for quilters.
If you're working on a big project, you will love the iTouch Technology levitation feature. The Oliso innovative iron lifts and lowers onto the fabric by the touch of your hand, making ironing effortless and preventing clothes from burning.
It has a 360 pivot giving you unlimited area to work around and an anti-drip system to prevent leaks.
This inexpensive rounder is a great option for quilters.
PROS:
1600 watts of power
Simple to use
Sturdy model
Stainless steel soleplate
Auto shut-off system
Tripleplay Xtremesteam 
1-1/2 inch Precision tip
CONS:
Affordable but not the cheapest
9. Oliso TG1100 Smart Iron with iTouch Technology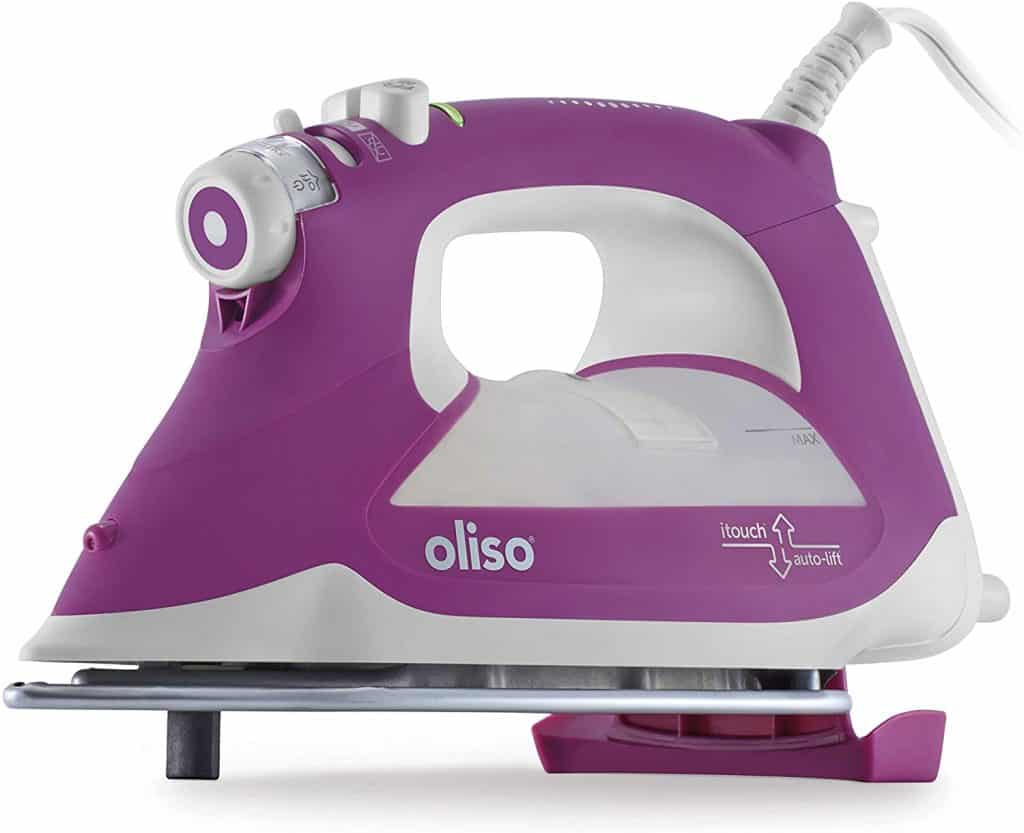 The Oliso TG1100 provides the same features as most other Oliso irons, like the auto shut-off and iTouch technology making it an excellent choice for quilters.
But, this model has an ultra-premium thick chromium stainless steel soleplate giving you a scratch-free and long-lasting ironing experience. It also has expanded steam holes for a constant flow and evenly distribution of steam.
No more waiting for your iron to heat up with the 1800 watts power-packed Oliso TG1100, which heats the soleplate in just seconds! In addition, the One Pass pressing provides deep penetrating heat to help you quickly work through piles of clothing.
The Oliso TG1100 is a winner with quilters, and the lengthy pivoting cord just tops it off!
PROS:
1800 watts of power
Award-winning an excellent design
3 steam settings with 3 steam levels making ironing easy
10. Singer EPS2 Steam Press
The Singer Steam Press EPS2 is unlike every other iron. It gives you professional pressing with its unique design in the comfort of your home. Handlest has ten times the pressing surface of a traditional iron.
With its sizable pressing area and easily adjustable heat and steam settings, you can even press table clothes with ease.
The Singer has a die-cast aluminium plate which makes it more efficient in the long run. It also has an electronic alarm and an auto shut-off system to increase your safety and prevent fabrics from burning.
A cherry on top is the free measuring cup, pressing cushion and spray bottle.
PROS:
It covers a large surface area
Professional steaming
Safety systems
What To Look For When Buying A Quilting Iron
Quilters need the top of the range irons to smooth out the smallest of creases and set their seams because they understand that iron makes all the difference in the world. We've shared the top features and functions you should look out for when choosing to purchase your quilting iron.
Steam Power
A perfect option would be an iron that provides consistent and evenly distributed steam because this gives an excellent finish to your fabric. However, if you are looking for dry ironing, then this feature isn't a must-have.
Type Of Iron
As we looked at previously, there is a wide variety of irons, including cordless and different steam irons. For example, Singer is a steam iron that offers a more professional finish and covers larger fabrics than traditional irons.
You can choose between a steam press, cordless or regular steam iron.
Soleplates
You can't go wrong with a ceramic or stainless steel soleplate when working with fabrics. These plates allow you to glide across fabrics and is an important feature effortlessly.
Heat Settings
Some irons have digital temperature controls where you can easily set your desired temperature. Other irons have heat settings for specific fabrics, so you don't have to guess what temperature it should be at.
Durability and Safety
Most of the models we looked at earlier have auto shut-off systems in place, so you won't have to stress about burning fabrics. Some of the models even have an anti-drip system, preventing water from leaking all over your material. These are features that are good to have in an iron.
Weight
You want an easy iron on the arm, one that is heavy enough to iron precisely but not too heavy that it hinders your performance. Bear in mind. Heavy irons help your wrists because you don't have to press too hard.
Controls
There are a variety of control styles out there: digital, slider, dial and switches. So naturally, you have to choose the one that you are most comfortable working with.
Frequently Asked Questions
Is a dry or steam iron better for quilting?
A steam iron is best because it gets out all the creases much better than a dry iron.
Can a steam iron be used without water?
Yes! You just have to remove the water from the iron. There are iron models with switches where you can even turn off the steam.
Why does my iron leak?
Your iron leaks when the soleplate isn't hot enough.