Full sized irons, while easily accessible, aren't always the best option for quilters to use for their craft. For one, they're large, bulky, and can be difficult to store in a small area for anyone with a smaller sewing room or workspace.

That's where mini sewing irons come into play! Mini irons are perfect for any kind of crafting that requires pressed heat, but they're especially helpful to quilters. Not only do they not take up too much space in your craft room, but they also travel well for anyone who attends retreats or classes regularly.

The following compiled list of some of the best mini craft irons on the market will help you find the right mini iron for you and your craft. We've based our professional opinions on real customer reviews and a bit of personal experience with small, travel-sized irons.
Quick Summary Of Our Recommendations:
What You Should Consider When Purchasing a Mini Iron
There are several things you should be taking into consideration when deciding which small craft iron to purchase.
1. Projects To Iron
First, you should know what you're going to be using it for. Are you mostly using it for quilting? Are you looking to use it for other crafts such as vinyl transference? Are you someone who makes doll clothes, too? Each of these questions will lead you to a different style of iron. Quilters can typically use any of these styles of iron, but anyone who works with other crafts that require an iron might find styles such as a mini press for heated fabric transfers more useful to more than just quilting.
2. Storage Space For Iron
You'll also want to consider how much space you have for storing the iron. Mini irons with charging stations do tend to take up a little more space and need access to outlets when not in use. You should also consider how hot the iron gets, how quickly it cools, and how that affects your storage options. No one needs a melted shelving unit!
3. Traveling With Iron
How often do you travel? If you travel to quilting retreats or classes regularly, you'll want to be sure that the iron you purchase fits in any luggage or travel cases you already own for your sewing supplies.
Best Mini Irons
This category of small irons is exactly as described- they are smaller versions of the typical iron. They're shaped similarly, meaning they're just as easy to use as full-sized irons. Most come with the option to steam your fabrics as you iron, making these small irons great for everyday use and garment making.

Many makers will prefer this style of small sewing iron purely because they are familiar. And that's ok! These small irons are great for pressing seams, not just quilt tops, smoothing out wrinkles before cutting your fabric, and pressing fabrics fresh from your favorite cutting machine. Having a mini iron like this can also be great for everyday use, too, as they fit in smaller spaces easier and work just as full-sized irons do.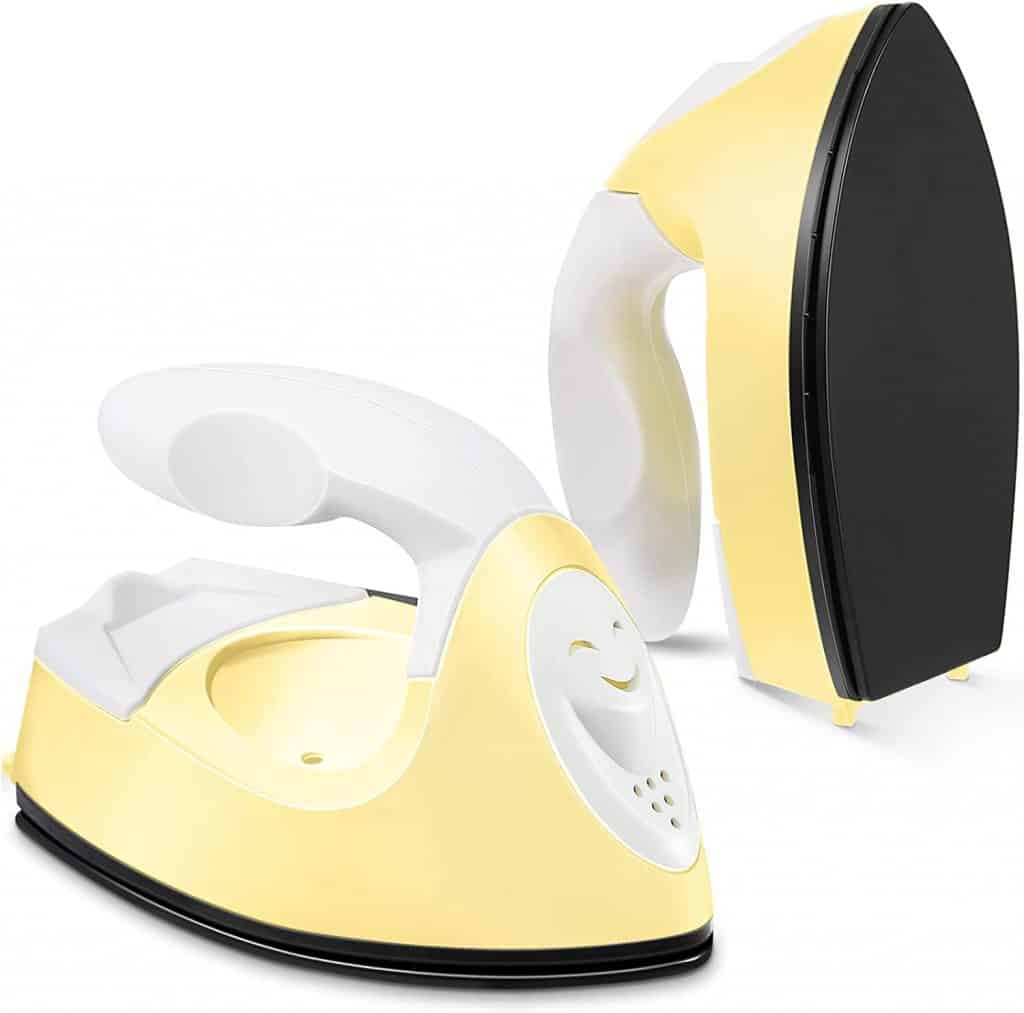 This mini sewing iron is not only cute and comes in a wide array of colors from light yellow to hot pink to red to a classic white, but it's also a great option for anyone looking for a portable mini crafting iron. It's a very small mini iron that's perfect for heat transfers such as rhinestones and patches, among other typical iron uses.

One con of this particular iron is that you might need to be patient while it heats up. There is a minimum pre-heat time of a minute and a half, but it might be best to wait two and a half minutes to be sure it's hot enough. The other downside to this small iron is that it only has one heat setting, so you need to be careful to avoid scorching or melting on more delicate fabrics. But, the high heat is well-suited for pressing quilt tops and transferring vinyl, stones, and other glued projects that require heat activation to fabric!
Quite the dependable brand, Sunbeam also offers a mini iron that is great for crafting, as well as great for everyday use! This small iron has great features you'd find on their other iron models, making it a fantastic option for anyone looking for a reliable compact iron. You'll love the light indicator that will tell you when the iron is up to temperature, making it so that you don't have to watch the clock in order to know when it's hot enough to use. And it has variable temperature settings! You can use this small hand iron for a plethora of different projects, or even as your everyday iron!

One feature you might find you don't like with this iron has been known to rust quickly if water is stored in it. While the steaming abilities are fantastic with their "shot of steam" technology, reviews have stated that rusty water can leak from the rare mini iron. To get around this, you can either make sure to empty the water reservoir after each use or simply not use the steam option, if steam isn't important to your crafting.
Thought to be one of the best iron brands on the market for quilters, Oliso irons are truly something special. This small but mighty craft iron has a lot of features for such a small iron! First of all, you'll be able to select from a variety of heat levels, making it perfect for any type of fabric from delicate silk to those that require high heat. And you'll love that it comes with a silicon footprint so that you can set the small steam iron down while it's still hot without worrying about burning anything on accident. It also has a moderately sized heat plate that heats up evenly, making your pressing job that much easier!

Customer reviews reveal that, rarely, the handle can get very warm on the highest temperature setting. That can certainly be an issue if your hands are sensitive, and you always use the highest setting possible. Of course, consistently using any iron on the highest setting can be bad for the iron, so it's not recommended to do so anyway. You just need to be careful and watch for any overheating, which isn't consistently typical of this model.
Best Mini Craft Irons
Also called Pleat Irons, these ultra-tiny irons are incredibly useful for many different types of crafting! Their tiny footprint can fit in spaces and seams that even a regular style mini iron wouldn't be able to fit into. They're perfect for sewing doll clothes, from 18" dolls to even Barbie Doll-sized projects. These small irons for crafting are also perfect for pressing quilt top seams open and as applique irons; you're not having to fight with the large sole of a regular sized iron, making sure that your fabric isn't being creased in the wrong spot. You'll be able to pinpoint the spots you need to press very easily with the tiny footprint of the craft iron!
Clover is a well-known brand for inexpensive crafting supplies. They're well-made, durable, and last when taken care of. And the Clover MCI-900 Mini Iron is no different. This small crafting iron is tiny and skinny, making it very easy to pack in your travel bags or store in your sewing room when not in use. It also comes with a stand for you to place it on while still hot so that you can avoid any burns and scorches.

This model has 2 heat settings, so that you can use it on low or high heat. But it's only limited to those two settings, which might be a problem if you're wanting to use it for very specific projects. It's one of the few cons about this particular mini iron.
Dritz is another popular brand among crafters, especially the sewing community. This mini hand iron is tiny and easily portable with it's long and skinny body. It also features a digital control so that it's easy to read by anyone. This small quilting iron also heats up very quickly, especially compared to the Clover MCI-900. And you'll love the easy to access kickstand on this tiny iron. You won't have to constantly locate the stand as it's attached to the iron itself, and you simply need to flip it in place in order to set the iron down.

One downside to this iron comes from the reviews. There have been defective irons out there that don't get up to the highest heat, which can certainly be a problem if you're looking for one that gets up to over 400 degrees Fahrenheit. However, it's not a widespread issue with this model, and returns and exchanges can be very easy to navigate if you need to utilize that service.
Best Mini Press Irons
Press irons are built a little differently than the typical iron. First of all, their handles are placed in the exact center of the iron. There is no point on the press. It's literally meant to press down on the fabric rather than glide along it.

These irons are more used for heated transfers, such as vinyl, to fabric. And mini press irons are perfect for shoes, shirts, stuffed animals, and any other small project you can think of!
If you own a Cricut, this mini heat press will be a great addition to your craft room! Cricuts are a great way to create your own heat transfer designs and having the right press will make transferring so much easier and enjoyable. This model is lightweight and small enough to be easily transportable! It comes with a docking station, even though it is not cordless. That way you have a place to set it while it's still hot, since it's shaped in a way that it won't stand on its own like a typical iron.

This small iron press comes with three different heat settings, so you can decide how hot you need it for each project. Different transfers need to be heated differently, so this feature is certainly an asset. The EasyPress also has a ceramic coated heat plate. The ceramic coating keeps the heat plate clean of any melted substances and helps to avoid scorching by allowing the heat plate to warm up evenly.

The one downside to this particular craft iron is that it's not easily moved about the fabric, like most press irons will be. But, that doesn't hinder its ability to press seams on quilt tops!
A little bit bigger than the Cricut brand heat press, the HTVRONT Mini Heat Press is meant for slightly bigger projects, especially when it comes to heat transfer projects. It comes with both a stand for when you're working to keep the heat off of your pressing station or ironing board as well as a carrying bag for travel. It also comes in a selection of different colors, so you can choose a color of iron that you'll love to use over and over again! It heats up quickly and efficiently, so you won't have to wait too long until it's up to temperature.

You might find that this heat press is too big for your projects, even if it's still considered a mini heat iron. However, you might appreciate the large heat plate if you do many heat transfer projects. It all depends on what you're looking to create and craft.
Our Verdict
Our first pick when it comes to mini irons is the Oliso M2 Mini Project Steam Iron. It's a well-rounded mini sewing iron that gets up to high heats, allows for steaming capabilities, and has several heat level options for a variety of uses. We also highly appreciate the "solemate" silicon mat that allows you to set the iron down without worrying about burns or scorches.

Our runner-up choice of mini craft irons is the Dritz 29500 Petite Press Portable Mini Iron. With its slim body, built-in stand, and digital controls, it's a great option for traveling as well as many different types of crafts due to its tiny size. It's lightweight, too, so it won't overload your bags while you travel.